Sorority rushing is often a significant part of one's college experience, and at The University of Alabama, it is considered a big deal. Exploring the impact of sorority culture on the students and the institution's history, Max's 'Bama Rush' is a unique documentary focusing on four students as they prepare for Rush Week. Through their experiences, it also attempts to decode the reasons behind all the hype surrounding Greek life on campuses and what it takes to be chosen by such organizations. While the other three ladies are convinced why they want to be sorority sisters, Makalya Miller stands out for her unique perspective. So how did things turn out for Makalya, and what is she currently up to? Here's what we learned.
Who is Makalya Miller?
Born on July 8, 2003, Makalya Miller hails from Odenville, Alabama, and was a sophomore at the University of Alabama (UA) when the documentary was filmed. Since childhood, she wanted to be a coroner, as her father was a police officer. Unfortunately, he passed away when she was 13, so Makalya decided to cherish his legacy by pursuing criminal justice as a career. Consequently, she enrolled at The UA and was entirely focused on her studies in her freshman year. At that time, Makalya decided to skip sorority rush till she figured herself out.
However, the 19-year-old admitted feeling left out and decided to participate in Rush Week in 2022. As she was unaware of how to prepare, she hired Rush Consultant Trisha Addicks to groom her for sorority selections. Makalya admitted that she struggled with body image issues and was not accustomed to the sorority lifestyle. Since she is part African American and part Caucasian, she even spoke about her concerns regarding racism in such groups; she expressed her worries about not fitting in or finding a voice.
Based on Trisha's advice, Makalya hesitantly agreed to give herself a makeover to match the sorority style. Hence, she changed her hairstyle and attire and began adapting to the coach's suggestions. In the meantime, Makalya's friendship with Hailey Holliday fell apart after the latter accused her of badmouthing her. On the other hand, all the pressure of the upcoming Rush Week began affecting her, as she felt herself losing her identity amidst everything she was being expected to change about herself and her choices instantly.
For example, Makalya mentioned that Trisha's constant instructions regarding where to purchase clothes and how to do her hair made Makalya feel out of place, and she thought she was not being allowed to be herself. Realizing that she was different and sorority life didn't appeal to her as much as her peers, she eventually dropped out of recruitment before Rush Week ended. Despite all her previous efforts, Makalya was utterly content with her decision and chose not to try for sorority groups again.
Where is Makalya Miller Now?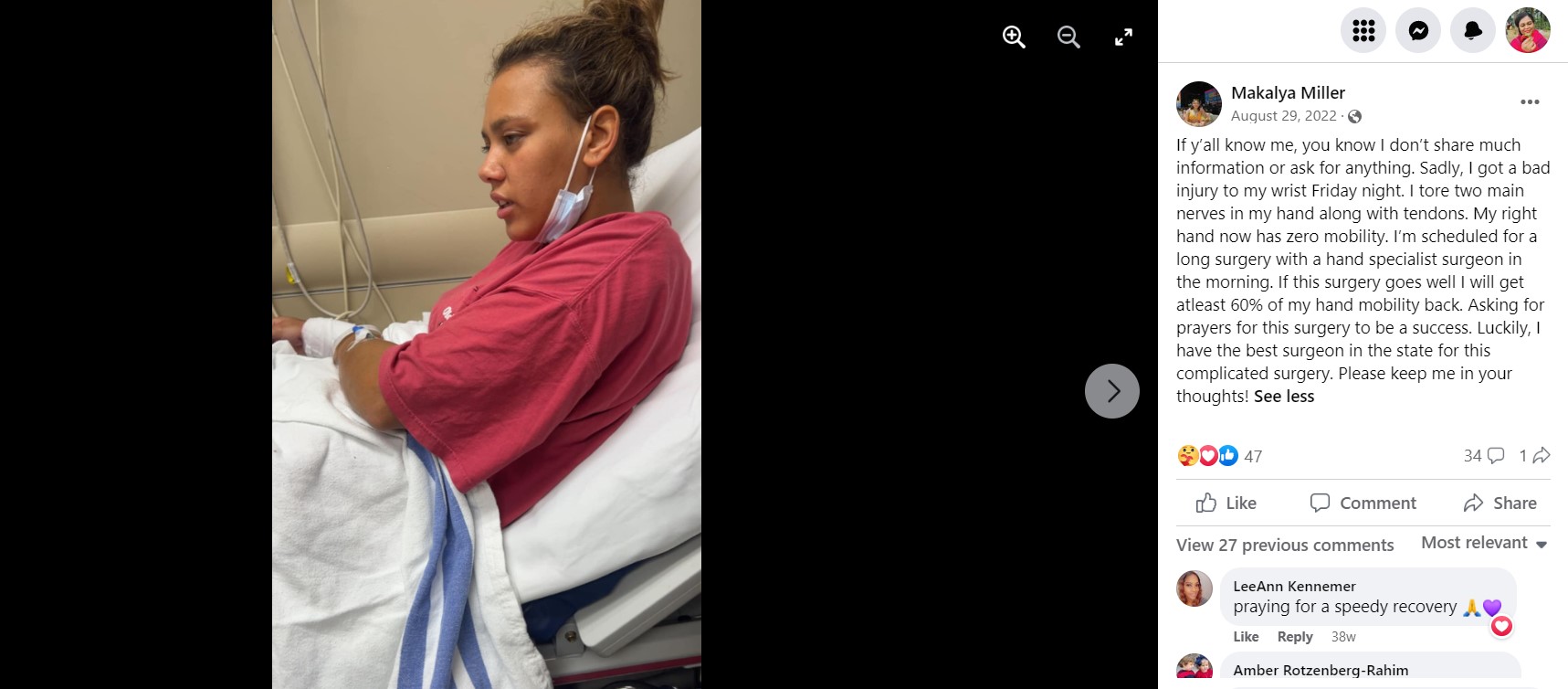 After leaving Greek life behind, Makalya Miller has returned to her usual routine and is focused on completing her education. Currently pursuing her Bachelor of Arts in Criminal Justice with a minor in computing technology with applications, she hopes to make her late father proud with her work. Sadly, in August 2022, Makalya injured her wrist badly and temporarily lost mobility in her right hand.
Thankfully, the AU student underwent successful surgery and has greatly recovered. Apart from her studies, Makalya enjoys attending football games and meeting her friends. Though she prefers privacy and barely shares personal details, she is living her best life and is seemingly happy about her experiences while shooting the documentary. Makalya's patient and resilient nature has impressed everyone, and we wish her only success ahead.
Read More: Isabelle Eacrett: Where is the Alabama Student Now?