Netflix's latest true-crime offering, 'Tiger King: Murder, Mayhem and Murder' is its meatiest treat yet, as it dives deep into the dark underbelly of tiger trade in the country. At its core, the seven-part docuseries follows the rise and fall of Joe Exotic, the self-fashioned "Tiger King" from Oklahoma. But it is also so much more.
Through its expansive portrayal of private ownership of big cats in America, the series presents before us a buffet of the biggest, strangest names in the business. But none stand out like Mario Tabraue, the infamous ex-drug kingpin. After all, how often do you encounter people who are believed to the prototype of Al Pacino's "Scarface"?
The Cuban-American gangster once had a multi-million dollar cocaine empire, and currently runs Zoological Wildlife Foundation in Miami. While 'Tiger King' certainly grabs our attention by introducing us to Tabraue and his life, it doesn't delve deep into his mysterious past. So who is Mario Tabraue really? And where is he now? Well, we're here with answers. Read on to find out.
Who is Mario Tabraue?
Mario Tabraue is introduced in 'Tiger King' as the founder and owner of Zoological Wildlife Foundation, which he continues to run. But adding to his enigma is the strong security that the series' director Eric Goode initially faces as he tries to find their way into the sanctuary, but fails. The docuseries also sheds light on Tabaraue's dangerous past, which is often said to be inspiration behind Tony Montana.
In the 1980s, Mario Tabraue was a notorious drug dealer operating in Florida. But he was not just any drug dealer. Tabraue was the leader of a 10-year-old drug ring, one of the biggest in Miami at the time. Miami Herald described the gang to be "one of South Florida's most prolific and violent drug gangs". And a Miami prosecutor stated Tabraue worked as the "Chairman of the Board of the $79 million drug operation.
According to Bryan Christy's The Lizard King, Tabraue and his father, Guillermo, owned both the cops and the politicians in Miami, claiming that Tabraue at the time was "untouchable". He lived in a mansion in Miami's Coconut Grove, and owned several big cats that roamed his palatial estate. Christy's draws even more comparison between Al Pacino's "Scarface" and Tabraue's lifestyle, with his tiger, machine guns, cocaine, and mirrored ceiling. Even the leather throne in the film resembles Tabraue's real-life one, except with the initials "TM" reversed to "MT".
Apart from the drug empire, Tabraue also ran an exotic animal business, which at the time was called "Zoological Imports", which was considered to be the country's premiere animal import business. While the exotic animal business served as a cover for the illegal drug trade, it was also where Tabraue's passion lied.
Christy, in his work, reveals that Tabraue became involved in the pet business from the time he was in high-school. At the time, he worked at a pet store called Henry's Tropical Fish in Miami. Here, he learned to breed and sell their stock. But the species he grew to love the most were big cats and monkeys. It is believed that he had built a menageries filled with exotic animals in Coconut Grove estate.
Mario Tabraue's Arrest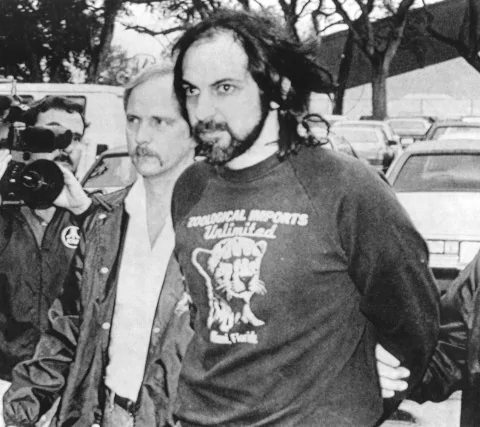 On December 1987, following the murder of Larry Nash, an informant for the Bureau of Alcohol, Tobacco, Firearms, and Explosives, Tabraue and the members of his drug ring were arrested. According to the NYT article from December 17, 1987, the gang had killed Nash while trafficking a large amount of marijuana:
"A drug-smuggling ring that killed an informer and cut up his body while trafficking in a half-million pounds of marijuana has been broken, the Federal authorities said today. The ring also bribed police officers to protect their operation, said Richard Gregorie, the chief assistant United States Attorney here. At one time, the indictment charged, members of the ring used Miami police officers to collect, count and disburse drug profits"
Tabraue was implicated in Nash's murder. According to the testimony of witnesses, his men had killed Nash in his car. And he later helped them get rid of the body. It was stated that he hacked it to pieces with a machete and a chainsaw, ultimately burning the remains. He was also charged with orchestrating the murder of his first wife in 1981, after she threatened that she share evidence of Tabraue's operation to the authorities. But Tabraue was later acquitted of complicity in his wife's death.
In 1989, following a 2-year trial, Tabraue was found guilty on 61 acts of racketeering and was sentenced to a 100-years in federal prison. Interestingly, the case had been called "Operation Cobra" referencing Tabraue's exotic animal business. However, while in prison, Mario Tabraue became an informant for the officers, and was freed after only completing 12 years of his sentence. Tabraue resumed his exotic animal business with Zoological Imports upon his release, and eventually transformed it into Zoological Wildlife Foundation.
Where is Mario Tabraue Now?
https://www.instagram.com/p/B63TaL0Dz9A/
Mario Tabraue continues to live in Miami, with his wife, Maria C Tabraue, where they work with Zoological Wildlife Foundation. Mario serves as the president and the director of the organization, with Maria as the co-president. The duo are committed to exotic animal care and nutrition, together, they take care of their animals and organize interactive and intimate wildlife tours.
Mario loves to share his experiences with his animals, particularly his chimpanzees and cats on social media, like the Instagram post above. While there are definitely controversies surrounding Mario Tabraue, and the Foundation at large, ZWF, over the years, has received a largely positive response from its visitors. Check out Mario Tabraue's Instagram profile here.
Read More: Where is Doc Bhagavan Antle Now?