Not many people stick around for the credits. I mean who really wants to know all the people involved in a film? People hanging out in the theaters are usually greeted by stern looks from cleaners who are busy prepping the hall for the next show. However, now with Marvel movies, post-credit scenes have become much-anticipated and these scenes are sometimes funny, sometimes informative and are like delectable nuggets that award the patience of the moviegoers. Here is the list of 15 best post-credit scenes in movies. And yes, there are a couple of marvel post credit scenes on the list too.
15. Curse of Chucky (2013)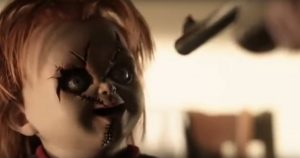 This film which is part of the Child's Play franchise sees its original protagonist Andy Barclay, played in both parts by Alex Vincent. Andy receives a package and it turns out to be Chucky who cuts his way out of the box, only to stare down the barrel of a shotgun as andy cocks it and taunts Chucky to play with it. A classic example of a survivor exacting revenge on the perpetrator, the audience is left with the joy of realizing that the murderous Chucky is no match for present day Andy.
14. Pirates of the Caribbean: At World's End (2007)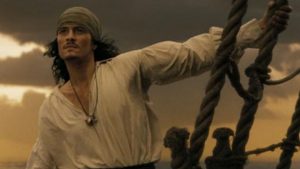 This installation in the Pirates of the Carribean franchise saw Will Turner (Orlando Bloom) take up the helm of Davy Jones' ship, The Flying Dutchman. A film which shows epic naval battle sequences ended on a somewhat bitter note as Will was separated from his lover Elizabeth (Keira Knightley) to save his father from Jones' curse. However, the post-credit sequence provided a wholesome closure as Will is seen returning to land after ten years as Elizabeth and their son are walking on a hill. The tale of reunion shows Will keeping the word of the curse where he may return to the land once in ten years, and proving that he and Elizabeth could make long distance work unlike Davy Jones and Calypso.
13. Crank (2006)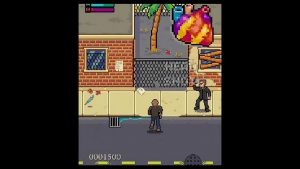 This film worked on a very weird plot – Jason Statham plays the role of a criminal who is forcefully turned into an adrenaline junkie. He literally needs adrenaline to prevent being poisoned. The movie itself had some pretty unbelievably ridiculous scenes and the film plays a lot like an old-school arcade game. That is exactly what the post-credits delivered, the movie in a 16-bit game format underlying the improbability of the film but at the same time, we really wouldn't mind playing a game like Crank.
12. Wreck-it Ralph (2012)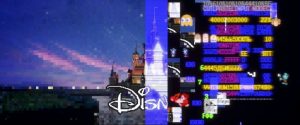 This Disney animated sci-fi comedy is a goldmine for video game lovers for it is packed with references. The film itself peppered with references like the titular character making his way through levels designed like actual games. Perhaps the best homage paid to the gaming industry is the 256th level Pacman kill screen. This screen is actually a game glitch which makes this level unplayable as numbers and symbols appear on the screen. The castle logo in the post-credit scene glitches and begins displaying this showing a tremendous knowledge on part of the movie makers towards a classic game.
11. Fast Five (2011)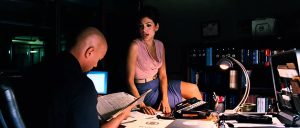 Fans of this franchise are rarely disappointed, fast cars, crazy action sequences, exotic locations and choppy dialogues. However, the franchise made some bold moves in killing Letty, Dom's love interest in the fourth film. Letty who had been a pretty major character and an integral part of Dom's crew died in a race which of course left Dom spiraling out of control, running away to Brazil and getting mixed up with the largest gangster there. However, Letty's reveal was done subtly as Hobbes (Dwayne Johnson) a federal agent receives a case file about a vehicular hijacking in Berlin and opens the file to see Letty's picture. The audience was left with an unbearable cliffhanger as Letty is not only shown to be alive but also driving on the wild side. It surely made the sixth installation an unbearable wait.
Read More: Best Opening Movie Scenes