In 'Mashle: Magic and Muscles' or 'Mashle' episode 9 titled 'Mash Burnedead and the Accelerated Battle,' Lance faces Wirth as his opponent and soon realizes that the Graviole spell is not as effective as he would have liked. But later he finds ways to outsmart the Magia Lupus member and even wins the battle. Meanwhile, Mash is fighting against Abyss not aware of his opponent's dark past.
Lance Defeats Wirth
When the battle between Lance and Wirth Mádl finally begins, the former uses the Graviole spell to start his attack. Wirth's magic powers allow him to go through the ground without getting injured and appear at any point in the room he wants. He can also create his own clones. So, Wirth easily manages to create a lot of problems for Lance who relies on his Graviole spell to hurt his opponents. He then uses the secondth form of his magic to create a monster.
However, Wirth does not know that Lance as a double-line magic user can also use the secondth form of Graviole. This is exactly what he eventually does and easily manages to eliminate Wirth's beast. The member of Magia Lupus is defeated soon afterward. Meanwhile, Mash is fighting Abyss and easily gets overwhelmed by attacks. When Abyss manages to stab him in the stomach, he is shocked to realize that Mash wanted him to do it. He tightens the muscles in his stomach and smashes Abyss's mask.
Why Does Abyss Regret Getting Born? What is the Evil Eye?
After Mash smashes his head on Abyss's head, his mask breaks and falls off. That's when Mash notices that one of his opponent's eyes is dark red in color and appears quite strange for some reason. Abyss realizes what has puzzled Mash so he explains that one of his eyes is actually called the Evil Eye. It is considered the eye of the devil as it can potentially disable the magic of all who fall under its gaze. Since magic means so much in the world, Abyss is scorned by everyone and is considered a pariah.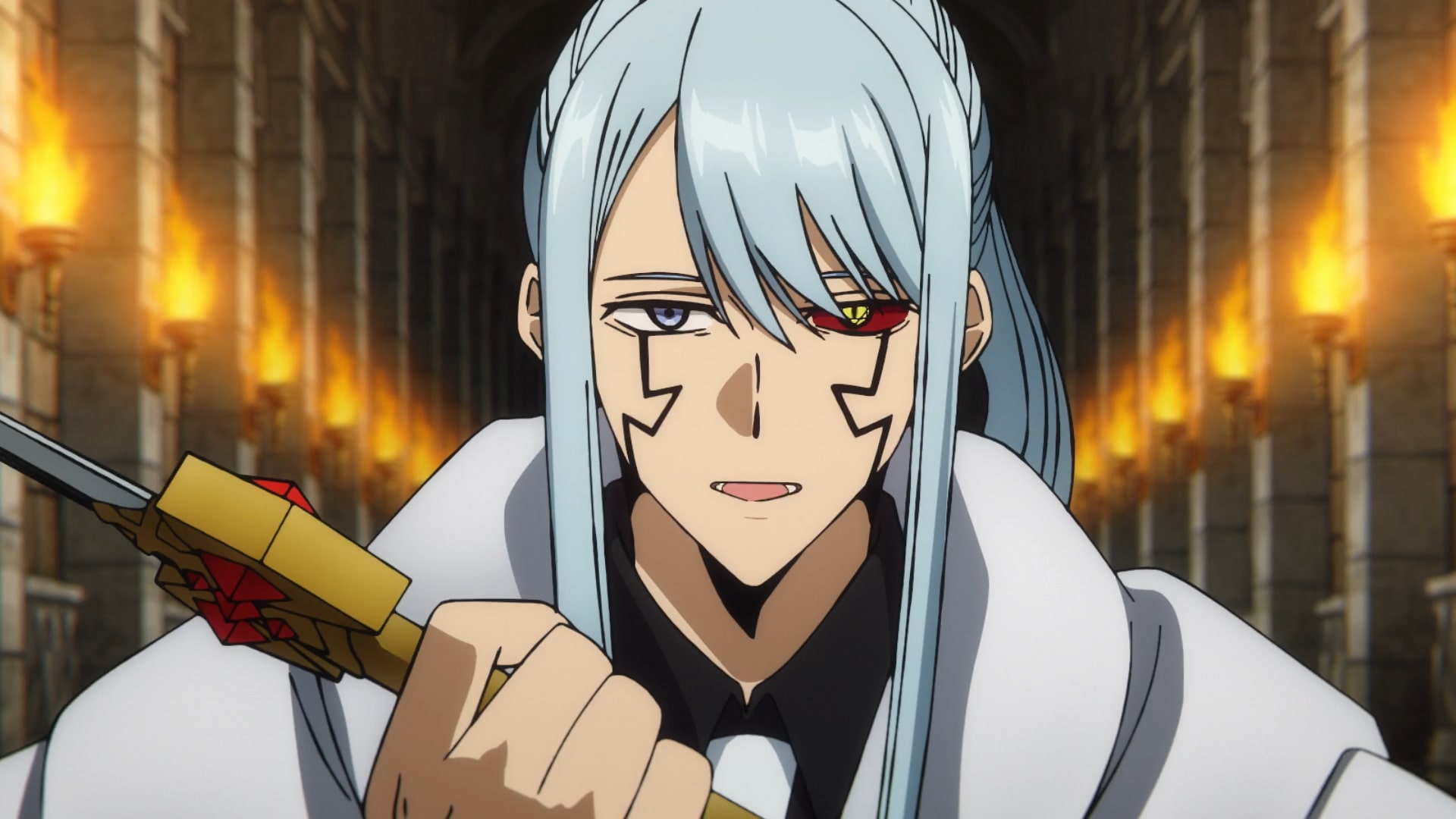 Abyss feels that Mash is blessed as he would never understand what he has gone through. Then all of a sudden, he Accelarise Secondth spell to create a force field in which he transfers his opponent's quick moves to increase his own speed. This allows him to deliver accurate and dangerous attacks that hurt Mash. But despite the sudden pressure on him, Mash remains calm and thinks about his options. When Abyss leaps in his direction to attack one more time, Mash does not even look at him and simply punches the ground.
In this scenario, Mash's slow speed becomes irrelevant as he does not even try to directly engage with Abyss. The rocks that break because of his punch fly toward his opponent. Abyss is taken aback by the counterattack and before he could fully process what is happening, Mash punches him so hard that the force field becomes redundant. Things do not go in Abyss's favor for even one moment from that point on and Mash just easily beats him up.
As Abyss lies on the ground, he opens up about his childhood and wonders if things could have turned out differently had he been born normal. He recalls his parents getting disappointed when they saw his Evil eye. They then locked him up from that point and after some time even tried to kill him. Mash listens patiently to Abyss's story and eventually offers to become his friend. Abyss is impressed by his opponent's kindness and warns him that he should not go any further as Abel cannot be defeated according to him. But Mash being Mash pays no heed to his warnings.
Read More: Mashle: Magic and Muscles Episode 8 Recap and Ending, Explained