Investigation Discovery's 'Ice Cold Killers: Lamb Among Wolves' depicts the gruesome murder of 24-year-old model and personal trainer Merianne Lorentson, in her apartment in Kent, Washington State, in March 2007. It took the investigators more than 4 years before the perpetrator received their sentence for the crime. If you're interested in the identity and current whereabouts of the killer, we've got your back. Let's begin then, shall we?
How Did Merianne Lorentson Die?
Merianne Elizabeth Lorentson was born on September 5, 1982, to Gerald Michael Lorentson and Marlene Ann Sloan Lorentson in Seattle in King County, Washington. She attended Our Lady of Fatima School, and her stately beauty made everyone remark since childhood that she could have a thriving career in modeling. The 24-year-old had a daughter named Jade Monique, and Merianne's brother, Michael Lorentson, reminisced that his sister "was one of the best, overall loving mothers I've seen."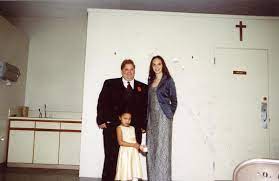 Her career as a model was kickstarted when Kristy Petersen, an exclusive Seattle Models Guild owner, spotted her waiting in line with her daughter at a Seattle luxury department store in December 2005. Merianne was a full-time personal trainer at that time but signed up for the modeling agency after Kristy approached her with an offer. Talking about it, Kristy said, "She was a very, very sweet girl who was extremely devoted to her daughter." According to news reports, Merianne also launched her daughter's modeling career, though she was not pushy.
News reports state Merianne and Jade signed for Bellevue-based Colleen Bell Modeling and Talent Agency, likely around February 2007. Fashion photographer Michael Doucett, who had previously worked with Merianne and Jade, recounted, "I think she really could have gone somewhere. She was so extraordinarily photogenic. In the photographs, she looked like a magazine cover." Hence it came as a shock when the 24-year-old was found stabbed to death inside her apartment in Kent on March 9, 2007.
According to court documents, Merianne had plans to meet up with her friend, Stanford Muller, at a Kent skating rink on March 7. He repeatedly called her when she failed to show up. Stanford drove to her apartment the following day and spotted her car in the parking lot. He became more worried when she did not hear from her and called her apartment manager on March 9 to check up on Merianne. The manager and two maintenance employees entered the unlocked apartment to find Merianne's body.
The trio discovered Merianne's body covered in blood, sporting dark clothing and a pillow covering her face on the living room floor. They ensured Jade, then 5, was not inside the apartment and called 911. The Kent Police Department arrived at the scene to find the model had been stabbed over 30 times and suffered blunt force trauma to the face, head, and torso. According to police reports, a second set of bloodstained white clothing was found in the bathroom, and the lack of knife marks suggested she had injured and bled while wearing them.
Who Killed Merianne Lorentson?
The investigators learned from Merianne's friends and family that Randall Edward Connor had been in a relationship with the young woman since 2005. According to court charging papers, Merianne had complained to friends that Randall was abusive and allegedly had handcuffed her, assaulted her, and even threatened her at gunpoint. Hence, he became the primary suspect when the 24-year-old's body was discovered, but the police were yet to find physical DNA evidence that tied him to the crime.
Court documents mentioned that in the days leading to her murder, Merianne got into a romantic relationship with Reginald Smith, an individual she had known since they studied at Seattle Central Community College. The two had recently reconnected through a mutual friend. As per the court documents, Reginald and Merianne spent the night together several times. She had reportedly been with him on March 7 from 4 pm to 9 pm before she left for skating. It was reported that Merianne left her jacket at Reginald's place and called him to tell him that she would drop by later to get it back.
However, Reginald never heard from Merianne again. The detectives went to Randall's mother's house on March 10 and interviewed his sister, Mary Connor, and uncle when they could not find him there. As per court records, Mary informed the officers that Randall told her on the afternoon of March 7 that Merianne was breaking up with him. She also revealed to the investigators her brother returned home late on March 7. He then instructed her to tell everyone he had been with her since 9 pm. The police also learned that Randall had expressed apprehensions about getting arrested to Mary.
According to news reports, Mary had initially thought Randall was scared of his parole violation on an armed-robbery charge in California and comforted him. But he told her sister that "he had done something else." His uncle, Laurence Rex, informed the officers later that Randall had returned home wearing his brother's clothes and instructed him to set up a fire in the fireplace. Police reports state Randall took a shower before burning the clothes he was carrying in a bag.
According to court documents, Randall also told his sister-in-law on March 8 that he had learned Merianne was cheating on him, and he "sometimes felt like stabbing her." The investigators were able to locate him on March 12 and brought him in for questioning. He allegedly "displayed no reaction when police told him Merianne was dead." After his DNA was found on the vaginal swabs and Merianne's clothes collected from the scene as evidence, Randall Connor was arrested and charged with first-degree murder.
Where is Randall Edward Connor Now?
Randall Edward Connor was already serving jail time for a parole violation on an armed-robbery charge in California when he was charged with the murder of Merianne Lorentson. He was transferred to King County Jail, where he allegedly admitted to a fellow inmate, Ericson-Gerard Gonzalez, about stabbing Merianne. According to court documents, Randall told Gonzalez how he was enraged after he found out she was having "sexual contact with another man" and stabbed her multiple times following a bitter argument.
A jury convicted Randall in April 2011 on a first-degree murder charge. He received the maximum sentence for his crime and was ordered to serve 32 years in prison in May 2011. Following the verdict, Merianne's father, former deputy prosecutor Jerry Lorentson said, "You never accept someone's death. In Jade's case, 'Where's Mommy?' has to be answered by, 'She's in heaven with Grandma.'" Per official court records, Randall Edward Connor, now 43-years-old, is serving his sentence at the Stafford Creek Corrections Center in Aberdeen, Washington.
Read More: Christina Carlin-Kraft Murder: Where is Jonathan Harris Now?