Netflix's 'MerPeople' is an interesting docuseries that familiarizes the audience with the mermaiding community through one-on-one interviews with several stalwarts and elite performance artists. Even though mermaiding is a complete lifestyle, it demands hours of practice and requires immense swimming and underwater skills. On top of it, the performers often battle severe medical issues, including hypothermia and sinusitis from exposure to cold water.
Still, the people who love the art put their all into it, and it is genuinely fascinating to see childhood fantasies come to life in front of our eyes. 'MerPeople' introduced us to several engaging cast members, including Mermaid Sparkles, Memaid Morgana, and Mermaid Che Monique, among others. However, with the cameras now turned away, let's dive in and find out where they are at present, shall we?
Where is Brittany Sparkles Now?
Brittany Sparkles, who prefers the name Mermaid Sparkles, is a performance artist based out of Arkansas. While on the show, she mentioned that living in Arkansas made her feel like a landlocked mermaid, although readers would be surprised to know that she was crowned Miss Mermaid Arkansas from 2019 to 2023 and was even named the Sea Queen of Arkansas in 2022.
At present, Brittany resides in Little Rock, Arkansas, and performs regularly with the Circus Siren Pod, an elite group of mermaids led by Morgana Alba. Additionally, since she wanted to make life easier for Arkansas mermaids, she launched her own company, Moonstone Mermaid LLC, through which she organizes mermaid-themed parties, events, and performances.
Where is Mermaid Che Monique Now?
When Mermaid Che Monique was little, her parents insisted that mermaids can never be fat. Though she refused to accept such an explanation, once she got into the mermaiding community, she realized it needed an all-inclusive organization that would not allow discrimination and instead provides a safe space for mermaids of all kinds. Hence, Che eventually established the Society for Fat Mermaids, making her popular in the community. She even mentioned how she still has people walk up to her at conventions and thank her for being an inspiration.
Even though the series documented Che's failure to become a part of the Circus Siren Pod, she eventually managed to impress Morgana and get an invite post-filming. Apart from performing as a mermaid model at various events, she has plans to open a mermaiding school called The School of Fish, which would teach underwater skills and breathwork to newcomers while providing them with an essential mermaid shopping list.
Where is Morgana Alba Now?
Although Morgana Alba holds a degree in engineering from Penn State University, her heart has always been in the performing arts. Consequently, she has even participated in productions like 'The Nut-Cracker: A Burlesque Ballet,' 'The Jeff and Coca Show,' and 'Gris by VADT.' However, even after earning fame as a World Champion Circus Artist, Morgana turned her attention towards mermaiding and became one of the first professional mermaids from the DC area. Subsequently, she started the Circus Siren Pod in 2016. which soon became known as an elite group of mermaid performers.
Morgana resides in Washington DC-Baltimore Area and still functions as the head of the Circus Siren Pod. On top of it, apart from launching an LGBTQ+-inspired mermaid kit line for pride called Not a Phase, Morgana has been looking to extend her organization's reach through online events for mermaid enthusiasts and aspiring members alike.
Where is Eric Ducharme Now?
Eric's fascination with mermaids started at 3 when he visited Florida's Weeki Wachee Springs State Park for the first time. He obtained his skills while training under former mermaid Barbara Wynns and began making mermaid tails out of anything he could get his hands on from a young age. Eventually, Barbara helped Eric find his first client; once he turned 14, he took his grandmother's help sewing and established a website for a full-time mermaid tail business.
Eric is widely known as the Mertailor, and his tails have been worn at premiere events and luxury parties. Sources even mention that apart from use in movies and shows, personalities like Lady Gaga also flaunted his creations in the past. Readers will be glad to know that the Mertailor currently resides in Lecanto, Florida, and is in a beautiful relationship with his fiance, Blue. On top of it, he hosts his own mermaid shows and loves making tails for the everyday men, women, and children who want to be a part of this fantastical universe.
Where is The Blixunami Now?
While The Blixunami discovered their fascination with mermaids from a very young age, they currently describe themself as a non-binary Merm who want to represent queer and black people in the mermaiding community. On top of it, they are pretty popular as a Mermaid Doll Influencer on Instagram, with over 8,000 followers at the time of writing.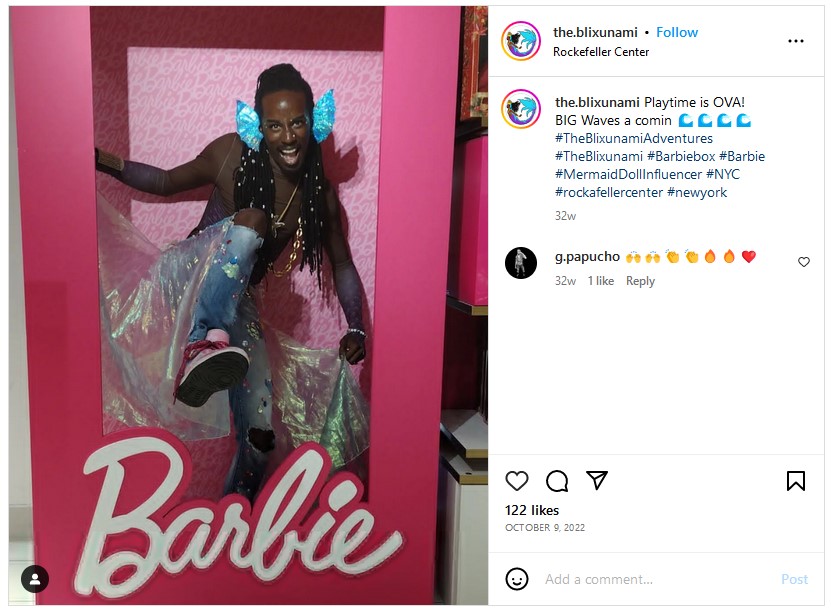 The Blixunami currently resides in The Bronx, New York City, and insists that mermaiding is their full-time job. However, apart from sharing their artwork and doll videos on Instagram, they previously worked as a book cover designer and even run a successful YouTube channel. Moreover, while we are glad to report that The Blixunami was named the Mermaid King of South Carolina in 2022, the music video of their new single, 'Splish Splash on 'Em,' has taken the internet by fire.
Where is Tristan McDonald Now?
Tristan McDonald, who goes by The Red River Merman, started as a theatre major in college. However, once he took on a position at Disney, he fell in love with the world of mermaids and decided to become one himself. During the docuseries, we witness Tristan audition for the Mertailor shows, and Eric appears pretty impressed with his performance. Tristan resides in Florida and works as a tour guide at Manatee Tour and Dive. On top of it, he performs regularly at Mertailor's Mermaid Aquarium Encounter and is also a merfolk instructor at Florida Aquatics Swimming and Training.
Where is Hannah Fraser Now?
The docuseries introduces Hannah Fraser, aka Hannah Mermaid, as the original professional mermaid who has been a part of the mermaiding community for over 20 years. While she is an award-winning mermaid who has gained international acclaim, she is responsible for teaching and inspiring several others to follow in her footsteps.
While Hannah was fascinated by mermaids and created her own tail at just nine, she stuck to her passion and is considered one of the stalwarts at the time of writing. Moreover, she is an underwater model, an event speaker, and an ocean conservationist who has appeared on several channels, including ABC News and Village Roadshow.
Where is Mermaid Kariel Now?
Mermaid Kariel is considered one of the best present-day mermaids, who even won several awards as a resort entertainer. While on the show, Mermaid Che Monique came across her at the King and Queen of the Seas Pageant. The latter asked if she would like a custom-made silicone tail with a perfect fit. Che immediately jumped at the opportunity, and we even witnessed how Kariel took her measurements before getting to work.
Kariel currently resides in Oahu, Hawaii, where she offers her services as a mermaid at various events. Besides, readers would be surprised to know that she always designs her own costumes and has even started a small online business through which people can purchase her mermaid merchandise. On top of it, Kariel shares pictures of her incredible creations on social media, and we wish her the best for future years.
Read More: Best Mermaid Movies