In the fifth episode of Netflix's 'Messiah', we finally have most of our primary characters in the same location, and gradually all the parallel narratives are getting connected. It is also the most ambiguous episode so far in the way it treats 'Al Massih', as we begin to see a potentially darker side to him. But of course, we don't know for sure, as always.
Also, in some way, the episode's title could serve as a major hint if at all there is a darker side to the man. The episode is titled, "So That Seeing They May Not See", which is taken from the Bible, but it is misquoted. Previously too, certain Imams spoke of how the man misquotes the Quran so he cannot be a prophet. Now, this could go in two directions, Al Massih could potentially be a deceiver, or it could also look at how one cannot be by the book when it comes to having faith. Either way, with the way things take place in the episode and its unnerving ending, we can safely assume that things are going to get twisted. SPOILERS AHEAD.
Messiah Season 1 Episode 5 Recap: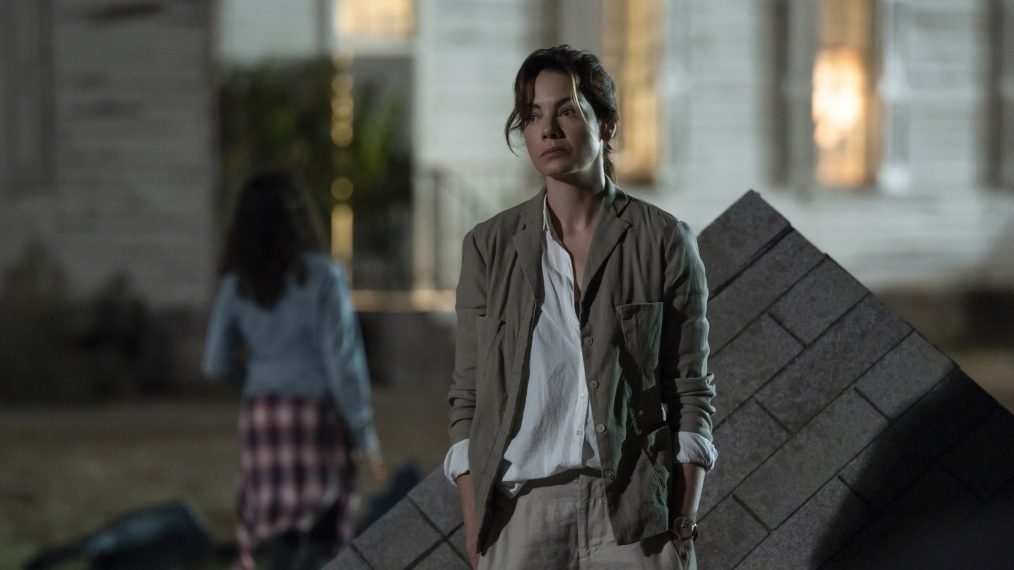 The episode begins with individuals talking about why they're here to see Al Massih, in what seems to be an interview. We then learn that Felix got the man back to Dilley, Texas, because of which thousands of people from across the country have come all the way to see the messiah. Most of these people are suffering, while a lot of them are believers. We're introduced to a lady who has come with her daughter who is suffering from cancer. Despite everyone camping at Dilley with high hopes, things are becoming growing chaotic. Felix struggles to manage everything as Al Massih doesn't see anyone but stays in his tent. When Felix finally asks him what to do next, he reveals that he has no plans. This begins to deeply trouble Felix who can't sleep.
We also have Eva Geller in Dilley, keeping an eye on the man from the camera in her car and otherwise too. In a particular scene, she and Rebecca bond over a cigarette as they discuss Al Massih and what's been happening. She also reveals that she has epilepsy and that she thinks that her parents are lost. Meanwhile, the relationship between her parents, Anne and Felix, remain tense. Anna finally calls her father for help with money who also ends up in Dilley. We also find Miriam Kenealey in Dilley, who has come all the way from Israel along with her photographer, in order to cover Al Massih's story. They are also the ones taking the interviews that were shown in the beginning of the episode.
The FBI agent, Mathers, visits Geller one night to disclose an important piece of information. He confesses that he had recorded her conversation with Al Massih, tells her about Oscar Wallace's 'Cultural Terrorist'. This is because Mathers believes that the man directly quoted from the book during his conversation with Geller, which makes Mathers wonder if the man was making Wallace's book a manifesto whose primary principle will be to create confusion and chaos so that people begin to question.
Back in Israel by the border, things look really bleak. We have Jibril slowly recovering over the days as Samir takes care of him and reads 'The Little Prince' to him. But people otherwise have been getting sick and falling to their deaths. A man dies suddenly while praying, and this serves as the last straw. There is a growing unrest among the refugees who begin to break their illusions surrounding Al Massih and begin to believe that he is fake and selfish. Someone who led them to their deaths and fled to America. The refugees decide to move to Jordan and seek true refuge before they all die. Jibril decides to stay back. It is also hinted that Samir and Jibril could be more than friends and Samir sadly parts from him.
In Dilley, we also have the arrival of Aviram who has come to kill Al Massih, but begins to question his decision once he sees what's been happening and finally meets the man. There is also a scene involved with a badly injured dog. Al Messih instead of saving him, kills him as he says that the dog will no longer suffer and that he was not meant to save him. The episode then ends with Al Massih finding Rebecca standing by the bridge and telling her, "I came for you."
Messiah Season 1 Episode 5 Review:
In the fifth episode of 'Messiah', things finally seem to be coming together, as we have most of our primary characters in the same location, in Dilley. Since Aviram has already started doubting what he feels towards Al Massih, I think the coming episodes will explore how he becomes a believer, if at all he becomes one. The same might happen with Geller, but I think that is still a little more unlikely. We also have Miriam in Dilley this episode. It would be interesting see what a journalistic approach to Al Massih would be. Also because, all four of the characters – Avi, Geller, Miriam, and even Rebecca are at Dilley for reasons other than being followers or supporters of the man. But all of them are also beginning to see this entire matter in grays instead of just black and white.
The episode also ends up becoming the most critical of 'Al Massih' in the series so far. We finally have the men who believed in Al Massih from the start, finally breaking out of their illusions, as they have been left behind for days in a desert, without food, water and shelter. They are all slowly dying as Israel will never give them refuge, and they begin to feel that Al Massih led them to their deaths. This adds to the much needed layer of contradiction to the things that are taking place in Texas. Also, the incident where the man shoots the dog can be seen in two ways. On one hand, it serves as a lesson that God cannot save anyone, but it could also be hinting at a more twisted aspect of Al Massih.
The most heartwarming bits of the episode include Samir reading from 'The Little Prince' to Jibril as he recovers. It is evident that the two share a deep bond and it is also hinted that it could me something more. Either way, the two part as Samir wants to live, and Jibril still believes that Al Massih has a bigger purpose for him.
Now, each episode till now ends with a cliffhanger. But none of them has been as unnerving as the one in episode 5, as it seems both Jibril and Rebecca have their fates connected somehow through Al Massih. Keeping in mind, the effect he has on young minds, if at all he is a deceiver, things could go badly for the two. As I had previously predicted, Jibril could in fact take a drastic and violent step to prove his loyalty and beliefs to the man. If things do get violent, and a war gets unleashed, then maybe all the speculations did have some truth in them. Maybe, Al Massih is really the Dajjal or the Antichrist.
Read More: Where Was Messiah Filmed?