Monica Bellucci, an unquestionable beauty icon, steals everyone's attention in the blink of an eye. Her Italian curves, her sensual plump lips, and her piercing gaze, together with her skillful acting, the creation of various characters that have changed the course of her life and ours. Apart from taking up roles that highlight her sex appeal, she has shown the ability to dive into a character and its flaws outstandingly. She has proven more than once that she is much more than a sex icon. And you would exactly see that in this list of top movies of Monica Bellucci selected from her vast filmography. You can also watch some of these best Monica Bellucci movies on Netflix, Hulu, or Amazon Prime.
12. Don't Look Back (2009)
Sophie Marceau and Monica Bellucci star along together in this mystery thriller that encounters a rather strange and bizarre storyline, in which fantasy meets the psychological. Jeanne (Marceau) is a mother and wife to whom a peculiar sensation of change begins to infiltrate her being. She slowly feels her body transforming into a stranger, while her surroundings remain in the normality their lives seem them to be. It's a photograph that connects this character to a woman (Monica Bellucci), who she believes will clarify the mystery she is stuck in. With two incredible performances, Bellucci is entirely in character and gives this movie a balanced and right-fitting result.
11. Brotherhood of The Wolf (2001)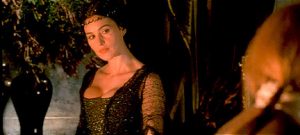 Going back into the 18th Century, we are set in a mysterious and obscure ambiance, where the Gevaudan province is under attack by an unrevealed beast that's been killing the French land's inhabitants. The hunt for the truth, namely, finding who's behind this bloody massacre, brings the characters of this plot on a wild and exhilarating adventure. Bellucci is, in this story, located in the midst of a brothel, where she plays Sylvia, a prostitute practicing the powers of witchcraft. She turns out to play a more significant part in the plot than it might have seemed at the beginning. A mix of different genres and perhaps a little too chaotic at times, this movie still took home a couple of awards and nominations and is a final burst of costumed action worth a watch.
10. Bram Stocker's Dracula (1992)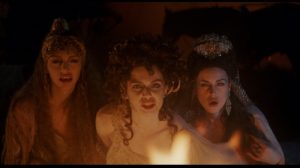 Although only obtaining a short amount of screen time, Monica Bellucci irradiates the viewer with her performance as one of Dracula's brides in the Francis Ford Coppola film adaption of Bram Stocker's classic novel. A dark and suspenseful horror fiction, treated with great delicacy and lusciousness. A fantastic portrayal of the story of the famous Transylvanian lord of evil, with its compelling cinematography and convincing performances that will seriously give you chills to the bone. Bellucci truly brings out the most unholy and frightening sensuality that quickly puts a spell on her fictional pray, as much as us.
9. The Matrix Reloaded (2003)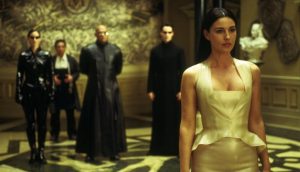 The second box office hit of the Matrix franchise stars a new character, Persephone, sensually played by Monica Bellucci and her dark long shimmering hair. This lady, the wife of the Merovingian, lives an unsatisfied life at the side of her unfaithful husband and decides to take sides with Neo, the film's protagonist, helping him find the way to the Keymaker. This might sound confusing if you haven't seen the first part of the trilogy, so if you haven't, you now know what's next on your list. The superficial figure is an exciting one to follow, who reveals that she is, really, primarily acting upon feelings and emotions she hides behind her beauty and that in the end, her only desire might be to be truly loved.
8. On The Milky Road (2016)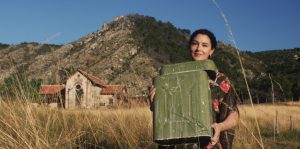 One of Bellucci's most recent contributions to film is this Serbian movie that combines light-hearted humor with dramatic circumstances and elements of fantasy, presenting a splendid cinematography in which she gets the role of a different, physically more daring character. Jumping, plunging, running, we finally see her beautiful figure more free and open in movement and direction, leaving for once the often static appearance of her past characters behind. It's a story about love, war, and reclusion handled with imagination and colorful visuals that enhances the narration about Kosta (Emir Kusturica) and the bride (Monica Bellucci).
7. Asterix and Obelix: Mission Cleopatra (2002)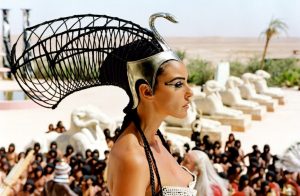 Based on the French comics of the same name, this fantasy comedy is simply the best for a fun and humorous night in. It follows the adventures of protagonists Asterix and Obelix in ancient Egypt, where the prestigious and powerful Cleopatra, fantastically figured by Bellucci, reigns over her kingdom. She demands the construction of a palace in Alexandria in order to win a deal she made with Julius Caesar, which will develop the story in a series of catastrophic adventures and misadventures. Bellucci couldn't have been better for this role. Physically perfectly fitting with the historical ruler, she is sublime in her dominant, gracious, and rigid role of the intelligent and beautiful queen of the ancient world.
Read More: Best Movies of Helena Bonham Carter
6. Under Suspicion (2000)
A young girl is found dead after being raped and murdered. At first, Henry Hearst (Gene Hackman) is questioned, then his wife Chantal (Monica Bellucci). Progressively, inconsistencies start to emerge on the surface, and secrets are revealed. With a couple under suspicion, Captain Benezet (Morgan Freeman) will dig in deep in order to find out the truth. This thriller shows us a simple and elegant Bellucci, smoking a cigarette in the interrogation room and serenely guiding us through her answers to the officer's questions.
5. Ricordate Di Me (2003)
Gabriele Muccino, an Italian film director, shot this comedic and romantic drama, in English, mostly known as "Remember Me, My Love." It introduces a family of four, the Ristuccia family, in which each member has a secret dream or a desire to change within their "meaningless" routined life. Paolo, the husband, works in an insurance company, although what he'd really like to do is become a writer. This boring and usual stability is broken when he meets a lover of the past, Alessia (Monica Bellucci) whom he starts an affair with. Naturally, it won't come without consequences. A great and passionate film that gives Bellucci, once more, a chance to become more than just a painting to admiringly stare at.
4. The Passion of The Christ (2004)
"The Passion of The Christ" depicts the life of Jesus in his final 12 hours before the crucifixion. Mel Gibson decided on Jim Caviezel as Christ, Maia Morgenstern as Virgin Mary, and finally Monica Bellucci as Mary Magdalene. This last one portrays the biblical Jewish woman who followed Jesus through his travel, being present during his crucifixion as well as his resurrection. It is quite a big piece of work, with an important plot and great cinematography, where Bellucci performs her role of one of Jesus' followers excellently. The gracious sorrow and pain that her face can so naturally convey makes her the perfect pick for this biblical drama film, which remains the highest-grossing film, in a language other than English, of all time.
3. The Apartment (1996)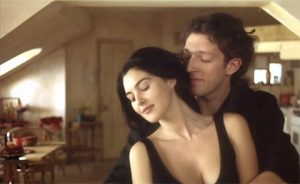 Max (Vincent Cassel) returns to his hometown of Paris after having lived in New York for two years. When sitting at a cafe, Monica Bellucci's Lisa, his former girlfriend he had not seen since his departure and whom he know obsesses over getting back in touch. There are always unexpected bits to enjoy through its fragmented, non-linear storyline and original plot. This French stylized film opens great doors to a fresh, simple, charming, and hauntingly beautiful Monica Bellucci. So, you certainly don't want to miss it.
2. Irreversible (2002)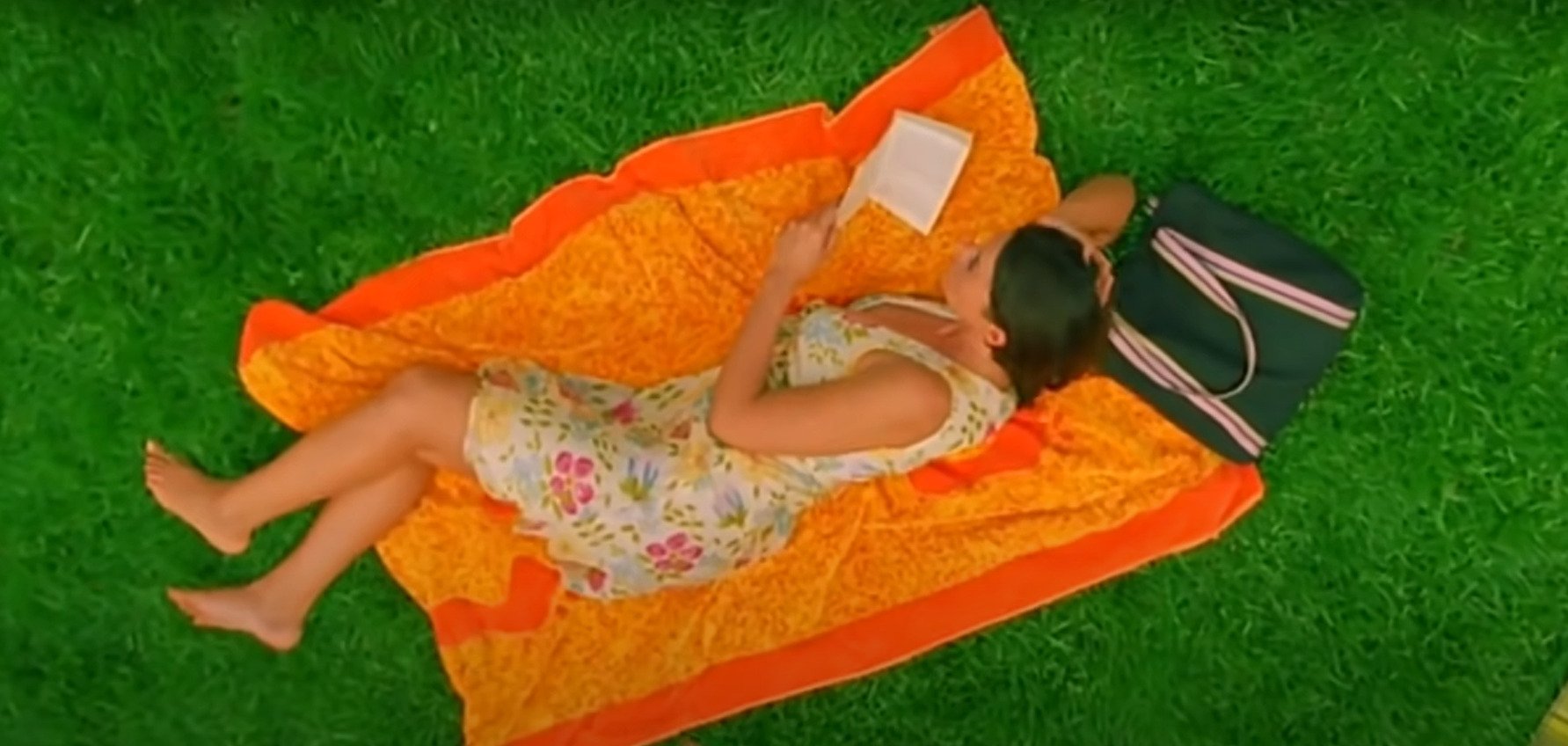 You've probably heard about this movie directed by daring Gaspar Noé and know of its controversial and brutally violent nature. If not, here's a film that can be praised and disapproved simultaneously. It narrates, in reverse-chronological order, the happenings of a night in Paris where two men, played by Vincent Cassel and Albert Dupontel, seek to find the aggressor of a brutal attack that left Alex (Monica Bellucci), the girlfriend of the first, in a horrifying state, deeply stagnated in a coma. Hard to watch, it definitely leaves a mark on its viewer by its disturbing plot and visually enhancing disorientating camera techniques and cinematography. Here's a brave Monica Bellucci that took part, brilliantly, in a dark role that not everybody would be willing to play.
1. Malèna (2000)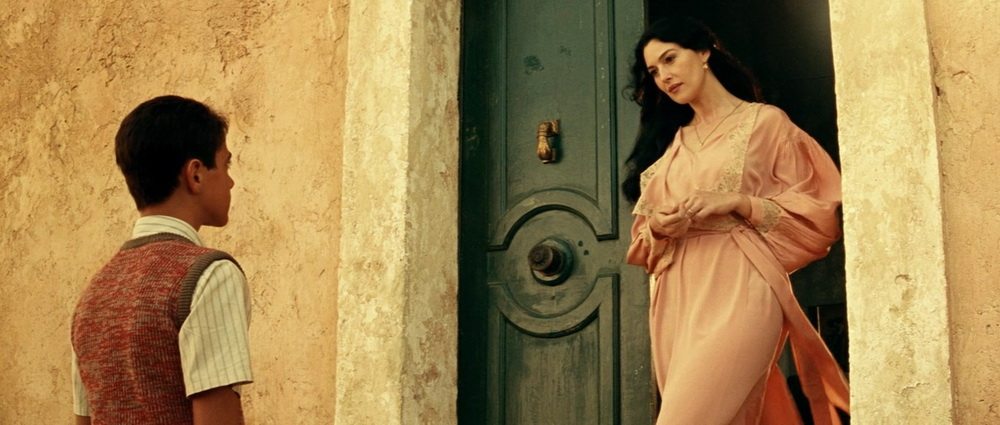 In the same style and atmosphere as the awe-inspiring "Cinema Paradiso," Giuseppe Tornatore wins back the deserved recognition with this romantic drama that shines a light on Monica Bellucci as the iconic Italian feminine perfection. Here, she's the solitary Malèna, whose husband has been sent to war, living in a 1940 Sicilian town where she's desired and visually devoured by the men and profoundly hated by the women. When 12-year-old Renato falls for her charms, he follows her around and observes her every move, becoming her little protector. This sad, helpless character, to whom (for once) her beauty is her very bad fortune, is honorably essayed by Bellucci. Applause to this stunning figure, that keeps her head up high, despite the heavy weight of rumours, insults and social pressure she has to carry. Not to mention the beautiful set decor and location, and of course, the music that wraps the images with emotion from beginning to end. Trule a five-star masterpiece!
Read More: Movies Like Malena