Because of the humble and cash-strapped nature of their productions, indie films often adapt a story only after deciding on what is important to the main plot, and keeping those, while discarding the rest. This is a good thing, more or less. Mainstream movies, with their mammoth budgets, can afford to be plot-wise as obese and over-saturated as they want to be. There are exceptions to this, of course. Director Ty Hodges' 2015 film 'A Girl Like Grace' has so many parallel and converging issues it wants to address that it comes close to becoming a hot, jumbled mess.
At the center of the story is a 17-year-old girl named Grace, portrayed exquisitely by Ryan Destiny in her first cinematic outing, who is abused by her mother, Lisa (Garcelle Beauvais), at home and bullied by a clique of popular girls at school. Moreover, she has just lost her best friend to suicide. She begins spending time with her late friend's older sister (Meagan Good), who helps her in finding her path to sexual liberation. However, her life gets once more derailed when she gets into a relationship with a boy who just wants to brag to his jock friends about his latest conquest.
The entire film hinges on Destiny's performance, and she gloriously and brilliantly leads it to its deliverance. Despite being an indie movie that was released five years ago, the film continues to circulate in social media discourse. If you are looking for similar films to watch, we have the perfect list for you. You can watch several of these movies like A Girl Like Grace on Netflix, Hulu or Amazon Prime.
7. A Girl Like Her (2015)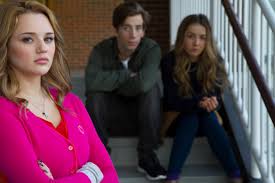 Amy S. Weber's found-footage drama 'A Girl Like Her' was also released in 2015 and has somewhat of a similar plot. Like Grace, Jessica (Lexi Ainsworth) has been incessantly bullied at school. Unable to cope, she attempts to kill herself and ends up in a coma. In the course of the movie, it is revealed that her once best friend Avery (Hunter King) is the one who has been bullying her. The film received mostly positive reviews from the critics, with many of them praising the performances of Ainsworth, King, and others.
6. Thirteen (2003)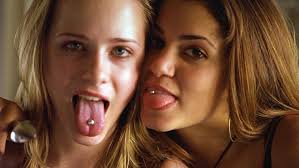 When it originally came out, Catherine Hardwicke's teen drama 'Thirteen' caused significant controversy because of how it addressed issues like substance abuse by minors, underage sexual behavior, and self-injury. The film stars Evan Rachel Wood as Tracy Freeland, a studious and mellow girl whose life goes spiraling out of control when she becomes friends with the troubled Evie Zamora (Nikki Reed). Evie pulls Tracy into her own world with promises of drugs, sex, and the thrill of committing petty crimes. While both 'Thirteen' and 'A Girl Like Grace' are essentially about blatant exploitation of a minor, there is one key difference between the two films. Tracy's mother, Melanie (Holly Hunter), is a constant source of support for her, and though they drift apart at one point in the film, she never loses hope for her daughter. Hunter was nominated for an Oscar and a BAFTA for her performance and she and Wood also received Golden Globe nods in respective categories.
5. Poetic Justice (1993)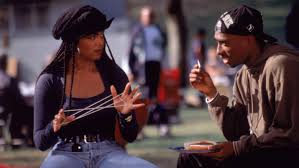 The 1993 romantic drama film 'Poetic Justice' stars Janet Jackson as Justice LaRue, a young amateur poet residing in South Central, Los Angeles. She earns a living by working at a hair salon, and unbeknownst to people close to her, is suffering from depression. One day, postal clerk Larry "Lucky" Knight (Tupac Shakur) walks into the salon and is instantly smitten by her. Although she initially turns him down, they end up taking a road trip to Oakland together. As they travel across the US, they come to realize that they have quite a few things in common. Both Justice and Grace are dealing with past tragedies. The former's depression was set off by the death of her previous boyfriend in a shooting.
4. Yelling to the Sky (2011)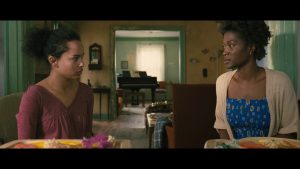 As with Grace and several other protagonists of the films mentioned on this list, 'Yelling to the Sky's Sweetness O'Hara (Zoë Kravitz) has grown up in a violent household. After witnessing yet another altercation at her home, she decides to take control of her life and becomes a drug seller. However, her choices then start leading to catastrophic and lethal consequences for others, making her life even more turbulent.
3. 8 Mile (2002)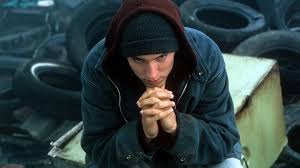 The Eminem-starrer is on this list because his character, Jimmy or B-Rabbit, and Grace are cut from the same cloth. Both feel stifled at their trailer-park homes and want to pursue better versions of themselves. '8 Mile' was partly inspired by Eminem's own struggles when he still was an up-and-coming young rapper in Detroit.
2. Pariah (2011)
Another indie film, 'Pariah' goes the distance to which 'A Girl Like Grace' only makes vague allusions. It is also about a 17-year-old girl who comes to know and embrace her sexuality. The title of the film refers to how the people around the lead character react to her when she accepts that she is a butch lesbian and begins dressing accordingly.
1. Precious (2009)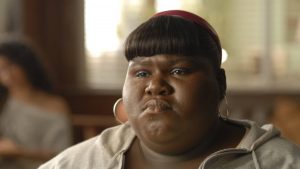 The parents of the titular character in Lee Daniels' Oscar-winning film are completely irredeemable, just like Lisa. Precious (Gabourey Sidibe) has been at the receiving end of both physical and verbal abuse from her mother (Mo'Nique) all her life. She has two children, results of incestuous rape committed by her father (Rodney "Bear" Jackson). She finds inspiration in her teacher Blu Rain (Paula Patton) to finally turn her life around. The film secured two Academy Awards, including the Best Supporting Actress accolade for Mo'Nique.
Read More: Best Teen Movies on Netflix