'Mutt' is a drama film directed by Vuk Lungulov-Klotz that tells the story of Feña, a trans man who reunites with his father after going through his transition. As Feña rekindles his relationship with his father, he also contends with reuniting with his straight ex-boyfriend and estranged younger half-sister, leading to a reaching of his interpersonal bonds and a new perspective on his self-identity. Given the film's deeply emotional and personal subject matter, viewers might wonder if 'Mutt' is based on real events or a true story.
The Inspiration Behind Mutt
'Mutt' is based on an original story from writer-director Vuk Lungulov-Klotz and tells a fictional story. However, while writing the film's screenplay, Lungulov-Klotz drew from his personal experiences. The film marks Lungulov-Klotz's feature film directorial debut, and he wanted the narrative to reflect his experience as a transgender man. While speaking at the film's screen at the Sundance Film Festival, Lungulov-Klotz spoke about the movie's conceptualization.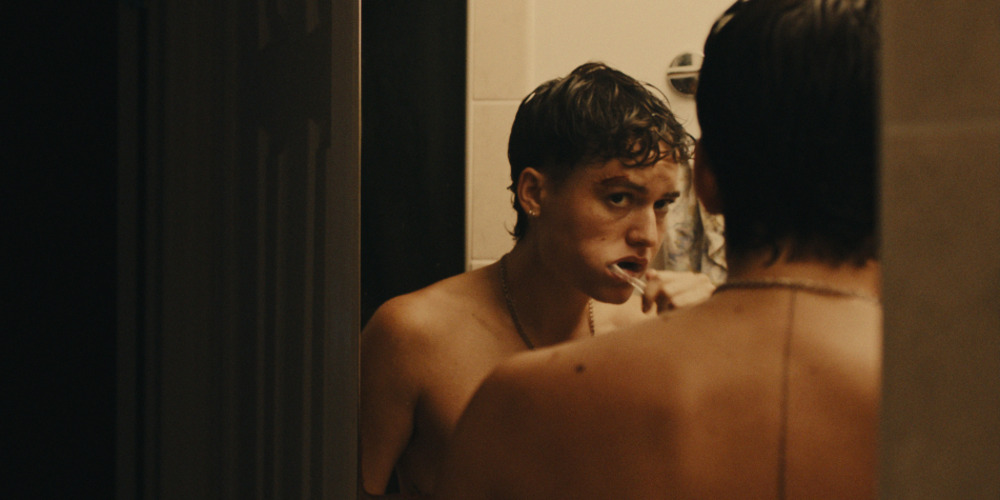 "It is definitely reflective of my own experience, but I was able to take it a little bit away from my life," the director told Deadline. From Lungulov-Klotz's words, it is safe to deduce that while his personal experiences shape the movie, the narrative itself is fictional. Furthermore, Lungulov-Klotz stated he focused on expressing his personal fears as a transgender man through the film. Hence, the story is a cohesive compilation of fictional events that are a projection of the director's fears, among other storytelling aspects.
"I'm trans, and I wrote this movie about six years ago. I tried to place all my fears in this film and, through that process, found a lot of love and empathy and trying to see myself reflected in the people that were most afraid about me being trans — like my family, like my fear of not finding love, my younger siblings, just society at large," Lungulov-Klotz stated highlighting his specific fears that shaped the film's narrative. The story reflects these fears through the character of Feña, a trans man, and his particularly fractured relationships with his father, sister, and ex-boyfriend.
In a separate interview with BOMB Magazine, Lungulov-Klotz stated that the experiences of being a trans man only form a part of the screenplay. The writer-director stated that through the movie, he hoped to tackle the subject of mixed identities. Like the film's protagonist, Lungulov-Klotz comes from a diverse cultural background. He is a half Chilean, half Serbian, living primarily in the United States. Hence, Lungulov-Klotz also wanted to comment on being an in-between person through the film's narrative.
"As a first-generation American that doesn't fit in one place or another, with (an) international family, with a father that comes in once a year to see you, and you have to jam pack an entire year's worth of memories into a week, I really love that in-between aspect," Lungulov-Klotz told BOMB Magazine. In the same interview, Lungulov-Klotz admitted that while he wanted to tell his own story, he also wanted it to be an inclusive experience. The director expanded upon these sentiments during an interview with Filmmaker Magazine.
Lungulov-Klotz explained the film's title's meaning while underlining how it embodies the general theme of mixed identities. "I think "mutt" also speaks about different intersectionalities and the in-betweenness of being trans. I think a lot of people try to force trans people into one or the other gender, and for me, it's a completely different gender. You're in between genders, sexuality is fluid, being biracial, not belonging to one specific thing," he said. Lungulov-Klotz has also highlighted empathy as one of the movie's major themes.
All things said, 'Mutt' is not based on a true story. It is an authentic depiction of the perils in a transgender man's life, which is derived from the experiences of director Vuk Lungulov-Klotz. However, it also speaks about identity, particularly in the context of those coming from a multicultural background or struggling with discovering their sexual identity. As a result, 'Mutt' is a complex human tale about discovering self-identity, and the challenges one faces because of the ever-changing perceptions of cultures and sexuality in modern society.
Read More: Best Transgender Movies of All Time