'MythBusters' is a popular television series that aims to explore and debunk various myths, urban legends, and common misconceptions through scientific experimentation and investigation. Created by Peter Rees, the show is hosted by Adam Savage and Jamie Hyneman, along with a team of experts who use their knowledge of physics, engineering, and other scientific principles to test and analyze a wide range of myths and claims. The hosts and their team construct elaborate experiments, often using large-scale models or contraptions, to replicate and test these myths. The results are often surprising, revealing the truth behind many myths and often showcasing the practical applications of science and engineering.
The show has been lauded for not only being entertaining but also educational, as it demonstrates the scientific method in action and encourages critical thinking. Originally released on January 23, 2003, it has been a long time since we got any updates about the cast members. If you are curious about the same, we have all the answers that you would need. Le'ts get started, shall we?
Where is Jamie Hyneman Now?
Jamie Hyneman earned acclaim as a co-host of the show 'MythBusters,' which he hosted from 2003 to 2016. He graduated from Columbus North High School and later obtained a degree in Russian linguistics from Indiana University. In February 2017, he was honored as one of the fourteen new honorary doctors of technology by Lappeenranta-Lahti University of Technology LUT. In the academic sphere, Hyneman has made significant contributions, including the invention of Sentry, an unmanned firefighting robotic vehicle in 2018. He is also known for his role as one of the designers of the aerial cable robotic camera system, Wavecam, used in sports and entertainment events.
In November 2021, Hyneman was appointed as a professor of practice at LUT University in Lappeenranta, Finland, with his term set to end in 2026. Additionally, he is the owner of M5 Industries, a product development company that served as the special effects workshop where 'MythBusters' was filmed. On a personal note, he married Eileen Walsh in 1989, and the two have created a beautiful home in San Francisco.
Where is Adam Savage Now?
Adam Savage's successful tenure as the host of 'MythBusters' earned him widespread recognition and eight Emmy nominations. However, when the show concluded in 2016, he didn't stop there. He continued to be involved in the world of television as a host and producer for 'MythBusters Jr.' and introduced a brand-new series titled 'Savage Builds.' Alongside his television work, he serves as an owner, editor, and contributor for the website tested.com.
Savage has also made appearances in various TV shows and movies, including 'The Expanse' and 'Blade Runner 2049.' His contributions to science communication have been acknowledged with prestigious awards such as being named "Humanist of the Year" by the American Humanist Association in June 2017 and winning the Heinz Oberhummer Award for Science Communication in 2018.
In 2019, he published his first book 'Every Tool's a Hammer' and in February 2020, Savage took on the role of Creative Director at SiliCon. He launched Savage Industries and ventured into manufacturing sustainable gear bags and mafia bags. Currently, he resides in the San Francisco Bay area with his wife and shares their home with their two sons from a previous relationship. Their household is also filled with the love of two remarkable dogs.
Where is Kari Byron Now?
As the 'MythBusters' series progressed, it introduced various members of Jamie Hyneman's staff, and one of the notable additions was Kari Byron. She played a crucial role as part of the "Build Team" on the show but left the series in 2014. Following her time on 'MythBusters,' Kari co-hosted Netflix's 'White Rabbit Project' in 2016 and 'Crash Test World' in 2019. She also hosted the Science Channel's coverage of Punkin Chunkin from 2011 to 2014 and 'Thrill Factor' in 2015.
Kari Byron is currently the co-founder of EXPLR Media, an education streaming service. In 2018, she published a memoir titled 'Crash Test Girl' and continues to express her creativity through the art of igniting gunpowder. She also holds the role of director at the National STEM festival. Kari was previously married to Paul Urich from 2006 to 2020, and the two share a beautiful daughter. Kari often shares moments with her daughter on social media. Unfortunately, she experienced the loss of her father, whom she was very close to, in January 2023. However, she is coping with the loss and finding solace with her adorable bull terrier, Ziggy Stardust, who is by her side during this challenging time.
Where is Tory Belleci Now?
Tory Belleci, another member of Jamie Hyneman's staff introduced on the show, earned the nickname "daredevil" due to his fearless approach when tackling the dangerous aspects of myth debunking. After leaving the show in 2014, he has made appearances on several TV shows, including 'Punkin Chunkin,' 'Thrill Factor,' and 'White Rabbit Project.' Tory starred alongside Richard Hammond in the Amazon Video series 'The Great Escapists.'
Starting in 2020, Belleci co-hosted 'The Explosion Show' on the Science Channel, and in 2022, he appeared in 'Jackass Forever.' He also runs a YouTube channel called 'Blow It Up,' where he collaborates with various guests to use explosives to blow up everyday items. In June 2014, Belleci participated in the Gumball 3000 race alongside electronic dance music producer deadmau5, winning the "Spirit of the Gumball" award. In 2021, Belleci returned to the franchise to host 'Motor MythBusters.' On a personal note, in 2020, he married his longtime girlfriend, Erin Bothamley, after being engaged for two years. The couple is leading a blissful and fulfilling life together, marking a significant milestone in Tory's personal journey.
Where is Scottie Chapman Now?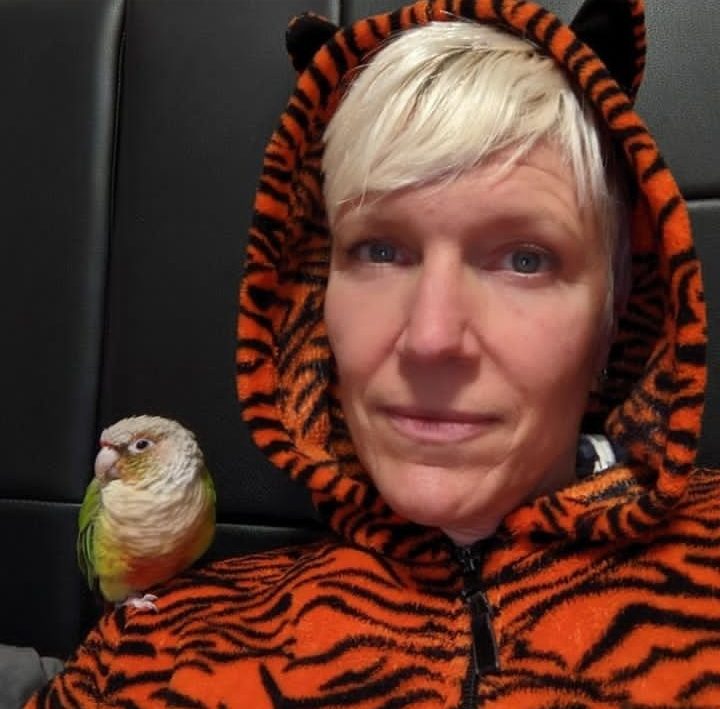 Scottie Chapman, also known as the 'mistress of metal' on the show, made appearances in 24 episodes of 'MythBusters' before leaving the series during its third season. She brought a unique skill set to the team, with training in welding, machining, and metal fabrication. In addition to her technical skills, Scottie had a diverse background, having worked as a former horse trainer, video-game tester, and graveyard-plot telemarketer. She also had experience in set-building, carpentry, model-making, and architectural restoration.
After leaving the show, Chapman decided to pursue further education. She attended Diablo Valley College between 2011 and 2013 in Contra Costa County. Scottie went on to obtain a degree in dental hygiene and began working with dentists in Maryland and the San Francisco area. She has maintained a low profile in recent years but announced her return to school to further her education in a September 2022 Instagram post. From her now-deleted bio page on the Discovery Channel, it is known that Scottie has two children, a daughter, and a son, although further details about her personal life remain private.
Where is Grant Imahara Now?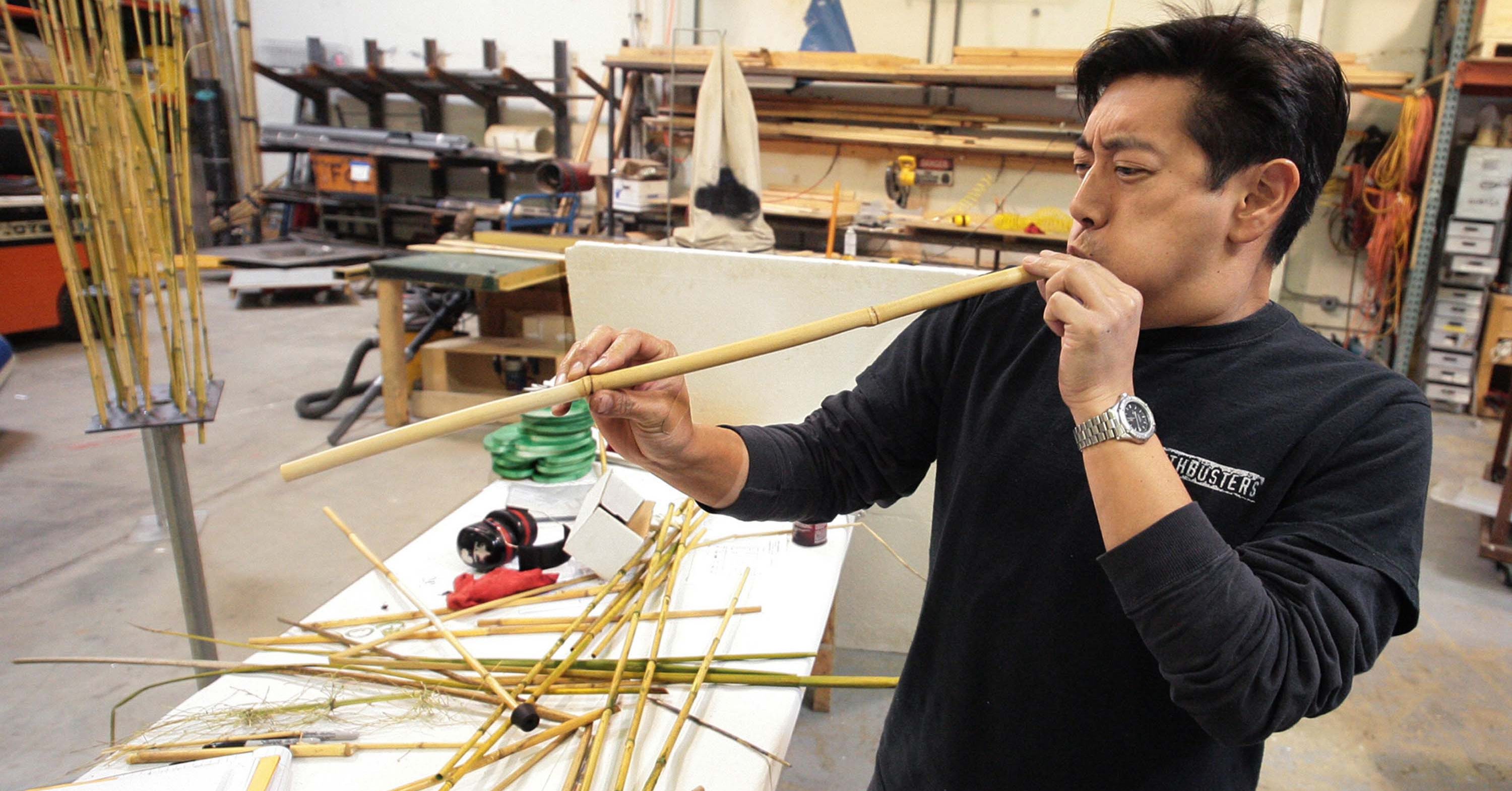 Grant Masaru Imahara joined 'MythBusters' in 2005 as a replacement for Scottie Chapman and remained with the show until 2014. Following his time on 'MythBusters,' he continued to make appearances on television, co-hosting Netflix's 'White Rabbit Project' in 2016 alongside his fellow castmates. Imahara also appeared on 'BattleBots' and later became a judge for the show in its eighth season in 2018. He hosted the second season of the web series 'The Home of the Future' and made contributions to Disney Research, including co-authoring the paper "Stickman: Towards a Human Scale Acrobatic Robot," published in May 2018.
In March 2020, while working as a consultant for Disney Research and serving as a mechanical designer at Spectral Moon, Imahara built a fully animatronic model of Baby Yoda (from the 'Star Wars' series) with the intention of using the lifelike robot to tour children's hospitals and bring joy to sick children. Grant Imahara passed away on July 13, 2020, at the age of 49, due to a ruptured intracranial aneurysm. In his memory, on what would have been his 50th birthday on October 23, 2020, his mother announced the establishment of the Grant Imahara STEAM Foundation, dedicated to promoting science, technology, engineering, arts, and mathematics (STEAM) education and inspiring young minds in these fields.
Where is Jessi Combs Now?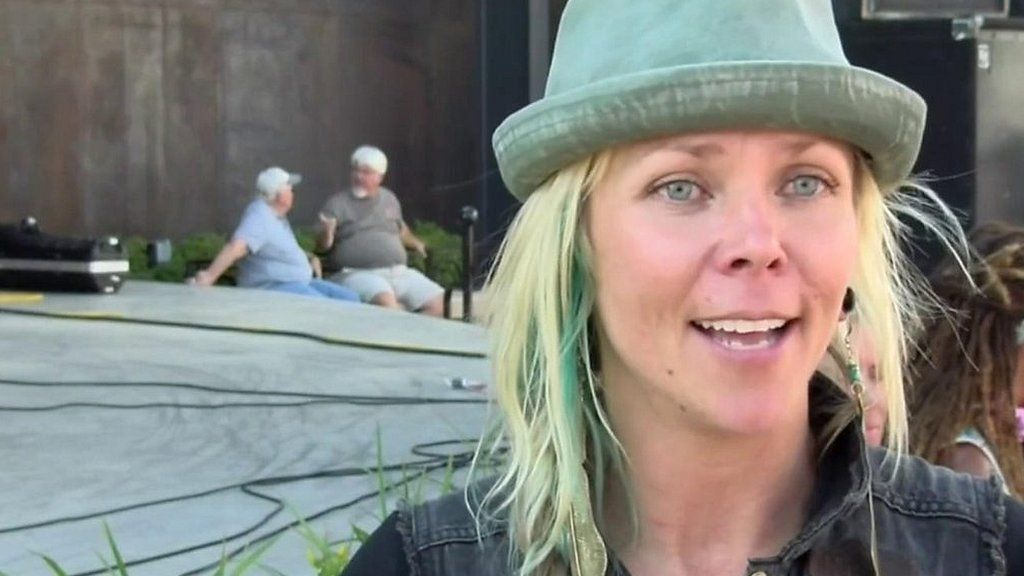 In 2009, Jessi Combs made her presence felt on 'MythBusters,' appearing in 12 episodes while Kari Byron was on maternity leave. Combs was not only an American professional racer but also a television personality and accomplished metal fabricator. After her time on the show, she continued her television career, featuring on programs such as 'Overhaulin' and becoming a host for 'All Girls Garage.' Her appearances extended to 'The List: 1001 Car Things To Do Before You Die' and the Science Channel's 'How to Build… Everything' in 2016.
Combs made significant strides in her racing career, setting a women's land speed class record on four wheels in 2013. She further established her reputation as "the fastest woman on four wheels" by breaking her own record in 2016. As a professional driver, she excelled in various events, including winning the Rallye Aicha des Gazelles in 2015 and the Ultra 4 King of the Hammers in 2016.
Jessi Combs lost her life on August 27, 2019, in a jet-powered car crash while attempting to set a land speed record as part of the North American Eagle Project on a dry lake bed in the Alvord Desert, Oregon. Her final run, which broke the existing women's land speed record, was officially recognized by the Guinness Book of World Records in 2020. In 2022, a documentary titled 'The Fastest Woman on Earth' was released on HBO Max, chronicling Jessi Combs' remarkable career and her land speed record attempt, paying tribute to her enduring legacy.
Where is Jon Lung Now?
Jonathan Lung made his appearance on the show in its revival in 2017, taking on the role of a co-host. He initially came into the MythBusters world through the reality television competition program 'MythBusters: The Search,' where he emerged as the winner and secured the job co-hosting the TV series 'MythBusters.'
In addition to his work on the show, Jonathan Lung had a career as an Industrial Design Contractor at X, formerly known as Twitter, until 2020. Following that, he joined IDEO and was later promoted to the position of Industrial Design Lead. Beyond his professional endeavors, Lung is a passionate creator and spends time fabricating in his shop. He enjoys exploring junkyards in search of parts to use in his projects. Lung has built an enriching life in San Francisco and continues to thrive in his career.
Where is Brian Louden Now?
Brian Louden joined the 'Mythbusters' series as a co-host during its revival in 2017. As a biologist and STEM educator, Brian brought his unique expertise to the show's exploration of scientific myths and experiments. In his current endeavors, Brian Louden works as a freelance manager for Crucean Spearos, a store dedicated to supporting local fishermen who sell their products at the market. Additionally, he is engaged in the F.R.B. Experimental Project, where he is involved in rebuilding a 30-year-old boat hull into a test bed platform for advanced maritime Search and Rescue (SAR) technology.
Brian has settled in St. Croix, an island in the Caribbean, and remains active on social media platforms like Instagram and TikTok. He frequently shares insights into his life on the island, its vibrant community, and his adventures. Brian has built a fulfilling life with his wife, Becca, children, and two dogs, enjoying the beauty and culture of St. Croix.
Where is Christine Chamberlain Now?
Christine joined the 'MythBusters' series through a Discovery Channel Contest and was a part of the second season as a 'mythtern.' She contributed to the show's experiments and investigations during her time on the series but left after the third season. Following her departure from the show, Christine has maintained a low profile, and not much information is available about her subsequent endeavors. Nevertheless, we wish her the best in all her future pursuits and hope she finds success in whatever she sets her mind to.
Where is Jessie Nelson Now?
Jessie Nelson, another "mythtern" on the series, made appearances in several episodes during her time on the show. After her tenure on 'MythBusters' concluded in 2008, Jessie pursued a career as a consultant with Vantage Technology Consulting Group, based in San Francisco. In addition to her professional work, Jessie began learning programming to expand her skill set in engineering. She also dedicated her spare time to pursuits such as climbing, running, and CrossFit training. While not much information is available about her personal life, it is known that Jessie Nelson has not maintained an active online presence. Despite this, she has continued to develop her skills and interests, remaining focused on her career and physical fitness activities.
Read More: Is Tory Belleci Married? Who is His Wife?