The latest episode of 'The Next Call with David Ridgen' Podcast focuses on the disappearance of 32-year-old Nadia Atwi from Edmonton, Alberta, in early December 2017. The local kindergarten teacher and mother of two was last seen by her husband at their Edmonton home at about 6:30 AM on December 8. Almost six years have passed since Nadia disappeared, and many wonder what happened to her and if she returned home. If you are curious to discover more about the same, here's what we know.
What Happened To Nadia Atwi?
A resident of Edmonton, Alberta, Salwa Atwi shared her poignant story, recounting the events leading up to the mysterious disappearance of her oldest daughter, Nadia, in early December 2017. The latter was a kindergarten teacher who had recently obtained her teaching degree from the University of Alberta and was employed at Al-Baqir Academy, a Shia Islamic school in the southwest quadrant of Edmonton. Salwa herself had retired in July 2017 and joined Nadia at the school.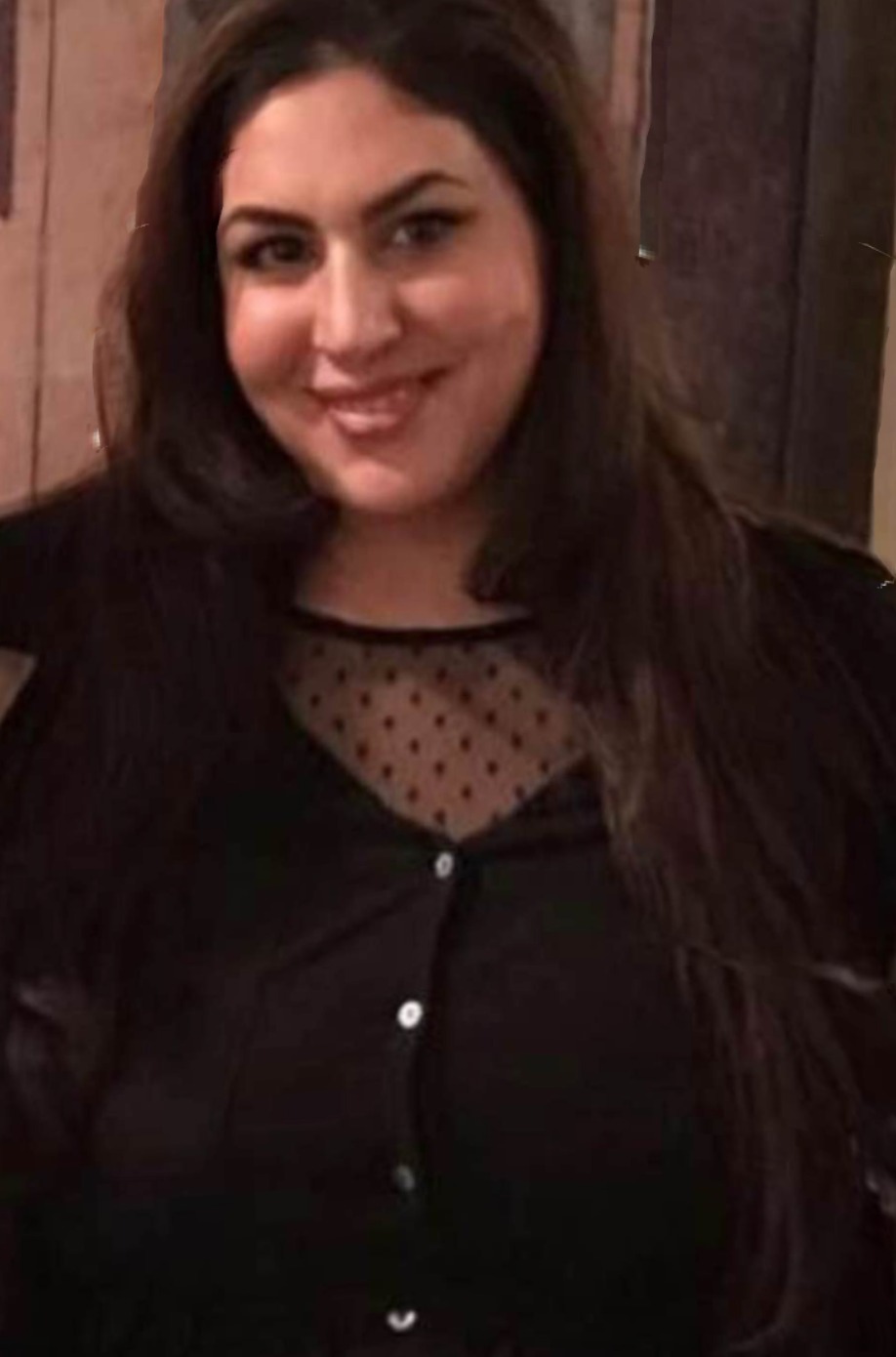 The mother-daughter duo not only shared a professional connection but also maintained a close bond as a family. They often carpooled to work due to the short distance between their homes and the school, making their daily routine intertwined. Salwa fondly recalls how they used to coordinate their rides, often alternating between their cars depending on daily requirements. Their relationship was marked by mutual support and care. However, the last time Salwa saw her daughter was on the evening of December 7, 2017.
The two had concluded the Islamic sunset prayer alongside the Imam and principal of the school. Nadia had invited her mother for coffee, but due to exhaustion, Salwa declined, planning to meet her the following day. The latter received no response when she attempted to contact her daughter the next morning. Concerned, Salwa drove to Nadia's house, finding the lights on but receiving no answer when she knocked. Surveillance footage from a neighbor's camera showed her car arriving around 7:24 AM, yet there was no clear view of Nadia's car due to the closed garage.
Salwa then approached Nadia's husband, Ali Fneich, who had a somewhat strained relationship with her. When she confronted him about her daughter's whereabouts, he abruptly closed the door on her. Undeterred, Salwa persisted and knocked again, only to find the door open when she returned. Ali was uncooperative and aggressive, yelling that his wife wasn't there. Salwa retreated to her car, called her husband, and headed to the school, assuming Nadia might have gone to pick her up.
However, Nadia never arrived, and it slowly became apparent that something was seriously wrong. Salwa's sense of unease grew as she realized she couldn't contact her and was missing from work. She recalled the messages she had sent Nadia on WhatsApp, now preserved as digital traces of her concern. The children's innocent calls for Nadia amplified Salwa's anxiety, and she grappled with the uncertainty of the situation. She continued to reach out to her daughter, texting and calling her till 9:50 AM, yet received no response.
Despite her concerns, the worried mother stayed at the school where they both taught. Around the 2:20 PM recess, the principal informed Salwa that Ali had reported Nadia missing to the police. He arrived at the school, went upstairs, and questioned the staff about his wife's whereabouts because he needed the car. One of the teachers informed Ali that Nadia hadn't come to school that day. Still, Salwa didn't fully grasp the gravity of the situation. Ali's musician friend, Jihad, had driven him to the school to search for Nadia and her car.
Is Nadia Atwi Dead or Alive?
According to reports, Nadia, then 32, was last seen by her husband, Ali, at their Edmonton home near 48th Street and 146th Avenue at about 6:30 AM on December 8, 2017. Salwa stated on the show that her daughter's car was found late in the afternoon in Rundle Park the same day after her husband reported her missing to the authorities. A pedestrian spotted Nadia's car in the park around 4:00 PM; the vehicle was found overturned in dense bushes near the park's exit, with a phone and one shoe found outside.
"The only fact is that she is still missing, and we don't know any update."

I spoke with Nadia's mother, Salwa, this morning.

She still shares Nadia's story with everyone she meets in hopes of new tips to bring her family answers @CityNewsYEG pic.twitter.com/gSrflGZKfH

— Carly Robinson (@CarlyDRobinson) December 8, 2022
Edmonton's Rundle Park — on 137th Avenue and 20th Street — was about a 15-minute drive from Nadia's residence. Due to the car's position, it was determined that she couldn't exit from the driver's side and had to leave from the passenger's side. Inside the motorcar, a dark-colored hijab was found, potentially indicating Nadia's presence. The investigators could not confirm the ownership of the shoe beside the vehicle. Despite the cold temperature that morning — at a low of minus six degrees Celsius — there were no visible footprints or signs of the missing woman nearby.
That weekend, hundreds of volunteers scoured Rundle Park, where Nadia's car was found. The search has continued frequently over the years, but efforts have returned empty. Salwa stated, "All the people we know and don't know in Edmonton, that's what they're hoping for — her safe return." Requesting more volunteers to join the search to look for her missing daughter, Salwa added, "Please don't give up on helping us. Please, we need your help." Ali, with their infant son in his arms, also requested Nadia to return to her family.
Ali said, "I'm begging you, Nadia, to come home today. Everybody in Edmonton, everybody in the world [is] waiting for you." Then in his mid-30s, he worked as an apprentice electrician and in transportation logistics, including a job in Yellowknife. Ali's relationship with Salwa and Nadia's brothers was strained even before her disappearance, leading to a lack of communication. Due to a court order, Salwa and her husband were granted limited visitation with Nadia's son, Muhammad, supervised for three hours, aimed to protect the child.
In March 2018, Ali took out a protection order against Salwa and others, claiming harassment and expressing fear that they believed he was involved in Nadia's disappearance. He cited receiving threatening calls and social media harassment, along with concerns that his home was being watched. In an affidavit related to visitation rights for his son, Ali swore he had no involvement in Nadia's disappearance. Even in her absence, he and Muhammad continued living in the same house they had purchased in July 2017.
During Nadia's university years around 2008-2009, she experienced periods of stress, leading to a diagnosis of bipolar disorder around 2010. Despite this diagnosis, Salwa emphasized her daughter's bipolar condition wasn't severe enough to cause memory loss, violence, or unapproachability. Nadia's bipolar episodes did not accompany suicidal tendencies. Her husband mentioned her medication non-compliance for over three days could lead to a "suicidal mode," yet she had never displayed such self-harm tendencies.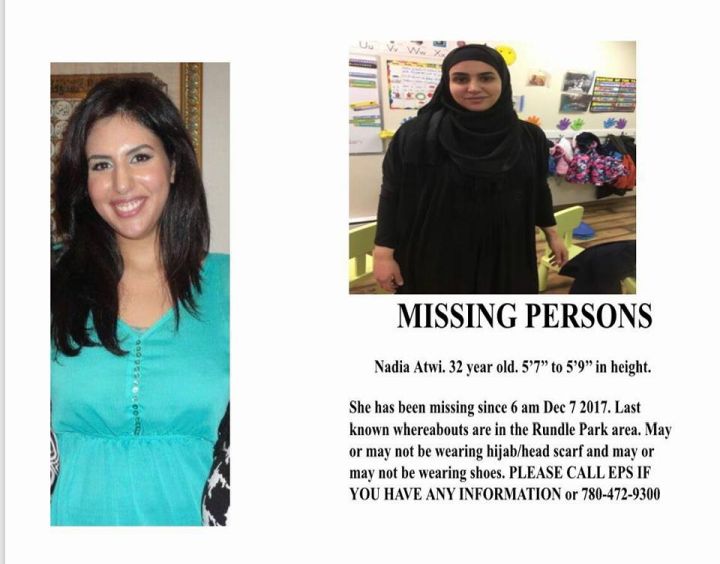 Nadia's condition has prompted discussions about the impact of mental health on her disappearance, sometimes overshadowing other potential explanations. Nevertheless, the search for the 32-year-old has not yielded results near her car's discovery site, inspiring hope that she may still be alive. In 2018, Salwa said, "Nadia's maybe in Lloydminster, maybe she is in Saskatchewan. We don't know. I don't want to lose hope, but I'm 100 percent sure Nadia's not here in Edmonton." Her family has put up a $50,000 reward in hopes of advancing the missing persons case.
If you have any information about Nadia Atwi, contact the Edmonton Police Service at 780-423-4567 or Edmonton Crime Stoppers at 1-800-222-8477 or submit your tip online. Please reference the EPS file number (17-181274) when possible.
Read More: Carla Stefaniak Murder: Where is Bismarck Espinoza Martínez Now?