In its sixth season, 'The Great British Bake Off' delighted audiences with its delectable creations and friendly competition. This season, judges Paul Hollywood and Mary Berry, accompanied by hosts Sue Perkins and Mel Giedroyc, guided 12 talented amateur bakers through a series of entertaining challenges. The competition heated up as each participant displayed their baking prowess and creativity, making it a season to remember. Ultimately, season 6 saw its champion in Nadiya Hussain, who won the hearts of viewers with her exceptional talent and charming personality. If you're curious to learn more about Nadiya Hussain and her victorious journey on the show, we have all the details for you.
Nadiya Hussain's The Great British Bake Off Journey
Nadiya Hussain, born and raised in Luton, Bedfordshire, grew up in a bustling household with her mother, father, and five siblings. Despite her dreams of becoming a social worker, she married at the age of 20 and became a dedicated homemaker, caring for her husband and their three children. Undeterred by her responsibilities, Nadiya harbored a strong desire to attend university, and it was during these demanding times that she found solace and relaxation in baking. Encouraged by her husband, she bravely applied for the sixth season of the show, embarking on a journey that required her to navigate unfamiliar territory.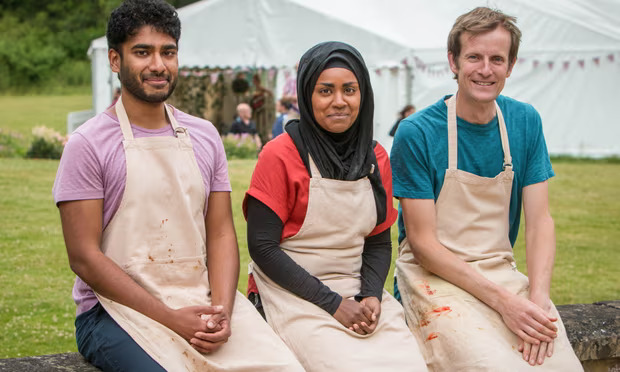 Recounting the day of her audition, she said, "I'll never forget the moment when I left the house for the audition. It was the first time I'd been on a train, and the first time I'd been in a taxi on my own. I ended up getting lost and arrived five hours late – but I still got there. And I am so glad I did." In her initial foray on the show, Nadia presented an Orange and Green Cardamom Madeira Cake along with a Quadruple Chocolate Black Forest Gâteau in the first episode. While finding her footing, it was in episode 5 that she truly showcased her baking prowess. For that crucial challenge, she crafted a delightful Naked Blueberry and Caraway Crunch Cake as her signature dish.
As her showstopper, Nadiya created a tantalizing Chocolate and Strawberry Lime Ice Cream Roll. Her exceptional performance in this round earned her the title of "star baker" and left the judges deeply impressed. In episode 7, she wowed the judges with her culinary skills, creating an Aromatic Raised Game Pie and a delightful Mango and Raspberry Charlotte Russe, and won the title for the second time. Her prowess in the kitchen continued to shine in episode 8, wherein she earned the coveted "star baker" title once again.
Nadia's Rose Pistachio and Mocha Hazelnut Horns, along with the delectable Bubblegum and Peppermint Cream Religieuse à l'ancienne, left a lasting impression on both judges and viewers alike. Her journey on the show reached its pinnacle in the finale, wherein she faced formidable competitors in Ian Cumming and Tamal Ray. With her culinary finesse and creativity on full display, she emerged as the well-deserved winner. Her winning spread was a scrumptious array that included Cardamom and Almond Buns, Nutmeg and Sour Cherry Fingers, and a magnificent multi-layered presentation cake. Nadia's victory was a testament to her exceptional baking talent and her ability to craft exquisite and unforgettable flavors.
Where is Nadiya Hussain Now?
A second-generation British Bangladeshi and dedicated stay-at-home mother, Nadiya Hussain became a trailblazer when she graced the stage of 'GBBO.' Her appearance on the show shattered stereotypes about the Muslim community and championed acceptance of cultural diversity. Nadiya's talents propelled her to stardom, and in December 2015, she was offered a cameo appearance on BBC One's 'Michael McIntyre's Big Christmas Show.' In August 2016, Nadiya took on the role of presenter in the two-part food travelogue series, 'The Chronicles of Nadiya,' aired on BBC One.
The series garnered recognition with a nomination at the 2017 National Television Awards in the 'Factual Entertainment' category, while Nadiya herself was nominated for the Breakthrough Star award at the 2017 Royal Television Society Awards. Her influence continued to grow as she judged the fourth series of 'Junior Bake Off' in November 2016. In September 2017, she hosted 'Nadiya's British Food Adventure,' an eight-part series on BBC Two. Nadiya's second TV cookery series, 'Nadiya's Family Favourites,' aired on BBC Two in July 2018. She also starred in the successful eight-part series, 'Nadiya Bakes.'
Nadiya's captivating presence extended to guest appearances on BBC One's 'The Graham Norton Show' in December 2016 and November 2021, solidifying her status as a beloved and influential figure in the world of television and culinary arts. Nadiya Hussain is a prolific author with an impressive repertoire of around 12 books to her name, including an autobiography titled 'Finding My Voice.' Her latest publication, 'Nadiya's Simple Spices,' which was released in September 2023, has garnered significant attention and praise.
She has secured publishing deals with prestigious houses like Penguin Random House, Hodder Children's Books, and Harlequin, encompassing children's books and recipes. Nadiya's influence extends to her role as a Contributing Editor for the UK's prominent food media brand, BBC's Good Food. She also shares her culinary insights through a monthly column in The Times Magazine, a part of the Saturday supplement of The Times. Her writings frequently grace the pages of The Guardian and The Telegraph.
Beyond her literary accomplishments, Nadiya has made appearances as a guest panelist on ITV's 'Loose Women' and even had the honor of baking a cake for the former Queen Elizabeth II's 90th birthday. Her impact on British culture was formally recognized in 2017 when Debrett's included her in their list of the 500 Most Influential People in the UK. Beyond her thriving career, Nadiya is a compassionate soul who serves as an ambassador for the Starlight Children's Foundation, offering support to seriously ill children. She is also a dedicated WaterAid ambassador, advocating for access to clean water and sanitation.
In 2018, Nadiya took on the role of brand ambassador for Swarovski, participating in a campaign that celebrated female empowerment. Her outstanding contributions to broadcasting and the culinary arts were acknowledged in 2020 when she was appointed a Member of the Order of the British Empire (MBE) in the New Year Honors. Nadiya Hussain shares her life with her husband, Abdal Hussain, and they are the proud parents of three children: two sons named Musa and Dawud, as well as a cherished daughter named Maryam, with whom she shares a particularly close bond. Looking at her life, we can only say that Nadiya Hussain stands as a remarkable source of inspiration in the modern world, exemplifying the values of embracing diversity and celebrating the richness of human potential and hard work.
Read More: Candice Brown: Where is The Great British Bake Off Season 7 Winner Now?