Paramount+'s 'Never Seen Again' attempts to unravel the tangles behind the mysterious disappearance of 32-year-old Irene Gakwa while staying with her boyfriend, Nathan Hightman, in Gillette, Wyoming, in late February 2022. While Nathan has not yet been charged with her going missing, he remains the primary person of interest in the case. If you're interested in discovering more about Nathan, including his current whereabouts, we've your back. Let's begin then, shall we?
Who Is Nathan Hightman?
Irene Gakwa, a Kenyan native, met Nathan "Nate" J. Hightman on Craiglist after she moved to the United States to pursue a career in healthcare in 2019. She moved with him to Gillette, Wyoming, in July 2021 without notifying her family. Her elder brothers — Kennedy Wainaina and Chris Munga, both Idaho residents, said they used to see their sister almost every weekend until she met her boyfriend, Nate. Chris alleged, "I feel like Nate is the one who kind of pushed her away from the family."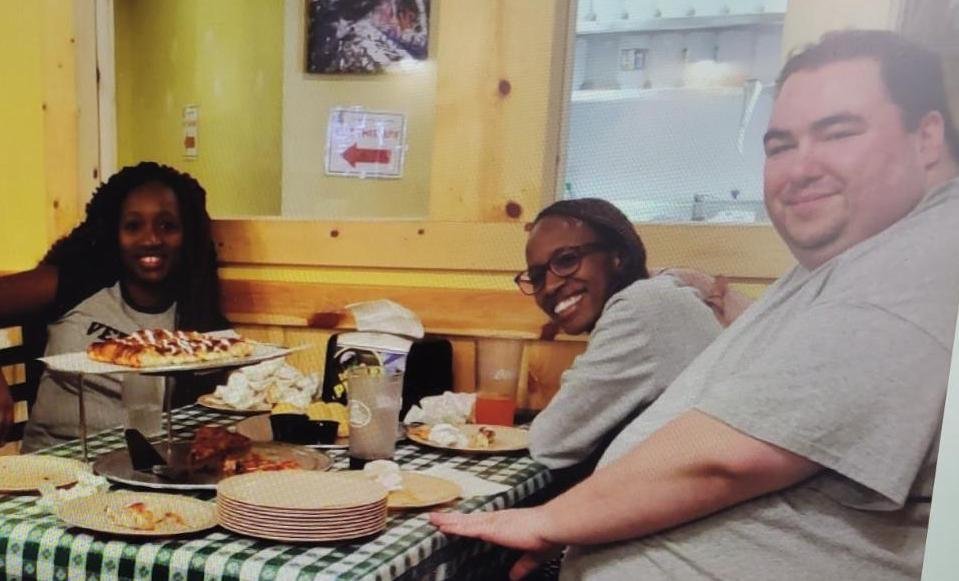 Irene's brothers stated they had met Nate only a couple of times and alleged they were unaware of how long the couple had been dating. Chris commented, "From day one when I met him, I just didn't like him but never told her. I just knew he was trouble." He also contended they had "a rocky relationship," claiming she lied to them about relocating to Arizona for a warmer climate when she was, in reality, moving in with him. After Irene began behaving suspiciously in late February 2022, the brothers contacted a close friend and learned the truth.
Irene's family reported her missing to the Gillette Police Department on March 20, 2022, after they noticed she deleted her WhatsApp account on March 8 and her phone number two days later. A police officer contacted Nate the same day in a related separate criminal case, and he allegedly claimed he had not seen her since late February. He alleged she came home one night in late February, packed her clothing in two plastic bags, and left in a dark-colored SUV. However, her family suspected him after he reportedly refused to return her documents.
Reports stated Gillette authorities got involved in a wild goose chase while investigating Nate's claims that Ireme had stolen money to purchase airline tickets to Kenya. However, the police discarded the allegations after they found no merits following a detailed probe. Nate officially became a person of interest in April 2022 after witnesses told the police about a gray or silver Subaru Crosstrek with Idaho license plates. He possessed a similar vehicle, and Kennedy made unsubstantiated claims of him allegedly burning something in a 55-gallon oil drum.
Where Is Nathan Hightman Now?
The authorities arrested Nate at approximately 3:30 pm on May 10, 2022, on charges of two felony counts of theft, one felony count of unlawful use of a credit card, and two felony counts of crimes against intellectual property. Police sources state he withdrew $3,700 from her bank account, spent $3,230 on her credit card, and changed her online bank password after she disappeared. However, Nate claimed he withdrew money from her bank account so she would be forced to contact him if she needed financial aid.
While initially pleading not guilty to the charges and released on a $10,000 bond, Nate pled guilty to one felony count each of theft, unlawful use of a credit card, and crimes against intellectual property in March 2023. A court handed him a three- to six-year prison sentence for felony theft and unlawful use of credit card convictions, which will run concurrently with a suspended two- to three-year sentence for crimes against intellectual property. He was also ordered to pay $13,200 in fines, fees and restitution in his June 2023 sentencing.
Nate is required to pay fines of $2,000 for each of the three convictions, $3,666.46 in restitution for the stolen money, $3,230.65 for credit card charges, $1,500 in legal fees, and $825 in other fees. After his release, he will be required to serve three years of supervised probation. However, he has not been charged with Irene's disappearance. Kennedy stated, "We are happy with the outcome of the current charges. However, we are still wondering what happened to our sister." The 40-year-old is incarcerated at the Wyoming Medium Correctional Institution and will be eligible for parole in March 2025. His sentence will expire in April 2027.
Read More: Irene Gakwa: Found or Missing? Is She Dead or Alive?