The only thing many might like more than a cooking show is one with drama. After all, who does not want their food to have a bit of a backstory? With FOX's 'Next Level Chef,' the public gets to not only satisfy their craving for food and drama but also have a chance to meet with some of the most talented chefs out there. Being mentored by legendary chefs like Gordon Ramsay, Nyesha Arrington, and Richard Blais is a dream-come-true situation for any aspiring chef.
In order to find the newest star in the food industry, Chef Gordon Ramsay scours the nation in search of the greatest line cooks, home chefs, social media stars, food truck entrepreneurs, and everyone in between. The show's very first iteration featured several skilled chefs who impressed the audiences with their talent and strategies. Though things might have been hard for the participants, it also helped them gain much fame. Naturally, people are eager to know where exactly the talented chefs are today. Luckily, we have just the answers you might need!
Where is Stephanie "Pyet" Despain Now?
Let's begin our list with none other than the winner of 'Next Level Chef' Season 1. Talented contestant Stephanie "Pyet" Despain a private chef by profession. She is a businesswoman who runs Pyet's Plate, a website that provides gourmet personal chef services. The company's website also offers Despain's recipes and offers items like women's T-shirts and berry blends for sale. While Despain successfully started her firm, she had to overcome several obstacles.
The 'Next Level Chef' season 1 winner underwent several challenges, from homelessness to job loss, until she finally made it in the industry. She goes by Pyet, the abbreviation for Despain's inherited Native American name Pyetwetmokwe. The 'Next Level Chef' winner currently resides in Los Angeles, California. She is an expert in indigenous fusion cuisine because of her diverse cultural background. Despain continued her study in the culinary arts at Le'Cole Culinaire. After that, she launched a part-time private chef company while continuing to work full-time in the automotive industry. Currently, she is one of the top 25 private chefs in Los Angeles and is set to make her name evergreen amongst the top chefs in the nation.
Where is Mariah Scott Now?
The finalist private chef has classical training and is more than just a culinary artist. Scott is a stunning woman that was named Miss Texas State in 2015. She picked the platform in order to support the community and follow her philanthropic purpose. Scott was born in Santa Clara, California and is currently residing in Houston, Texas. She is quite diverse in her hobbies.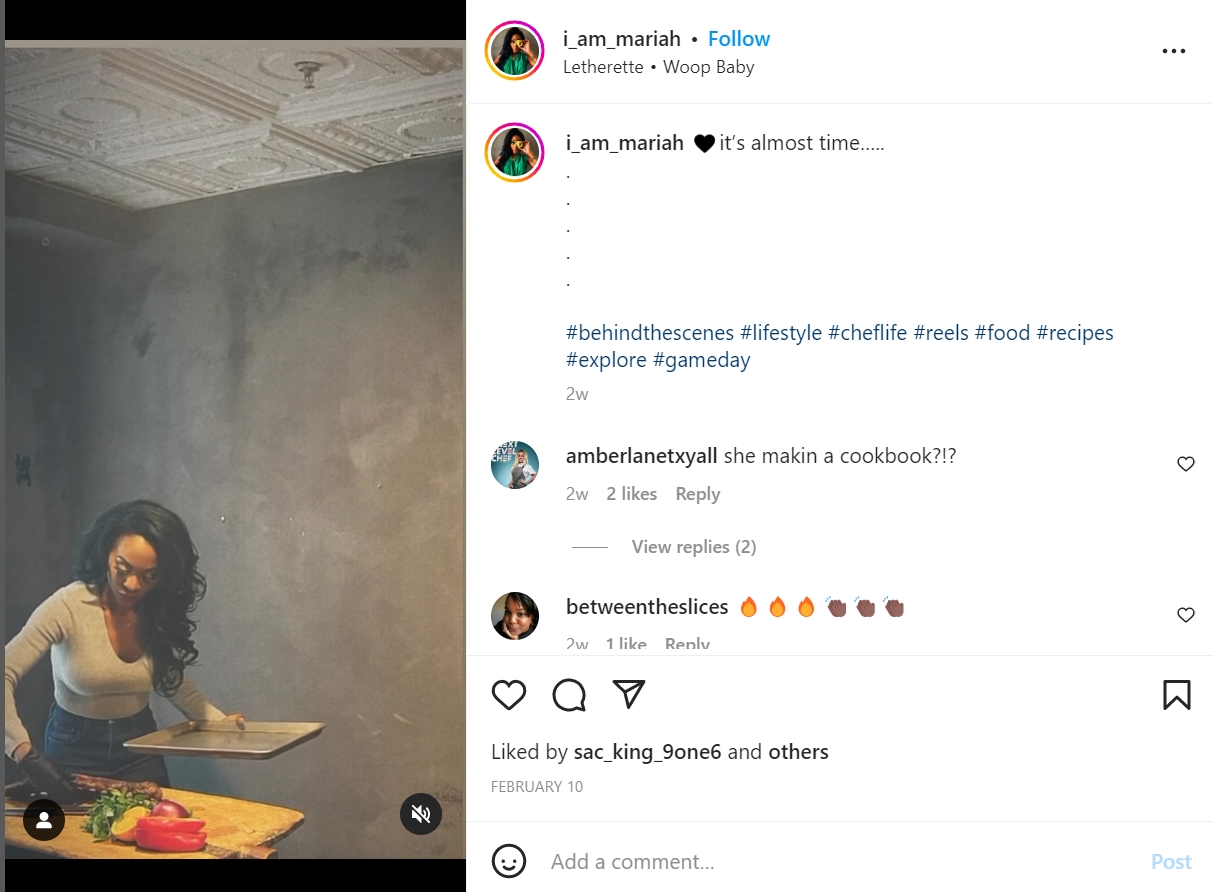 She is not only a fantastic cook but also a beauty queen, blogger, philanthropist, and lifestyle enthusiast. The name of her blog is I Am Mariah: Food & Lifestyle, where she posts at length about food and tells a story. Scott has several years of experience as a personal chef. She has been to more than 30 countries and attended culinary school, where she studied the ins and outs of the culinary industry.
Where is Reuel Vincent Now?
Finalist Reuel Vincent came on the show not to be in competition with the other chefs but with himself to push his cooking skills further and act as an advocate for Caribbean cuisine. He revealed that he wanted to cook Trinidadian food on the show, and though he didn't take the winning title home, he gave everything and believes he is a better cook than before. Currently, he works as an Executive Chef at Legends' ASPIRE at One World Observatory, where he oversees everything, from creating new menus to hiring staff.
Despite not being a culinary school alum, Reuel never let that come in between his craftsmanship with food. The finalist also owes everything to his mother, who decided to birth him despite knowing that he had a hole in his heart while in the womb. He never misses an opportunity to celebrate her and loves to create new dishes.
Where is Angie Ragan Now?
Despite being a member of the "home cooks" squad, semifinalist Ragan, a works as a private chef. She credits her grandmother for her amazing culinary skills She is also a business owner at Salt By Angie, a website that offers catering and private chef services to customers. The business's website also offers a menu with prices for everything from appetizers to desserts along with customizable T-shirts for sale.
She mixes her love for cooking with her passion for owning and providing more upscale things, as well as her drive to offer top-notch service. She has been cooking all her life, but she only recently decided to make it her career. Her style and recipes are the results of her life experiences, as she wasn't traditionally trained in a culinary institution, and a lot of trial and error. The chef is married to Dr. Jimmy Ragan and has a talented son named Brax.
Where is Courtney Brown Now?
With 15 years of expertise, Brown is the competitor chef with the most years of experience. The 48-year-old Atlanta, Georgia, resident has worked for a number of well-known athletes. Olympian Kyle Lowry, NFL linebacker Preston Brown, Tyronn Lue, Larry Hughes, Trae Young, Chauncey Billups, Kevin Garnett, and Adidas are just a few of her noteworthy clientele.
Brown is not just a fantastic chef but also a well-known baker. She has developed her own brand of cookies, which she distributes across the country. In addition, Brown is renowned for cooking a number of regional cuisines, including French, Asian, and Caribbean. She offers online baking and culinary services through her own website, Chef Courtney Brown. She is currently working as a Private Chef at Healthy Living by Court.
Where is Kenny Everett Now?
The Missouri-native participant, Chef Kenny Everett AKA K. Ray, began cooking at an early age under the tutelage of his grandma Dora. Everett has worked in renowned restaurant kitchens and traveled with iconic chefs since he began his career as a professional chef. Nonetheless, he first considered a career in engineering rather than cooking. Yet his love of cooking helped him become a well-known culinary artist. The former army man became interested in cooking from a very young age. He has cooked for several renowned restaurants and collaborated with numerous expert chefs.
Kenny completed his education at the Cordon Bleu Culinary School after pursuing his passion in the military and eventually changing his concentration to cooking. He also worked with renowned chefs Josh Galliano at Monarch and Rex Hale at 360 to hone his talents. The chef also provides services, including consultancy, catering, cooking lessons, and others on his website. Chef K. Ray makes inventive recipes that are flavorful and stylish in order to satisfy his clientele' discriminating preferences.
Where is Tricia Wang Now?
Given that Wang is amongst the most popular cooking streamers on the live-streaming platform Twitch, internet users who use it might already be familiar with her. While social media helped Wang gain notoriety, it also put her in a dangerous situation. On one occasion, when she was live broadcasting on Twitch, a stranger broke into her home.
The Twitch streamer completed her culinary education from Le Cordon Bleu where she received Diplome De Cuisine, French Cuisine and a diploma in Traditional Japanese Cuisine. She has also released a book 'Camp Savant Teacher's Manua.' The Claremont McKenna College alum is also the Co-Founder at Synergon Investments LLC. Currently, she is working as a Chef at Wolfgang Steakhouse in Beijing, China.
Where is Ae Southammavong Now?
Ae Southammavong not only makes amazing food, but she also has a significant influence on social media. The Next Level Chef contestant offers information about new foods, particularly Southeast Asian cuisine, on her social media handle. Southammavong worked a corporate job in finance before switching to full-time cooking. The native Lao woman, whose full name is Phonephimon Ae Southammavong, decided one day that enough was enough and mustered all her bravery to approach her employer before quitting her work.
She presently owns and operates StirFryMaster, a meal preparation business that specializes in Southeast Asian and Lao food. She established the business just before the pandemic and catered to professionals who wanted scrumptious meals for their 9 to 5 jobs with a wide variety of cuisines. She is also presently working towards her docu-series that highlights her experiences as a Lao-American.
Where is Jonathan Harrison Now?
Chef Jonathan Harrison is a Private Chef residing in Columbiana, Alabama. The native of Alabama is a man with many talents. T his exceptional chef is also skilled in a variety of software, community involvement, marketing, and student development. Harrison is an Auburn University alumnus who studied journalism but obviously didn't choose that career route.
Harrison began working as a marketing consultant before beginning his real estate career in Alabama in March 2019. However, cooking is undoubtedly his love, and he wishes to continue in the field. He is also an active member of ACES, Alabama Cooperative Extension, who are educators helping farmers recover from a disaster.
Where is Zachary Adams Now?
Originally from Manila, the Philippines, 27-year-old Zachary Adams presently resides in Milwaukee, Wisconsin. His work includes experience in the kitchen at View MKE and Third Coast Provisions. Adams is currently the sous chef at the North Shore Country Club.
Though it might seem Zachary has had a stable life due to his current standing in life, the reality is quite the contrary. During his first job at George Webb Restaurant, the chef was held at gunpoint while dealing with a few drunk men. The incident caused major trauma and was the lowest point in his life.