John Bartlett serves as Diana Nyad's chief navigator when the latter decides to swim from Cuba to Florida in Netflix's biographical film 'Nyad.' He shares his expertise with Diana without even expecting money in return. After realizing that he is slowly dying, he gives his all to the swimmer for her to succeed and rewrite history. In reality, as the movie depicts, Bartlett played an integral role in the success story of Diana, which also explains why the film is dedicated to his loving memory. The captain passed away a few months after Diana set foot in Key West after swimming more than a hundred miles.
The Captain
John Bartlett was born on June 22, 1947, in Oakland, California. Bartlett was multi-faceted when he was a young man. He attended Pratt Institute of Design, New York City, to learn industrial and architectural design. He also acquired carpentry, sail, and sail-making skills, in addition to playing bass in the band Electric Cowboy. Bartlett eventually moved to Florida, where he lived for around thirty years. In addition to owning a sail loft, he ran an eco charter business with his wife Elke Margaret Thuerling. Furthermore, he was a well-regarded sailor and navigator, which led Diana to him.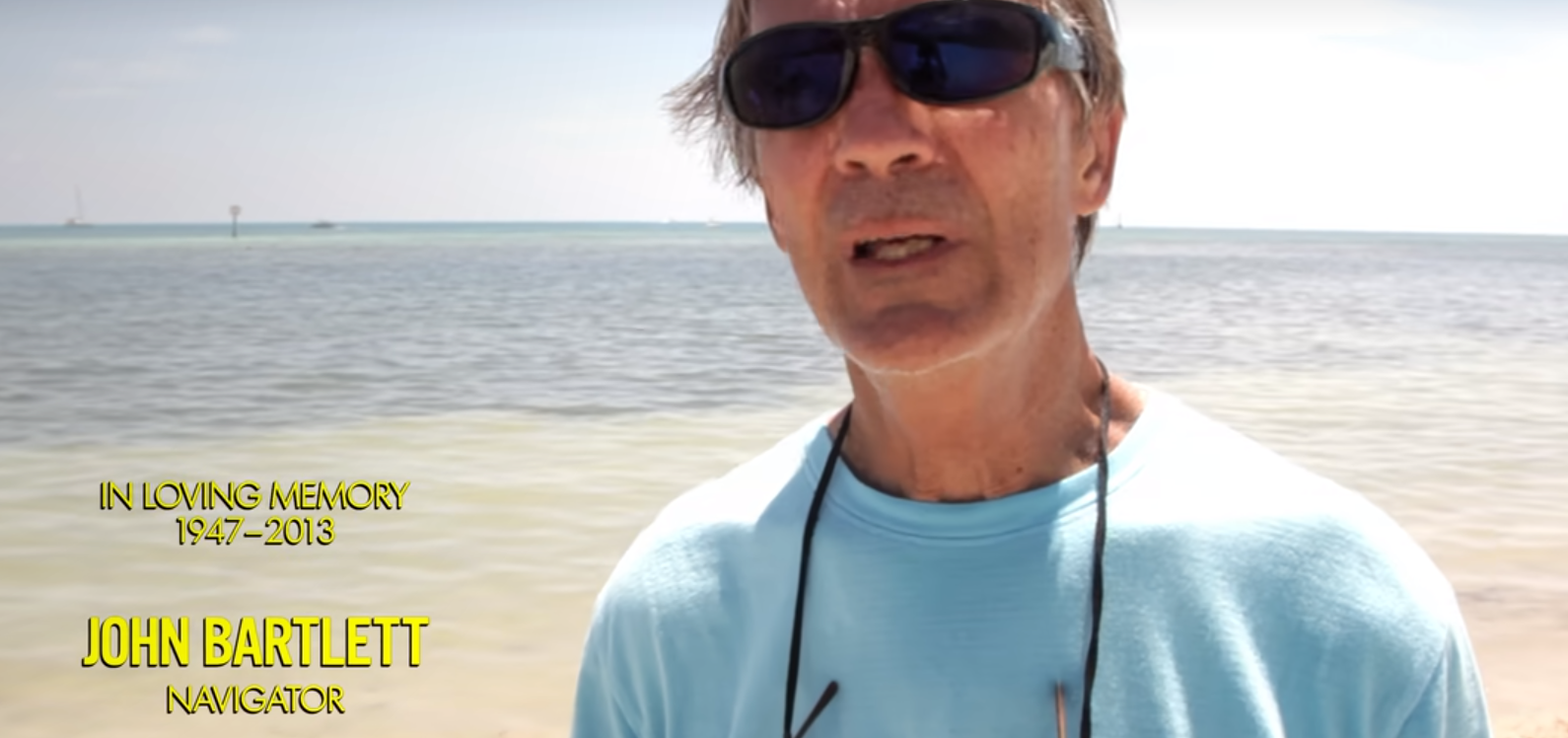 Soon, Bartlett and Diana became close friends. "Diana and John Bartlett were very close," Diana's best friend Bonnie Stoll told Radio Times. "Very close. And he was a great human being. I mean, nobody knows the Gulf Stream like he does – every 15 minutes he was pinging all along, because not many people know about the eddies. And when you're swimming two miles an hour and the boat has to go two miles an hour, it is not easy," she added. In 'The Swimmer: The Diana Nyad Story,' the legendary swimmer claimed that Bartlett didn't even sleep while she was swimming from Cuba to Florida. "The only ones who never leave, never sleep, are Bonnie and Bartlett," she said.
As seen in the film, Bartlett dealt with financial difficulties during his last days. However, the same didn't stop him from helping Diana to achieve her dream. "Diana, my friends asked me why I've gone broke helping you pursue your dream. I tell them I've never seen anybody walk the walk like this swimmer. And she needs me to walk the walk shoulder to shoulder with her. How can I refuse you? I can't get any more broke. I'll be there," he told the swimmer, as per the latter's audiobook.
Bartlett's Death
Bartlett passed away on December 10, 2013, in his sleep at home at the age of 66. He died of heart failure, as revealed by Diana in her book 'Find a Way.' "The one heartbreak suffered since the swim has been the loss of our genius, John Bartlett. Only sixty-six, John died of heart failure three months later," she wrote in the same. He lived with his wife Elke Thuerling in Alva, Florida. They were married for 21 years.
Celebrating the life of my dear friend and navigator John Bartlett. He will be forever in our hearts. pic.twitter.com/AwxuBJmPRN

— Diana Nyad (@diananyad) December 19, 2013
"My heart is so heavy and words can't express the pain and ache at the thought of him being gone. I cherish the memories of our many adventures and all the special friends we have made over the years," Thuerling shared in a Facebook post after Bartlett's passing. "I am in deep gratitude for the constant flowing of love that I am receiving," she added. During his last days, Bartlett was committed to building a trimaran. "Treasured friends of John's and mine wanted to contribute to the completion of John's recent creation, a dream of his to design and build a Trimaran. He was almost finished. I am deeply touched by all who have shared the wish to see the completion of the boat we affectionately named 'Catnahaf,'" his wife shared in the same post.
Read More: Nyad: All Filming Locations of the Netflix Biopic Explored