In 'Oshi no Ko' episode 2 titled 'Third Option,' the story focuses on Ruby and Aqua's life after a 10-year time skip following Ai's death. The twins have become old enough to start planning their careers and although Ruby is determined to become an idol her brother does not feel that it is the right career path. But when she continues to find ways to pursue her dreams, Miyako and Aqua decide to reopen Strawberry Production's idol unit so that they can ensure that they can look after Ruby. When the twins eventually join a prestigious high school, they meet an old friend who they have not seen for more than a decade. Here's everything you need to know about the ending of 'Oshi No Ko' episode 2. SPOILERS AHEAD
Oshi No Ko Episode 2 Recap
Following Ai Hoshino's unfortunate murder almost a decade ago, Ruby and Aqua have slowly come to terms with the sad reality. They were adopted by Miyako, who was already taking care of the twins even when their mother was alive. Over time, Ruby has become determined to follow in the footsteps of her mother and become an idol. Recently she has also given interviews and is eagerly waiting for the results. Meanwhile, Aqua has become quite gloomy in light of Ai's murder and has become an apprentice of director Gotanda.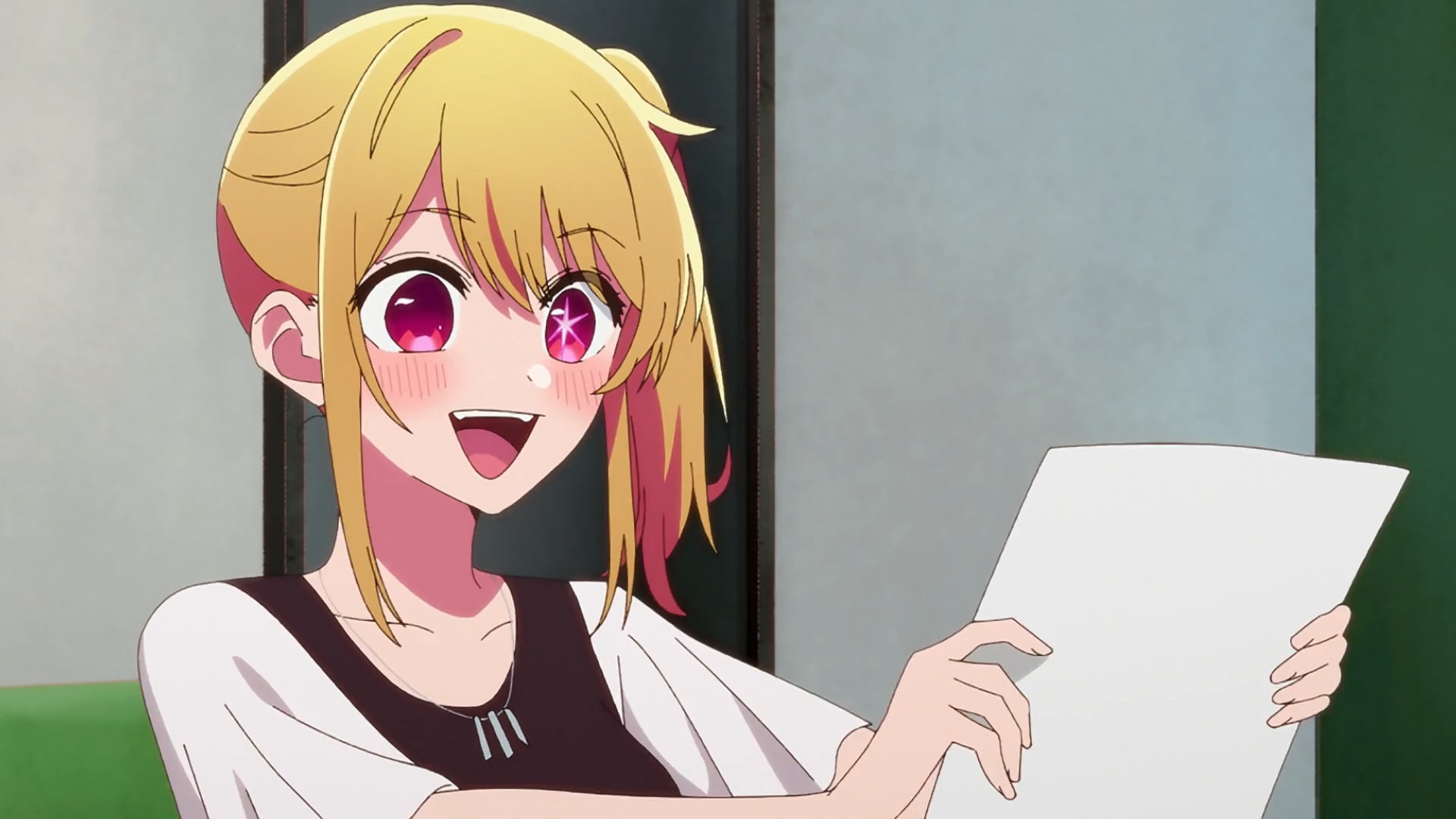 Ruby pretends to be just another ordinary teenager but she is hiding two secrets that she can never reveal to anyone. No one knows that she is the daughter of the late idol Ai except some of her loved ones but even they don't know the second secret that she still has memories of her past life. Ruby is very vocal about her idol's dreams but Aqua always tries to make her realize the harsh realities of the life she is planning to pursue. It is understandable that he is overprotective since he lost his mother at such a young age to a stalker.
Aqua knows that the same harsh life is awaiting his twin sister if she is not careful. In the meantime, Miyako has taken control of the Strawberry Productions and the company has stopped managing idols and has instead turned its focus towards influencers instead. When Ruby finally gets the call from her interviewers, she learns that she has not been selected. Miyako tries to reassure her things will eventually work out.
Aqua is with director Gotanada at the time and it is revealed that he has blocked the original interviewers who had met his sister. He has also sent them a text message that she does not want to pursue the career anymore and had arranged a fake call to let her know that she is not selected. Aqua did all of this to ensure that she does not get picked and her idol dream dies. Unfortunately for him, Ruby gets scouted soon afterward by an underground idol group.
Aqua again investigates this group as well and feels that they are too shady to trust. Therefore, Miyak eventually decides to reopen Strawberry Production's idol unit and signs a contract with Ruby so that they can always look after her. When Aqua meets Gotanda again, he motivates him to not give up on acting since he believes that he is quite talented. But Aqua is satisfied with working behind the scenes and is focused on his plan to avenge his mother's death by finding the killer, who he feels is in the entertainment industry.
Oshi No Ko Episode 2 Ending: Who Does Aqua and Ruby Meet In High School? What Department Does Aqua Decide to Enroll In?
After giving their best, Aqua and Ruby eventually manage to enroll in the prestigious Youtou High School which is one of the few schools in Japan with a performing arts department. Naturally, when she gets the chance, Ruby chooses to join the performing arts department. When it's Aqua's turn for the interview, the teachers are shocked that he has a standard score of 70 while the school's average is just 40.
The interviewers ask him about his motivations to join Youtou, a legitimate question considering Aqua's grades are just too good. He just lies that the spirit of the school really appealed to him. After the interview, Aqua meets Ruby outside who is waiting for him. He mentions that the interviewers were quite intrigued by his name and jokes that if he gets rejects then his name should be blamed. Ruby laughs and argues that there is nothing wrong with the name Aquamarine Hoshino.
A girl who is passing by overhears her and immediately stops. Then she turns back and asks Aqua if he really is Aquamarine Hoshino. When he confirms then she introduces herself as Kana Arima and reminds him that the two of them worked in a film together when they were young. Ruby and Aqua finally recognize her. Kana is curious about Aqua's preference and is shocked to learn that he chose the general education department over performing arts despite his talent.
Read More: Is Oshi No Ko on Netflix, Hulu, Crunchyroll, or Funimation?