Bong Joon-ho's 'Parasite' is easily one of the most compelling films ever made, the kind that makes you fall in love with the art of cinema all over again. And that's saying something if you consider Bong Joon-ho's filmography alone. His work ranges from 'Memories of Murder' to 'Mother', all of which are timeless gems that have dazzled audiences across cultures. But with 'Parasite', Joon-ho takes it a notch higher, in the most brilliant and unexpected ways.
There's no doubt that 'Parasite' will be on the top of your movie list this year, and even the past decade for that matter. It is such a marvelous oddity, both hilarious and horrific in the rarest ways possible as it provides a scathing commentary on class discrimination and capitalism. It is all you can possibly want it to be, but also not. This is only because it is far better than your wildest imagination of what a near perfect film could be like. It made history by becoming the first South Korean film to win Palme d'Or, and achieved this with a unanimous vote. It is the worthy top contender for the Academy Award for Best Picture this year.
'Parasite' not only defies genres, it also defies your expectations as it smoothly transitions from comedy to drama, eventually transforming itself into a true horror by the time it ends. The film follows the lives of the Kims, a poor unemployed family living in a cramped basement in Seoul, as they slowly infiltrate the lives of the wealthy and glamorous Parks, through deception. But as it progresses, their lives become increasingly entangled, ultimately making us question who the real parasites are. If you're wondering what inspired this ingenious piece of cinema, you're at the right place. Here's everything we know.
Is Parasite based on a True Story?
Yes, but not completely. 'Parasite' is not based on a particular true story, but it is definitely inspired by Bong Hoon-jo's own real-life experiences from the time he was in his 20s. It is based on Bong's first intimate encounter with a wealthy family as he was trying to make ends meet as a young man. This experience stuck with him for all these years, making him realize certain crucial things about class discrimination, and the lifestyle of the rich.
Tutoring in a Wealthy House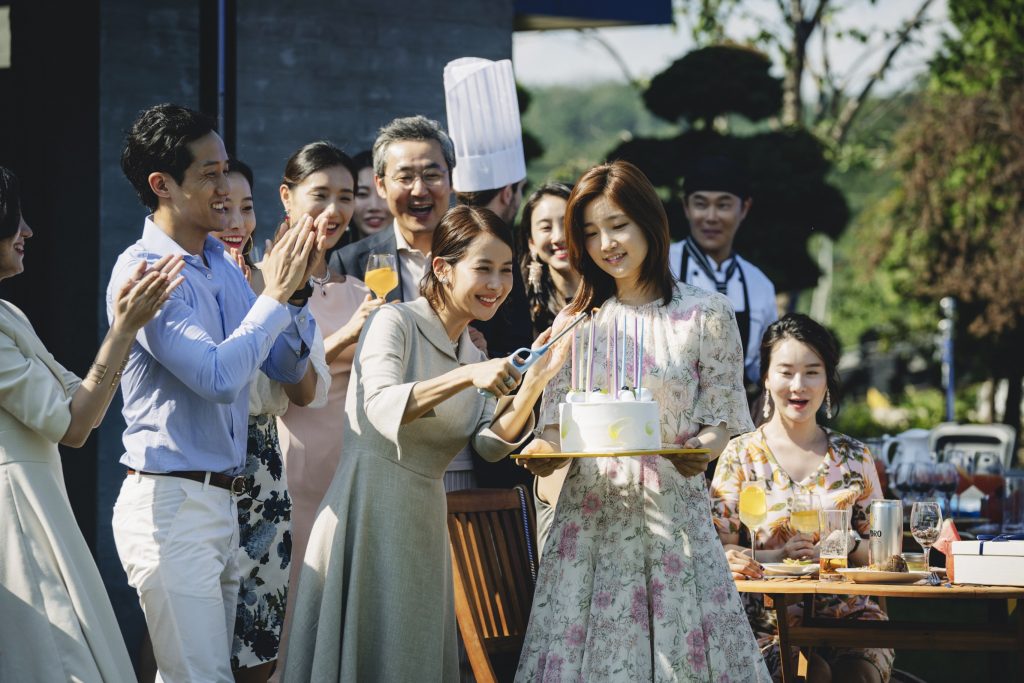 In his early 20s, Bong Joon-ho took a job as a Math tutor for the son of a wildly wealthy family in Seoul, much like how the young Kims start working for the Parks. The family lived in the city's most exclusive enclaves, in a grand luxurious house. Bong, in comparison, had a less lavish but intellectual upbringing. He was introduced to the family by his girlfriend at the time, who is now his wife. She was already tutoring the boy in English, but they needed another tutor for math.
In an interview with THR, Bong Joon-ho stated, "They wanted another tutor for math, so she put me forward as a trustworthy friend, even though I was actually really bad at math". This becomes interesting to look at as a parallel to the Kims who also had no previous experience with the jobs they undertook. Bong Joon-ho in fact, had no experience with math at all, he was a Sociology major, who always dreamed of being a filmmaker since middle-school.
He further mentioned how these jobs worked, "It's not as if they put out lots of ads looking for domestic help — you're introduced". We see this particularly well in 'Parasite' as Ki-woo introduces his sister, Ki-jeong, as a cousin's classmate as she poses to be an art therapist. Of course, the rest of the family follows, only they have to pretend to not know each other.
Bong Joon-ho initially thought of turning the story into a stage place, but then realized the cinematic value of the set-up in the rare intimacy shared between the otherwise separated rich and the poor. He stated, "…when you're working as a tutor or a housekeeper, you're in the most private spaces, and both sides are brought together in such intimacy".
Looking back at his own experience as the tutor, he revealed how the young boy he tutored took him to every corner of the house, and spoke at length about his parents. It was perhaps because of this that Bong Joon-ho was fired within two months. But admitted, "If I hadn't been fired, I might have been able to discover other things about that family. I was an innocent college student. I didn't have any bad intentions but that was the inspiration for this film".
Realistic Approach towards Class Discrimination
Bong Joon-ho also revealed that he took inspiration from various people around him, both the rich and the poor, "I was very much inspired by the people I encountered on a daily basis".
Han Jin-won, who co-wrote the screenplay of 'Parasite' spent a long time intensively researching on the class-discrimination faced by real-life people around him, and their lifestyles. He spent months meeting and conducting interviews with real-life tutors, chauffeurs, and housekeepers, while photography lower-class and the wealthy-class neighbourhoods around Seoul. This is the reason for 'Parasite"s realistic approach and aesthetics, with the way it portrays the Kims and the Parks, along with their homes and surroundings.
Read More: Parasite Ending, Explained