We all know Penélope Cruz and her irresistible beauty that follows her around wherever she goes. She's not only an icon of elegance and seduction, but also, and primarily, an excellent actress who has proven her talent through a variety of roles played in movies from all over the world. Known for being notable Spanish director Pedro Almodóvar's muse, she has the power to enchant us every time, as well as make us cry, laugh and feel all kinds of emotions she transmits throughout her characters. Deservingly, she is the first Spanish actress to have received a star on the Hollywood Walk of Fame and to have been honoured with an Academy Award. Having that said, let's take a moment to give recognition to the stories she so gracefully takes us into. Here is the list of top 12 movies of Penélope Cruz.
12. To Rome With Love (2012)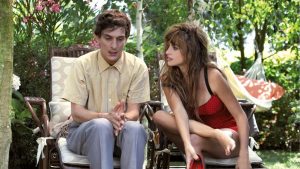 Woody Allen strikes again with another romantic comedy that has the simple capacity to please any audience. That's due to his defined characters with strong personality traits and his entertaining and cheerful plot seasoned with his typical silly and delightful humour that is simply hard to resist. Here we can find an ensemble cast that brings to life four unrelated stories set in Rome, each with a charm of its own. Penélope Cruz plays a funny carefree prostitute who enters the wrong room by mistake, encountering Antonio. One thing after the other, she ends up having to pretend to be his partner in front of his relatives, leading her into a quite hilarious adventure.
11. The Girl Of Your Dreams (1998)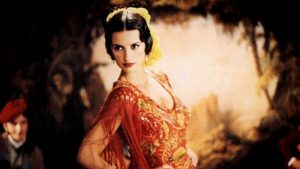 This colourful period comedy drama offers some amusing moments of humour and keeps the plot and the audience's attention running from beginning to end. Parts based on actual facts, it brings a film crew from Franco's Spain, in which an actress named Macarena Granada ( Penélope Cruz) is the lead performer, into Nazi Germany in order to shoot two versions of a film (in German and in Spanish). When they get there, amongst other things, the unexpected happens and Joseph Goebbels falls under the Spanish beauty's charms. With an elegant performance and a thriving plot, "The Girl Of Your Dreams" ended up with the 13th Goya Award.
10. Nine (2009)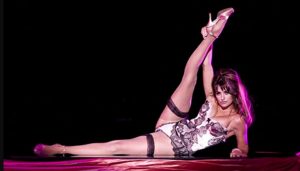 Director of extravagant film "Chicago" Rob Marshall, presents once more a musical drama with an exciting ensemble cast composed by Daniel Day-Lewis, Marion Cotillard, Judi Dench, Fergie, Kate Hudson, Nicole Kidman, Sophia Loren and of course Penélope Cruz. This movie floats through the character of a middle-aged Italian filmmaker, Guido Contini, who is in a desperate state of lack of inspiration and consequently appeals to the women of his past and present, with hope they will lead him to the answers of his questions. In between his muse, wife, confidant, mother and others, Penélope Cruz gives life to his mistress, a role which led her into an Academy Award nomination for Best Supporting Actress.
9. Elegy (2008)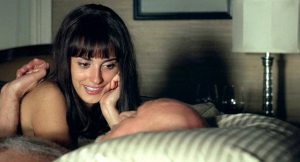 David Kepesh is a middle-aged critic and professor who has spent his life believing independence would make him happy, jumping therefore constantly from one woman to the other. Until he meets Consuela Castillo (Cruz), a beautiful student with whom he starts a relationship. Always hesitant towards their age difference, he will come to a point where his one decision will change everything. With an honest and simply rightly aimed performance by Penélope Cruz, this touching story brings up an elegy for love, choices and time gone down the drain.
8. Don't Move (2004)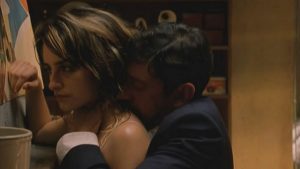 One of Penélope Cruz's best performances. A raw and strong impersonation of this movie's character Italia, who's emotional complexity and depth in personality attains extremes. Only to honour her performance, this movie is worth being seen with attention and respect. With Sergio Castellitto as Timoteo, a surgeon sitting next to his severely injured and unconscious daughter in hospital, the story plunges into the memories of his past where a violent and erotic relationship with Italia contrasts his "perfect" marriage to Elsa, taking him down into a dilemma that becomes hard to get out.
7. Open Your Eyes (1997)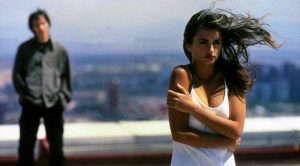 This Spanish production was the predecessor of the latter re-make "Vanilla Sky" with Tom Cruise as the main character. Here, the story is the same, but considered by most, better than its successor. Combining reality and dreams, this story is conducted by Cesar, a wealthy self-absorbed man, for whom sleeping with women is a mere entertainment. He becomes fascinated by Sofia (Cruz), his pal's girlfriend, who seems to be reciprocal towards his interests. However things take a twist when a precedent jealous woman he had slept with purposeful engages in a car crash, killing herself and severely injuring Cesar. It is a highly original movie that honourably proves the greatness of its complexity and depth through a great cast, in which Penélope Cruz contributes her excellent acting skills.
Read More: Rooney Mara Movies
6. Ma Ma (2015)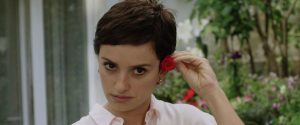 It's not infrequent to see Penélope Cruz playing a character who struggles with her situation. However, this movie takes that struggle and pushes it down into a very deep sorrowful set of circumstances, giving her the voice of Magda, a woman affected by breast cancer. It follows her battle and how it opens doors to human relationships she might have not expected. Filled with emotional connection and an incredible performance by Cruz, this movie is not only a story, but also a cry for awareness relating this awful disease that affects too many women in the world.
5. All About My Mother (1999)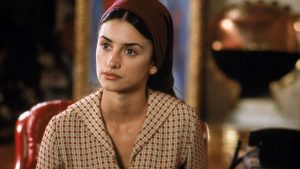 Almodóvar's unique sense of directing drama and the hidden humour found in his outstanding dialogue, together with his amazing cast choices that bring his original plots forward, is what makes his movies become masterpieces, just like this one became one. Circling once more around his signature interest of exploring the feminine human being, "All About My Mother" goes further by introducing topics such as transsexualism, existentialism and more, that support the story of Manuela, who returns to Barcelona after her sons's death, to find his long lost father, a transvestite called Lola. Penélope Cruz enters this world as Rosa, a young nun, pregnant of Lola, and positive of HIV. Her innocence and sweetness, however destroyed by an unfortunate fate, is portrayed in an honest and faultless performance, that passes on the emotion effortlessly.
4. Jamón Jamón (1992)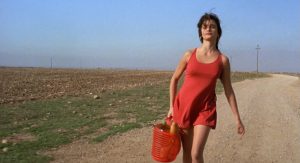 What a strange title for a comedy drama that won the Silver Lion at the Venice Film Festival. Jamón, literally meaning "ham", is certainly more than what it seems at first glance. First of all, it is Penélope Cruz's film debut, which she utterly succeeds with a great initial performance, and secondly, it is a scandalously provoking film, with vulgar humour and sex that might be risky for some and outrageously good for others. It's about Jose Luis, who's girlfriend Sylvia falls pregnant. He consequently promises to marry her, to the great discordance of his parents, who own an underwear factory. These will therefore hire Raul, for him to seduce Sylvia and break off the engagement. All in all, it truly has its own unique and peculiar personality that throws the viewer all kinds of humorous and bizarre scenes right to the face, remaining brilliant in its own way.
3. Broken Embraces (2009)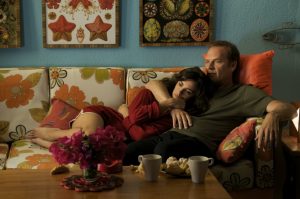 This is another splendid work of art by the talented Pedro Almodóvar, worth watching for its beautiful story and cinematography, and of course the ravishing acting of Penélope Cruz. Through an emotional narration of the past, visualised by flashbacks, Harry, a blind writer recounts the story of his life a decade earlier which involves a passionate and tragic relationship with Lena (Cruz) on the production of his last film, combined with external acts of feverish jealously and betrayal, vengeance and repression. It is a brilliant result of the great capacities this director has to vibrantly convey emotions, thoughts and complex themes through developed and refined characters. A must-see for every Almodóvar lover and others.
2. Vicky Christina Barcelona (2008)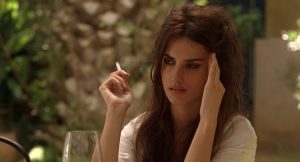 This Woody Allen film brings out a set of very different characters and plays with their rationality and instinct to get them into an ambiguous, exciting and diversified plot revolving around human relationships, and where freedom and restriction can take them in different directions. Set in the beautiful and warm city of Barcelona, Vicky and Christina are there to spend the summer, when they meet handsome artist Juan Antonio. Vicky being engaged, Christina being fully open and spontaneous and Juan Antonio's crazy ex-wife María Elena (Cruz) eventually being back in the scene, a complicated love intersection is formed through Allen's intelligent and witty writing, enchanting and masterful direction and amazing performance by all, but especially by Penélope Cruz with her complex and tumultuous character.
1. Volver (2006)
"Volver" is perhaps one of the best films ever made by, once again, Pedro Almodóvar and most beautifully acted by his regular Penélope Cruz. He truly embraces storytelling in a different way, giving through the conflicts and reconciliations of a Spanish idiosyncratic family, focus on subjects such as loneliness, sexual abuse, fragmented relationships and death. Playing a young mother named Raimunda, who lives with her teenage daughter and abusive partner, Cruz acts out a truly emotional, fresh and honest performance that as any human being, has a kinder and rougher facet, with darker secrets from her past she'll reveal as the story unfolds. After her sister Soledad receives a visit from the "ghost" of her mother, who had died in a fire three years prior, things start to change in everybody's daily life. Do watch this strong movie that reflects upon profound themes and thoughts, through an eventful storyline and compelling visual style.
Read More: Kevin Bacon Movies and TV Shows