Investigation Discovery's 'Deadly Women: Sleeping With the Enemy' narrates three tales of love, lust, and murder, one of which is the slaying of 49-year-old Philip Croydon in a hotel near East Midlands airport in England in April 2003. However, the investigators quickly caught the perpetrator, who lied through their teeth to save their skin and tried to shift the blame to others. If you're interested to find out more, including the killer's identity, we have you covered. Let's begin then, shall we?
How Did Philip Croydon Die?
Philip Croydon was born to Edward and Margaret Croydon in England in the mid-1950s. The family endured two tragic incidents when they lost two sons at a young age. Their firstborn, Ronald Croydon, died at nine weeks from gastroenteritis, while Paul, 23, was killed in a quarry when a rock face fell on him. Luckily, Philip made something of himself, initially working in an upholstery firm in Leicestershire before starting his own business. 'The Telegraph' journalist Nick Britten said, "Philip was an extremely nice man. Nobody ever really had a bad word to say about him."
While working at the firm, Philip met Carol (Moore) Wild Croydon and was smitten with his decade-younger colleague. They were married on June 17, 2000, and the newlywed couple settled in a £390,000 home on the edge of Sherwood Forest in the Nottinghamshire village of Edwinstowe, England. According to the show, Philip showered his bride with expensive gifts and jewelry, including diamond earrings and a Gucci watch, treated her to exotic holidays, and even signed his business and residence to her name. Moreover, he took her to the island of Bali on their honeymoon.
Wensley Clarkson, a True Crime author, stated how much Philip adored Carol and even named his upholstery business after her. She helped him with his business accounts, and they seemed like "a match made in heaven," as per Wensley. However, trouble crept into paradise when 49-year-old Philip was found dead in a £176-a-night room by a chambermaid at the Hilton hotel at East Midlands airport on April 26, 2003. According to his autopsy, he had been stabbed 22 times in the neck and chest with a cheese knife. Besides, the perpetrator had tied patterned neckties around his wrists and one around his neck and placed a scarf over his face.
Who Killed Philip Croydon?
As per court records, Carol was born Carol Moore to James and Dorothy Moore in Glasgow on February 25, 1962. She was two years old when she had to live at the Quarriers Village children's home in Bishopton, Renfrewshire, with her two older sisters and a brother. Reports state Carol's father's drinking habits and psychopathic behavior drove his terrified wife to abandon their children and flee. She claimed she was eight when her siblings left the children's home.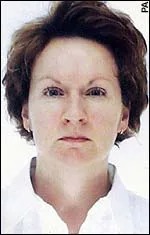 Carol befriended a teenager named Eileen Smith, a devout practicing Christian, who regularly visited the children's home. The latter treated her like a younger sister and invited her to spend the weekends at his parents' home. Eileen's parents, Angus and Sadie, grew fond of the orphaned girl and became her foster parents when she was 11. Carol had even asked Angus to give her away at both weddings. She married Kenneth Wild when she was 19, and they split in 1995. Philip was also married to Diana Meads for three years, and they had two sons named David and Ian.
According to news reports, Carol had joined the Leicestershire upholstery firm by forging her qualifications as an accountant. When she started messing up the business records, the owners threatened to fire her. Regardless, Philip stood by Carol and started his business after resigning from the firm when she was fired. They were married on June 17, 2000, at St Peter's Church in the Derby suburb of Chellaston, followed by a silver-service reception at the Donington Manor Hotel.
When Philip's body was found in the hotel room in April 2003, the police checked surveillance footage to discover Carol entering and exiting the hotel on the night of the murder. They further learned she had a string of affairs while married to the victim. According to the show, Carol craved attention, which her busy businessman husband could not provide. Reports state she is thought to have at least five lovers, one of them being a colleague at a software company where she was employed and another she met in an Internet chatroom.
Carol met her lover, Nelson Bland, through an Internet chatroom she visited for help with 'university studies' for her job in December 2002. Nelson, 50, was a school laboratory technician and a Labour councilor from Reading, Berkshire. He was married for 26 years to Penelope, a teacher, and they had a child together. According to reports, Carol and Nelson started getting intimate in hotel rooms every few weeks by February 2003.
The episode showed how Carol pursued her husband to meet at the hotel room under the pretext of having sex to save their flagging marriage. They made love for some time when Philip arrived before she repeatedly stabbed him with the knife. After killing her husband, Carol drove her Toyota MR2 sports car and got intimate with Nelson, who had left his wife on the morning of the murder. In addition, Carol had tried to cover up the murder by reporting Philip missing to the police and calling his brother, Steven, to allege her husband might have been in an accident.
Where is Carol Croydon Now?
Carol confessed to killing her husband but tried to provide several false stories and allegations to save herself. From claiming she was triggered by Philip proposing to tie her hands to blaming Nelson for the murder, she accused everyone she knew to keep her skin, including her ailing 86-year-old foster parent, Angus. Carol even claimed the 'swingers,' named Linda and Brian, whom Philip allegedly invited over, had killed him.
The police arrested Nelson on murder charges before they were dropped after Carol's confession. She was sentenced to life in February 2004 and must serve a minimum of fifteen and half years before being eligible for parole. The court additionally ordered her to pay £60,000 spent by the prosecution team during her trial. Carol, now in her late 50s, is presumed to have received parole. From what we can tell, she continues to live in England.
Read More: Theresa Fowler Murder: Where is Betty Jo Fowler Now?