Prabhas is an actor who oozes charm and has a terrific screen presence. His style and persona makes him stands apart from the lot. With 'Baahubali' series, his popularity has expanded national wide. And before the 'Baahubali' series, he has always had a distinct name and fame of his own. Over the years, he has delivered performances which are widely acknowledged and many of his movies broke the box office and fetched huge revenues. Despite 'Baahubali' being the movie that shot him into national stardom, he is undoubtedly more than just the "Baahubali hero". Here is the list of top 8 Prabhas movies that prove he is a superstar.
8. Mr. Perfect (2011)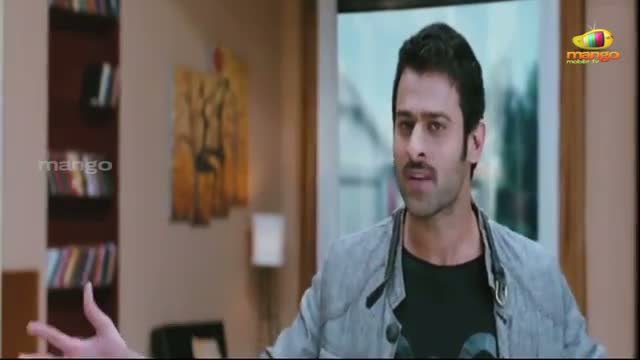 Prabhas has always been a youth icon, and the characters he chooses are in accordance with that image. But with 'Mr. Perfect', he took over a complicated role. He plays a guy who believes he's got everything figured out in his life, but a series of incidents throw him into a mid-life crisis. Prabhas does a great job in playing various shades of Vicky, including the flamboyant Video Game developer, and a troubled adult who's perception of world is changing. With a breezy and pleasant screenplay, 'Mr. Perfect' makes a good watch.
7. Darling (2010)
Before 'Baahubali', Prabhas had an image of a Romantic hero. He made several good rom-coms and Darling falls under this category. Prabhas's following among the youth enhanced with this movie. The basic premise of Darling is very simple. But the entertaining screenplay and great music make 'Darling worth a while. The movie has loads of fun moments and just the right amount of romantic moments to keep the audience hooked throughout the run-time of the movie.
6. Varsham (2004)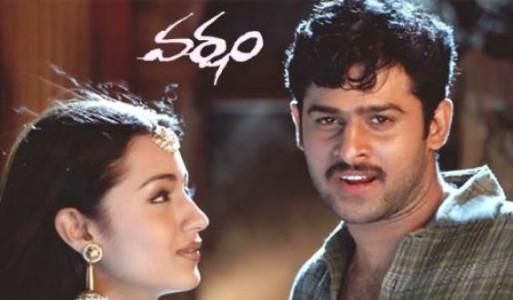 'Varsham' is the Prabhas's first big break into stardom. And no surprise, it is a love story. It is the age old story of boy and girl meeting and falling in love, but the antagonist falls for the girl too. The couple's fight against their families and the antagonist forms the story of the film. But rather than Prabhas and Trisha, it's the baddie Gopichand who deserves special mentioning here. The man is absolutely menacing as the antagonist who desperately lusts after the girl. It's his portrayal of the character that makes you vouch for the couple, and that works in the favor of 'Varsham'.
5. Mirchi (2013)
After a huge success of Prabhas and Rajamouli's 'Chattrapathi, which will come further up in the list, the fans of Prabhas and Telugu audience waited for a long time to witness Prabhas in such a powerful character again. After a long wait, Koratala Siva came up with Mirchi, which features Prabhas in one of the most powerful characters in his career. Action and intense performance has always been a strong suite of Prabhas, and 'Mirchi' capitalizes on these abilities. The result is one of the best Action movies of Tollywood.
Read More: Michael Keaton Movies
4. Baahubali: The Beginning (2015)
'Baahubali' is the movie that face of Indian Cinema, and also the fates of everyone associated with it, including Prabhas. After the movie, Prabhas would be known as "Baahubali: Prabhas for eternity. And he does justify that title, which means a man with tremendous strength. Prabhas justifies that character to such a length that it's impossible to imagine any other actor portraying the character. Prabhas's mammoth structure, his grand screen presence and his believable perfformance brings 'Baahubali' to life.
3. Chakram (2005)
In terms of performances, 'Chakram' is not far behind 'Baahubali' series or 'Chatrapathi'. The movie is far ahead of it's time, and the predominant reason why audience couldn't digest the movie is because of it's tragic ending. But that is the very reason that makes the movie a great watch. Prabhas is vulnerable and absolutely lovable in the movie. His character will win over the audience instantly due to the charm of Prabhas. The movie exhibits how petty problems of life are, when compared to life itself. Prabhas's performance is beautifully complimented with Prakash Raj's performance. The veteran is brilliant as Prabhas's father, and adds to the movie's appeal.
2. Chatrapathi (2005)
'Chatrapathi' is S.S. Rajamouli's masterclass (Read: All S.S Rajamouli Movies Ranked From Average to Best). Before the movie, Prabhas was a talent with huge potential, and with 'Chatrapathi'. he totally lived up to his potential. Rajamouli sketched a character that beautifully suits Prabhas, and Prabhas absolutely nails the performance. The movie has a 'Scarface' like premise. A refugee grows into a huge powerhouse of illegal activities. And since this is an Indian Movie, the guy has an emotional, human side. The movie works because of that very emotion, which causes an intense Drama amidst great Action.
1. Baahubali: The Conclusion (2017)
How many times have we seen a sequel work? And how many times have we seen a sequel exceeding its predecessor? 'Baahubali: The conlcusion' broke very box office record and every constrain Indian Cinema ever had. Prabhas lives up to all the expectation. From his first frame to his last, he is, and only he can be the mighty "Baahubali". Rajamouli writes a grand and emotional screenplay, and gives a fitting finale to the series. There are very few who haven't watched the movie, if you're one of them, watch it soon.