The quintessential desi girl, Priyanka Chopra is one of the very few notable Indian stars who have made it big even in the West. With her dusky color, a sensual and beautiful voice, brilliant acting and an unparalleled work ethic, she is a global star not just known for her fireworks screen but also for her philanthropy and women empowerment activism. A self-made woman by her confession, she got her first big break when she won the Miss World 2000 pageant. A career spanning more than 15 years, she has transformed her on screen skills from just an eye candy to someone who is known for her versatile acting and is now a household name, not just in India but also the West. Here is a list of top 12 Priyanka Chopra movies and TV shows that showcase that she is amongst the best actresses in India.
12. Mujhse Shaadi Karogi (2004)
The 2004 hit starring Salman Khan, Akshay Kumar and Priyanka Chopra is a rom com where Priyanka stars as the cute girl next door. Roughly borrowed from Anger Management (2003), it follows the story of Sameer (Salman Khan) who has anger management issues and is trying to woo Rani (Priyanka Chopra). In a series of comedic events he irks those around Rani, much to her chagrin. When Sunny (Akshay Kumar) arrives to share space with Sameer, things take a turn for the worse as Rani starts fancying him over Sameer but eventually does end up with Sameer after all. Though the film's success mostly rests on Salman and Akshay's shoulders, Priyanka's role didn't go un noticed and did line up future projects for her.
11. Aitraaz (2004)
Directed by the famed Abbas Mustan duo, this film was a massive breakthrough for Priyanka. Priyanka plays the character of Sonia Roy, a sexy young woman who is a power-hungry gold digger. As Sonia goes along her path to success by using men as she fancies, she ends up encountering her ex, Raj Malhotra (Akshay Kumar), a married young engineer and finds out that he works for her husband's company. Taking advantage of the situation, she sexually assaults him. Raj takes her to court and his wife, Priya (Kareena Kapoor) lawyers for him and gets him acquitted in a fairly thrilling court room drama. Priyanka's portrayal of the seductress was met with critical acclaim and can rightfully be called as the turning point in her career.
10. Baywatch (2017)
There is no escaping the fact that this movie is downright terrible. Then why does this deserve a mention in the best Priyanka Chopra movies list? It's simply because this was her first Hollywood movie which has paved the way for future roles. The movie follows Mitch (Dwayne Johnson) and his gang of life guards in Florida in cross with the murdering, drug smuggling lord Victoria Leeds who wants to privatize the beach for whatever reasons. Though critically panned, Priyanka's engine was pumping and has made good use of her husky voice in the villainous role. With ravishing looks, her fans are sure to be proud of her.
9. Don (2006)
After a series of flops, Priyanka again played the role a revenge hungry seductress in Farhan Akhtar's remake of the 1978 film of the same name. The film thrills us with the character of Don (Sharukh Khan) and his underworld exploits. Roma's (Priyanka Chopra) sister and her husband are murdered by Don and she wants to seek revenge on him and decides to be a part of his gang of high-profile thugs. When Don is killed by the police in a face off, a look-alike takes his place but things don't go as planned by the police deputy (Boman Irani). Just when the viewers start noticing a similarity with the original film, things turn around. The film is as much Priyanka's as much as it is Shahrukh's. Priyanka performed all action stunts by herself and underwent extensive martial arts training for her role.
8. Fashion (2008)
One of my personal favourites, this Madhur Bhandarkar drama was a commercial and critical hit and got Priyanka her first National award among others. As is with most of Bhandarkar's films, he chose to blow wide open the glamour and horrors of the fashion industry as it follows the rise and fall of Meghna Mathur (Priyanka Chopra) and Shonali (Kangana Ranaut) while navigating the fashion industry. Paying no heed to Shonali's warnings of the pitfalls associated with the fashion industry Meghna ends up at the bottom of the fashion industry ladder and tries redeeming her lost glory by getting back up on her feet and rehabilitating Shonali at the same time.
Priyanka's role was universally praised by the crticis and the audience alike and is probably one of the most important films of her filmography.
7. Dostana (2008)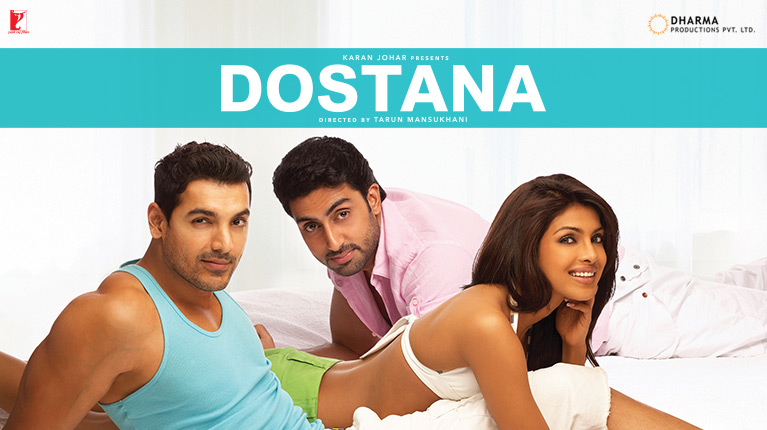 The concept, though a bit ahead of its time for mainstream Bollywood cinema, Dostana became an instant it with the audience mainly because if Priyanka. When Neha (Priyanka Chopra) rents her apartment to Sam (Abhishek Bachchan) and Kunal (John Abraham), two friends posing as a gay couple, a hilarious set of events ensue as the both of them fancy Neha. Priyanka looks cute in her western outfits and sexy in the 'desi girl' sari for which she is famed. A light hearted rom com for her fans.
Read More: Monica Bellucci Movies