Like most seasons of 'Real World,' season 30, AKA 'Real World: Skeletons,' introduced a dynamic and exciting cast for us to get acquainted with. From the Portuguese native and ladies man Bruno Bettencourt to recovering heroin addict Madison Walls and casanova Tony Raines, each person brought something new to the show. Besides, while it was interesting to witness them interact with each other, the show offered a generous helping of steamy romance and high-octane drama, which added to the thrill. Well, with the cameras now turned away, let's find out where the 'Real World' season 30 cast is, shall we?
Where is Bruno Bettencourt Now?
Born and brought up on the island of Pico in Portugal, Bruno has always been very proud of his heritage. Although he came to the United States for a better life, he found himself out of place in the new country as others bullied him for his poor English skills. Besides, Bruno even got into a rough accident in the past and had to relearn how to walk and talk after being hit by a moving vehicle. On the show, he initially connected with Sylvia Elsrode, but the audience soon learned he was in a happy relationship with Chicago-based Carla Duca.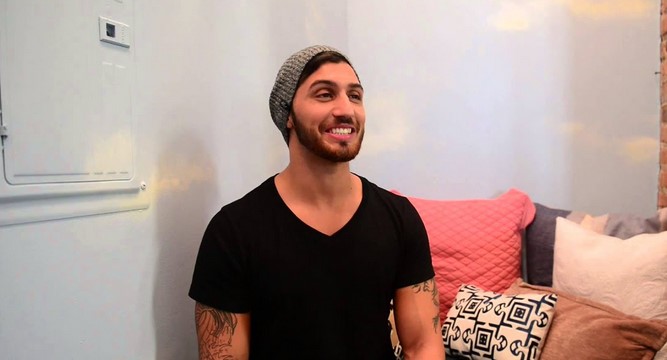 While Bruno and Carla appeared to be in it for the long run, they went through a public breakup towards the end of the season and aren't together anymore. On the other hand, Bruno's appearance on 'Real World: Skeletons' helped build his self-confidence and paved the way for a career in reality TV as he later got an opportunity to participate in 'The Challenge: Invasion of the Champions.'
Sources mention that after moving on from Carla, Bruno got into a relationship with 'The Real World' season 26 star Ashley Kelsey. In fact, they even made their relationship official, but with both now preferring privacy, their current status remains unknown. From the looks of it, Bruno currently resides in Orlando, Florida, and leads an entirely vegan lifestyle.
Where is Jason Hill Now?
Jason mentioned that he had a rough childhood, as his father abandoned him and his mother when he was a baby. Although he remains grateful to his mother for bringing him up on her own, the reality star bore quite a bit of resentment towards his father, Lafayette, which made him his skeleton on 'Real World.' On the show, Jason attracted much attention for the ladies and got an opportunity to forgive his father after a long heart-to-heart. He later mentioned that forgiving was a significant step in giving him closure. In the meantime, Jason seemed romantically interested in his co-star Nicole Zanatta, yet the two never really worked as a couple.
Once filming wrapped, Jason returned to his everyday life and became a proud father to a daughter, Taylor. Moreover, during an interview in 2015, Jason gushed about his newborn and said, "It's just amazing to witness her growth and see her personality develop. She is so amazing and funny now. I can only imagine how she's going to be when she gets older." The reality star has embraced privacy since then, yet he remains a wonderful father to his daughter and has built a joyful life surrounded by friends and family.
Where is Madison Walls Now?
A native of Texas, Madison Walls became famous as a child actress. Besides, she was into competitive cheerleading during high school, but her life went off track when a past boyfriend got her hooked on recreational drugs. However, at the time of filming, Madison described herself as a recovering Heroin addict and was determined to make new friendships that would positively impact her life. Interestingly, she also fell in love with Tony Raines on the show, and while it was incredible to witness their love blossom, the two promised to stay together after filming.
In 2015 Tony and Madison announced that they were going to become parents. Sadly, fate was not on their side, and the couple went through a public breakup as the former reportedly cheated while filming 'The Challenge: Battle of the Bloodlines.' Still, Madison welcomed their child, Harper, in 2016, and reports claimed that she was in a relationship with Javi Marroquin of 'Teen Mom 2' fame in 2017.
Besides, Harper's custody battle also affected Madison's health in 2018 as she said, "I was super depressed, I wasn't the healthiest I've ever been. I needed to regroup. I went to therapy and went to AA meetings. I was doing some soul searching." We can tell that Madison is currently single, while her parents have custody of Harper. She shares an incredible bond with her daughter, and we wish her the best for the future.
Where is Nicole Zanatta Now?
Hailing from a traditional Italian family, Nicole was working as an EMT at the time of filming. Furthermore, she was open about her dream of becoming a firefighter and was confident that her competitive nature would give her an edge over the other contestants. On the show, Nicole developed a close relationship with Jason Hill, but the two agreed to part ways after realizing their relationship wasn't going anywhere. Once filming wrapped, she appeared in several other MTV shows, including multiple seasons of the challenge and 'Ex on the Beach: Peak of Love.'
Additionally, Nicole and her then-girlfriend, Ashley Ceasar, participated in 'True Life Presents: Quarantine Stories' episode 3. Though they aren't together currently, Nicole was spotted with a lady named Lauren, and reports mention that the two got engaged in May 2022. Surprisingly, the reality star has since deleted the proposal video from her Instagram, yet current developments make it seem like they are still together and enjoying life to the fullest.
Where is Sylvia Elsrode Now?
Sylvia, who has always been proud of her Mexican-American heritage, worked as a Bartender while filming. However, she expressed her desire to make it big in the filming industry and was eager to find love. Although the reality star seemed to get off on the right foot with her co-star Bruno Bettencourt, their relationship never worked out, and the two promised to remain friends.
Once filming for 'Real World: Skeletons' wrapped, Sylvia, grabbed the opportunity to appear on several other reality shows, including several seasons of 'The Challenge' and season 3 of 'RuPaul's Drag Race All Stars.' Since then, she gradually moved away from the entertainment industry and began working towards getting a real estate license. At present, Slyvia is a licensed Real Estate Agent in the states of Kansas and Missouri. We are also happy to report that she is happily married and seems to be living the best days of her life.
Where is Tony Raines Now?
Tony was raised by his single mother, yet he shared a close relationship with his father and was devasted when he passed away shortly after his 12th birthday. Still, his mother instilled the values of respect and chivalry in him, as he appeared extremely understanding of the other contestants during his time on the show. Moreover, witnessing his romance with Madison Walls and how the two promised to stay together for the long run was pretty interesting.
Interestingly, Tony and Madison did remain together after filming wrapped, and they even looked forward to becoming parents in 2015. However, reports mention that he cheated on his beloved while filming 'The Challenge: Battle of the Bloodlines.' which led to a public breakup in the middle of 2015. Nevertheless, in 2016, Tony and Madison's daughter, Harper, came into this world, and the reality star fought hard for her custody. Nonetheless, Madison signed over Harper's custody to her parents, and Tony returned to his ex, Alyssa; the two became proud parents to their daughter, Isla.
Readers will be glad to know that Tony's appearance on 'Real World: Skeletons' paved the way for a career in the entertainment industry as he became a part of several other shows, including multiple seasons of 'The Challenge,' as well as 'Champs vs. Stars 2,' which he went on to win. Today, Tony is happily engaged to his fiancee, Alyssa Marie Giacone, and the pair are proud parents to their two daughters. The couple often shares pictures of the beautiful memories they make together on social media, and we wish them the best for the years to come.
Where is Violetta Milerman Now?
Moldova native Violetta and her family moved to the United States as they wanted to better life for themselves. Yet, with the reality star getting bullied in high school, adjusting to life in the new country was challenging. Luckily, her ability to make friends helped her through the hard times, and Violetta appeared enthusiastic about being a part of 'Real World: Skeletons.'
At the time of filming, Violetta was pursuing a degree in Marketing and Entertainment Communications in college, and we can confirm that she has since graduated. Although the reality star often shares snippets from her daily life to keep her followers updated, the lack of a special someone in her posts makes us believe she is currently single. Nevertheless, Violetta, who still appears to reside in Sarasota, Florida, is passionate about traveling and cooking and has created a wonderful life surrounded by her adorable dogs.
Read More: The Real World Season 12 (Las Vegas): Where is the Cast Now?