Set in Saint-Malo during the Second World War, Netflix's 'All the Light We Cannot See' is a unique war drama that shows the audience different facets of the conflict that changed the course of history. The protagonists of the story are Marie-Laure LeBlanc and Werner Pfennig, whose journeys collide in the most unexpected of manners. Nazi officer Reinhold von Rumpel plays an important role in bringing them together without actually intending to do so. He is the quintessential villain, but there is more to his intentions than a simple loyalty to the Third Reich. Considering that the show is a historical drama and has roots in reality, the viewers are bound to wonder whether von Rumpel is real or fictional. SPOILERS AHEAD
Reinhold von Rumpel is Based on the Nazi Officers Who Hunted Treasures for Hitler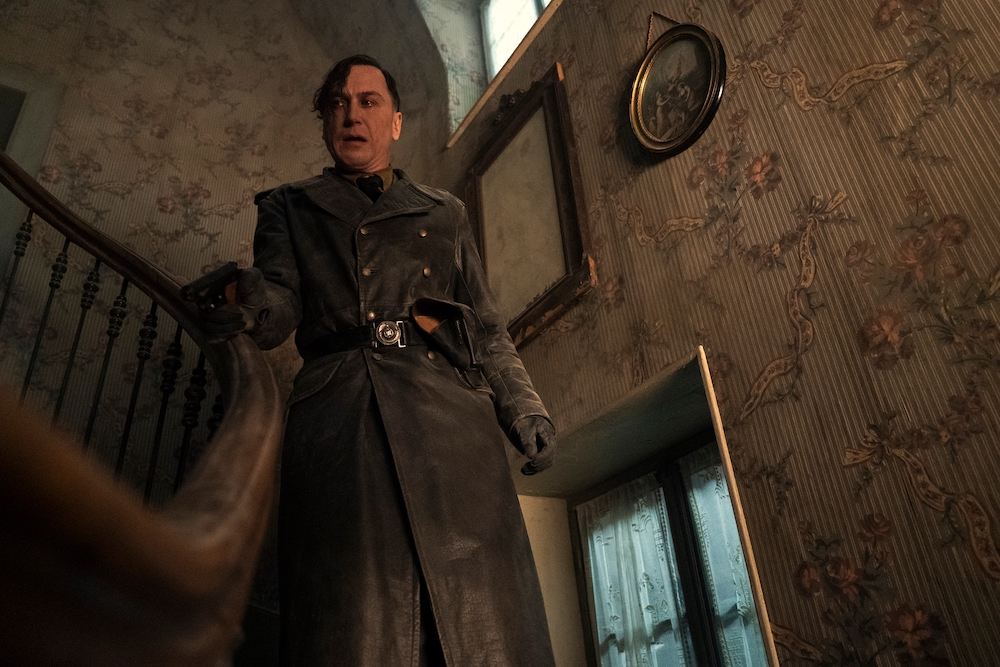 Reinhold von Rumpel is an imaginary character created by Anthony Doerr for his novel, 'All the Light We Cannot See,' which serves as the source material for the Netflix series. The characters and their stories in the show are fictional, but the storyteller was inspired by real stories and events to craft them. While Doerr has never acknowledged any particular historical person as the inspiration for the character of Reinhold von Rumpel, we assume that the Nazi officers who looted art and jewels, among other valuables, during the war might have inspired his backstory and his motivations.
It is a well-known fact that the Nazis plundered the art and other valuable things during the Second World War. It started with the property of Jewish people in Germany in 1933, and when Germany invaded other countries, like France, they took to places like art galleries and museums to get their hands on everything from precious stones and art to gold, silver, and anything that was of value. This was part of Hitler's plan and led to the destruction of museums, art centers, and libraries, among other things.
While most people were caught off guard, there were some people who foresaw this plunder and, as a precautionary measure, evacuated the art, smuggling it out before the enemy could get to it. The Louvre was one of the places that saved its art by getting out as many things as possible, even before the war. Reportedly, hundreds of museums took to this practice and removed the valuables from their premises. The private art collections also received this treatment, and the curators of the galleries and the museums made sure to send them someplace safe, which was a rather wise move in hindsight because dozens of places were destroyed during the war.
When Doerr started writing the book, he already had Saint-Malo, Marie, Werner, and the Sea of Flames in mind. Reinhold von Rumpel was the missing link that tied all of them together. The author researched extensively, spending around a decade crafting the novel and getting the details right. It is fair to assume that he must have come across the stories of the Nazi plunder and the officers who were put in charge of these things and created von Rumpel out of that.
Like most other characters in the story, Doerr gave an identity and motivation to von Rumpel that was separate from his identity as a Nazi soldier. Instead of working for Hitler, he was more interested in what the treasure he was looking for could do for him. When Lars Eidinger came on board to play the role, he jumped at the opportunity to make von Rumpel more nuanced than being pure evil.
In context to his identity as a German, Eidinger said: "I believe all Germans have a kind of trauma that's directly influenced by our historical past. You cannot protect yourself. You have to be very vulnerable and understand this isn't just a fictional villain — the Nazis weren't aliens coming from the outside. It was a movement that came out of society by democratic vote, and it's important to face it." The actor knew von Rumpel was a villain, but he wanted "people to identify with this person" and "create a conflict for the audience to see themselves in this character, and not give them the opportunity to hold him at a distance and judge him. It's more about judging yourself." To sum it up, Reinhold von Rumpel is a fictional character influenced by real-life events and characters.
Read More: Is All the Light We Cannot See a True Story?