In 'Kanojo, Okarishimasu' 3rd Season or 'Rent-A-Girlfriend' season 3 episode 8 titled 'Family and Girlfriend,' Mini meets Kazuya to celebrate the fact that he has lost his virginity with Mizuhara. But she is shocked to learn that nothing happened between the duo even though she has set things up in a manner that Kazuya will finaly be able to express his emotions for her. The theater for the screening of Mizuhara's film is finally decided and she along with gradma Sayuri and Kazuya visit the location. Here's everything you need to know about the ending of 'Kanojo, Okarishimasu' 3rd Season 'Rent-A-Girlfriend' season 3 episode 8. SPOILERS AHEAD!
Rent-a-Girlfriend Season 3 Episode 8 Recap
One ordinary morning, Mini meets Kazuya to have a party to celebrate his loss of virginity. She is quite happy but completely unaware of the fact that nothing happened between him and Mizuhara. Mini claims that he was lucky to have someone as pretty as her for his first time and all other girls he is going to meet in the future would barely meet her standards. Soon, Kazuya clarifies that her assumptions are wrong as nothing really happened between the two. Mini is disappointed since she feels that they were at the perfect place at the perfect time for something like that.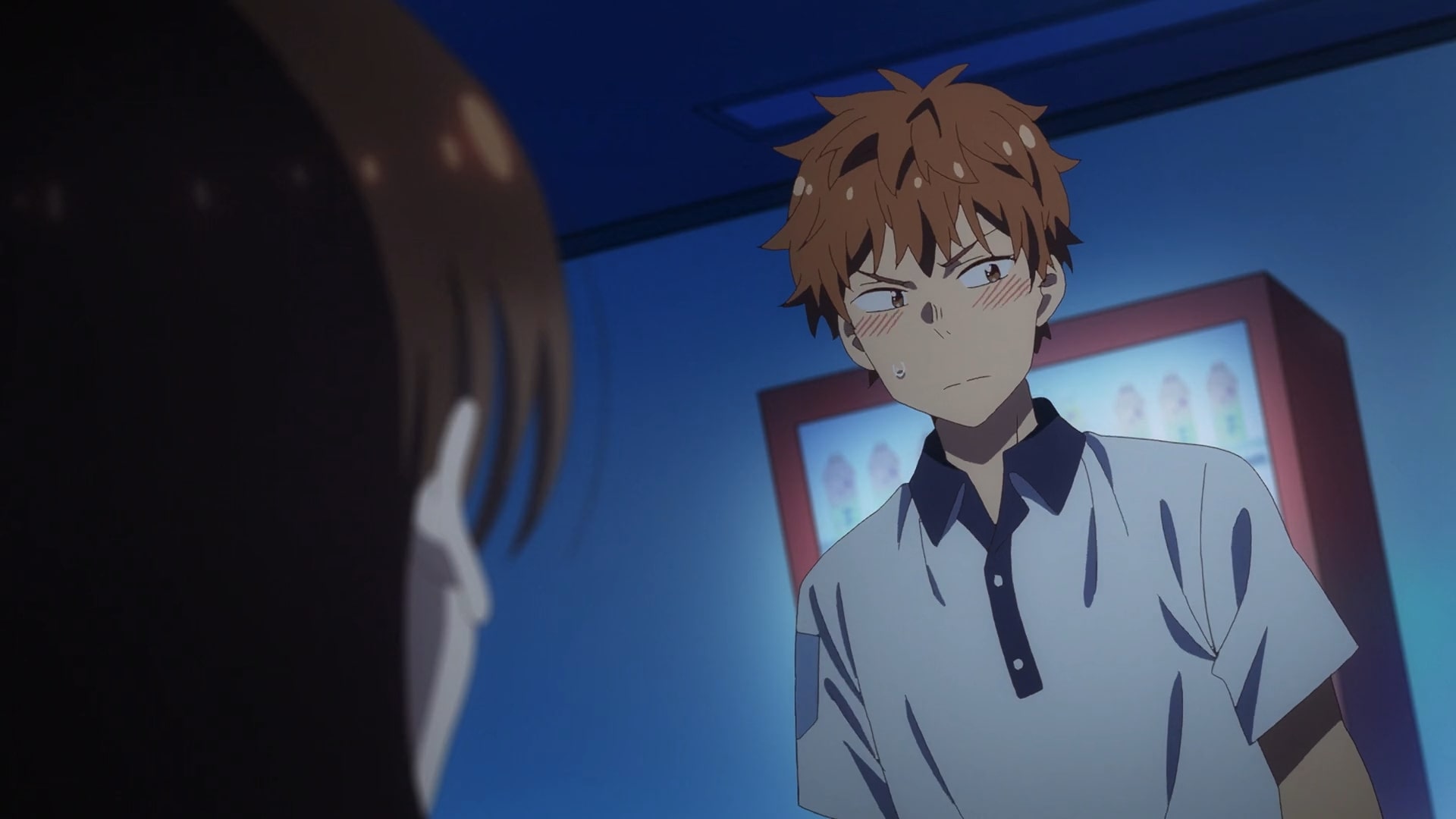 But before they can discuss this further, Mizuhara comes out of her apartment and the conversation turns to the screening of the film that they shot for Grandma Sayuri. The following day, they visit the theater where they are told that their film will be screened at the third largest screen in the location. Naturally, everyone is quite happy and Grandma Sayuri is glad to see how far Mizuhara has come with Kazuya's constant support.
Rent-a-Girlfriend Season 3 Episode 8 Ending: Is Gradma Sayuri Dead? Why Does Kazuya Want To Tell Her the Truth?
Later that day, Kazuya is in the toilet while Mizuhara waits for him outside unbeknownst to him. When he is finally out, he is shocked to see her in front of him. It turns out that she has been really happy with how things have turned out and wanted to thank Kazuya for his efforts. Both of them are quite satisfied that their hard work is paying off and they are about to fulfill their grandmother's wish. But this happiness is short-lived as they found Gradma Sayuri collapsed on the ground by the time they return. People have gathered around her looking for someone she knows.
Mizuhara and Kazuya immediately call an ambulance and she is admitted to a nearby hospital. After a lot of checkups, Mizuhara is given the latest update on her health. When she finally meets Kazuya, he is still quite optimistic about the situation but this turns out to be a mistake. Mizuhara informs him that things are not looking great and the following night is going to be make-or-break time for her. However, she has already been told that the probability of Grandma Sayuri's recovery is too low at this point.
Kazuya is heartbroken as he begins to contemplate the possibility that Grandma Sayuri may never get to watch the movie they made for her. This is obviously a tough pill to swallow but Kazuya is quite surprised by the strength Mizuhara is showing. But then all of a sudden, he remembers the fact that he and Mizuhara have been lying to Grandma Sayuri all this time and they are yet to tell her the truth about their relationship. Mizuhara has previously confessed to him that it bothers her that they have been doing this for so long, so Kazuya feels that they should do something about it.
Kazuya tells Mizuhara that even though Grandma Sayuri is on her deathbed, they should tell her the truth about their relationship. He feels that Mizuhara should only think about herself as she will have to live with that regret for the rest of her life if she does not come clean. When he tells her that, Mizuhara does not agree with his idea at all. She feels that it would be wrong to put her grandmother in any more pain when she is on her deathbed, so it's better to avoid such a conversation.
Read More: Rent-a-Girlfriend Season 3 Episode 7 Recap and Ending, Explained