When Lifetime dropped 'Marrying Millions' in July 2019, it opened to a great response from the audiences and became the network's strongest unscripted freshman debut season in over 3 years. Brought to us by the creators of TLC's top-rated series, '90 Day Fiancé,' the docuseries features several couples that fall on different ends of the financial spectrum. In simpler terms, one half of the couple belongs to an affluent class while the other half comes from a modest background. Apart from navigating the differences in their age, culture, background, and lifestyle, the couples also strive to figure out whether their romantic connection is based on love or just money before they take the leap of faith. If you're a fan of the show, you must be wondering: how wealthy the partners are and who is the richest Marrying Millions cast member? Well, let's find out!
7. Drew Gemma – $10 million
https://www.instagram.com/p/B8-FkOIBt1k/
Drew joined the cast of the first season with his college graduate wife, Rosie. Despite the objection from Rosie's family, Drew and Rosie managed to elope and enter into the sacred bond of marriage in Costa Rica. Confirming the rumors churned out by the rumor mills, Rosie revealed that they found each other on a Sugar Daddy website. On his massive 70-acres property in Cleveland, Drew runs a construction and landscaping company. Despite reports that he has multiple tax liens from the Ohio State, Drew's business is thriving and it is reflected on his and his wife's millionaire lifestyle. His estimated net worth is estimated to be at least $10 million.
6. Shawn Don – $10 million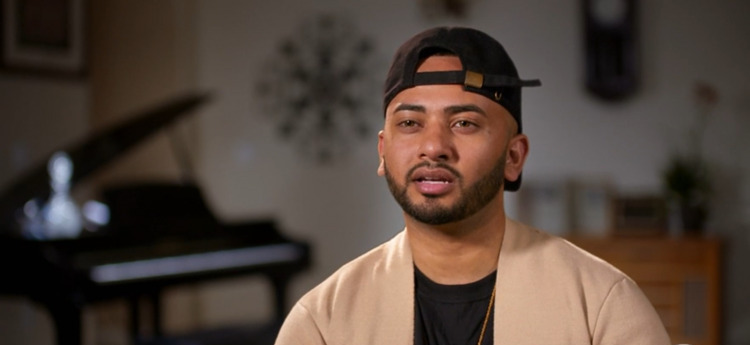 Shawn Don is a rapper and entrepreneur, who has been in the music industry for quite a while now. After graduating from Draper University, he kickstarted his musical career and went on to work with Snoop Dogg, DJ Mustard, Kurupt, Lil Wayne, 2chainz, DMX, Bryson Tiller and other established artists. Before joining the cast of 'Marrying Millions' with his ex(?)-girlfriend Kate London, Shawn appeared on several reality shows like 'Make Up or Break Up, 'Startup U,' 'True Life,' and 'Millionaire Matchmaker,' among others. It has been reported that he also founded a start-up company called Save. His net worth is estimated to be around $10 million.
5. Katie Hamilton – $10 million
https://www.instagram.com/p/B42rP7_AYs1/?utm_source=ig_web_copy_link
Katie appeared in the first season of the show, alongside her boyfriend, Kolton Pierce. Interestingly, Kolton was introduced to Katie by one of her daughters, Julia. The television personality rose to fame when she joined the cast of 'The Real Housewives of Orange County' while she was married to former professional baseball outfielder. In 2011, after 11 years of marriage, Josh filed for divorce following his substance-abuse relapse. It has been reported that Katie received a huge sum from her ex-husband during their divorce. She also hosts a podcast titled 'When Life Throws You A Curve.' On the show, Katie guestimated her net worth to be around $10 million.
4. Gentille Chhun – $15 million
https://www.instagram.com/p/B84iLJ7hjYq/
You may recognize Gentille as the cast member who left her beau, construction worker Brian Blu, at the altar on the wedding day in season 1. Well, the couple decided to give their relationship another chance and have returned in the second season. However, in reality, it looks like the two have split up for good. The Texas native of Cambodian heritage is a self-made millionaire and ranks among the top real estate dealers in Las Vegas, Nevada, where she lives in her swanky mansion. Before becoming a real estate mogul, Gentille was a swimsuit model for many years. Even today, she uses her social media handle to promote her online clothing line – Nomi Boutique. Taking the above-mentioned ventures into account, Candiace Dillard's estimated net worth comes close to $15 million.
3. Kevin David – $30 million
https://www.instagram.com/p/CDZgUtxAPEU/
In season 2, Kevin received flak for being a bit too frugal and cheap when he deliberately asked his girlfriend Kattie to split the bill after dining at a luxury restaurant, knowing that she doesn't earn that much. However, Kevin's skimpy attitude is not reflected in his lifestyle which involves him vacationing at exotic resorts and riding expensive cars. Self-made millionaire Kevin is an eCommerce coach, who earns most of his money from his online businesses – MarketerMagic, AMZ Done for You, ShopInspect, and ZonBase. He also offers an online-money making course called Amazon FBA Ninja course. His estimated net worth is at least $30 million.
2. Sean Lourdes – $30 million
https://www.instagram.com/p/Bq5-bvXFyCY/
The young millionaire appeared on the first season, alongside his now-wife of one year, Megan Lourdes. Sean is the grandson of Don Julio Lourdes, the founder of Auge Publishing Company, which is one of the world's most successful magazine publishing giant. In 2011, the self-proclaimed "third-generation heir" founded The Lourdes Foundation. The organization deals with philanthropic work and works towards enlightening the path for the youth of the world. It has hosted events for highly influential people, including Dalai Lama. Sean is also friends with a lot of celebrities like Gwyneth Paltrow and Lionel Ritchie. He has dined with former U.S. president Obama and had Keanu Reaves babysit his son. Sean's net worth is estimated to be more than $30 million.
1. Bill Hutchinson – $100 million
https://www.instagram.com/p/BxxWsX7nLQm/
Yes, Bill Hutchinson is reportedly the richest cast member on the first and second season of the show, wherein he appears with Brianna Ramirez. The 62-year-old Detroit native had a rough start in his career but a "Help Wanted" advertisement catapulted him into the real estate scene. Since then, Bill milked every opportunity that came his way and took every curveball in his stride to become one of the leading real estate moguls in the country. He founded Dunhill Partners, Inc. in 1984, which is now regarded as one of the leading real estate firms in America.
Other than that, Bill also owns The Virgin Hotels in Dallas Design District and W Hotel Dallas in Victory Park. While most of the cast members have revealed their net worth to honor the concept of the show, Bill has hesitated to put a number on his total wealth but he did mention once that he admitted that he has hundreds of millions in his bank account. And considering his successful ventures, it is quite believable that his net worth can be at least $100 million.
Read More: Where Are Marrying Millions Couples Now?