NBC's 'Dateline: Circle of Friends' tries to untangle the complex chain of events surrounding the death of 17-year-old Robert McCaffery in Plainfield, Connecticut, in April 1998. While the police arrested the perpetrator within two days of the murder, witness testimonies and lack of forensic evidence seem to suggest otherwise. The episode features interviews with various witnesses, the victim's family members, and attorneys involved in the case. If you're interested in discovering more, here's what we know.
How Did Robert McCaffery Die?
On April 18, 1998, Robert "Rob" McCaffery's day began on a little different note than other days, with his mother, Nancy McCaffery, yelling at him to get out of bed. The 17-year-old loved the Red Sox, all-you-can-eat Chinese buffets, his new green Ford Ranger, and sleeping in. The Plainfield, Connecticut, resident usually required to be yelled at ten times before he would drag himself out of bed. However, on Saturday, April 18, he had a busy day ahead and was pumping gas at Townline Auto in Danielson by 10 am.
He had been working there for three months and had already earned a $1-an-hour raise for his diligence. His former boss, Gary Lockard, noted he worked every night after school and on Saturdays to pay off the loan on his truck. Gary added, "He was quite a find. For a 17- year-old, he was quite responsible." Rob left work around noon and met his friend, John Jones, to help him clean his girlfriend's basement. The teen returned home around 5 pm and was ready to go out after a quick shower.
Wearing his standard outfit — blue jeans, sneakers, and a baseball cap — Rob blew a kiss to his mother and told her he was off to the mall with his friends. Reports stated Rob and John arrived at a party at an apartment in the Moosup section of Plainfield around 8 pm. He made the rounds, nodding and acknowledging friends he had not met lately. One of the attendees and his friend, Jarrod Feeney, recalled, "Rob was the funniest guy you'd ever meet. He always had a joke for people when he greeted them."
Around 10 pm, a fight broke out at the party revolving around a girl among her present and former boyfriends. As the argument spilled onto Allen Street, Rob and John prepared to leave the party. Rob's friend Meredith Sanborn recalled, "Rob gave me a kiss goodbye and said he was leaving to get his truck and would see me later." John remembered he and his friend were talking with Jarrod before deciding to avoid the fight by circling back, pausing for a cigarette, and waiting for things to calm down.
The two friends climbed onto a nearby garage roof to smoke around 1 pm and watched the altercation when John heard a distinct "pop." He turned around to see Rob lying on his back with blood coming oozing out of the side of his head. One of the teens, a part-time emergency medical technician, climbed on the roof and performed CPR as medical respondents arrived while medical respondents arrived. He was flown to the University of Massachusetts Medical Center in Worcester and declared dead the next day. He had been fatally shot with a .22-caliber bullet.
Who Killed Robert McCaffery?
Ryan Thompson, then 19, also had a set Saturday routine he followed on April 18, 1998 —opening his family's video store, 'Home Video Express,' on Lathrop Road. He worked at the store almost every night after school and on weekends to help his father, Scott Thompson, a two-decade Navy veteran. He used to work at the US Naval Underwater Submarine Laboratory in Newport, Rhode Island. According to family sources, Ryan was also planning on joining the Army and becoming an Airborne Ranger, having met with an Army recruiter a week ago.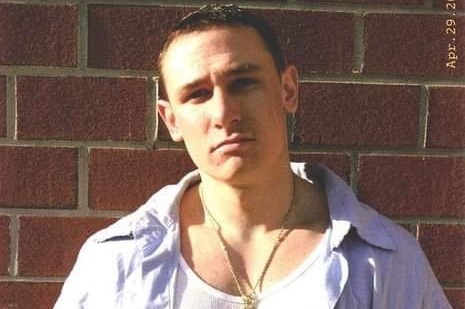 While his parents were visiting relatives in New Hampshire, Ryan met with his girlfriend, Brandy (née Stebbins) Gilkenson, her brother, David Stebbins, and their mutual friends, Jared Gilkenson and Robert Comeau at the Stebbins residence on Mapleshade Road around 2 pm. The teens had purchased two 30-packs of Budweiser and were hanging out. They finished around 30 bottles before deciding to take the rest to the party in the Moosup section. Comeau recalled they had "a pretty good buzz" when they got to the party at 9 pm.
At some point, David fought with another attendee, Matt Benoit, over a girl, Erin, whom they both dated. As tempers began to rise, the host, Ron Harding, asked Ryan's group to leave. This is where the testimonies began differing, with Ryan's friends initially claiming they departed without trouble before doubling down during police interrogation and again backtracking afterward. According to the show, Brandy and Ryan returned to the party 15 minutes later to find police cars swarmed outside the residence.
A drunk Ryan argued with an officer and was arrested for breaching the peace. The authorities performed a gunpowder residue test on him and kept him overnight at the station. David, Brandy, and Jared were also tested for gun residue at the police station the following day. The police also searched the Thompson and Stebbins' residence and found several guns, but none tested positive for recent discharge. Ryan was charged with murder after Ron and another witness, Bobby LaTour, claimed to have seen him with a gun.
Where is Ryan Thompson Now?
During Ryan's December 1999 trial, the prosecution could not provide forensic evidence that tied him to Rob's shooting. They also had no witnesses who saw him take the shot, barring Ron and Bobby, who claimed to have seen him running with a gun. However, Ryan's defense successfully questioned their credibility. However, the most damning testimonies came from Ryan's friends — David and Jared — who initially told the police Ryan had gone out with a rifle and ran back a while later, allegedly stating he might have shot someone.
Though David and Jared claimed during the trial that the police had coerced and manipulated them into giving the statement, and they believed their friend was innocent, the damage had been done. On January 27, 2000, the jury found Ryan guilty of reckless manslaughter with a firearm, and Ryan, then 19, was sentenced to 25 years. While an appeals court unanimously granted Ryan a new trial a few months later, the Supreme Court reinstated Ryan's conviction shortly afterward.
Dave and Jared were also charged with perjury and hindering prosecution for recanting their incriminating statements on the witness stand. They made plea agreements and served a few months in prison. Nearly eleven years after the shooting, Ryan got one more chance at a new trial owing to a legal proceeding called a habeas hearing. However, a judge denied his petition for a new trial on January 20, 2010. The 30-year-old is serving his sentence at the Robinson Correctional Institution and will be released on October 24, 2024.
Read More: Mary Jane Murder: Where is Tom Zich Now?