HBO Max's 'Devil in the Web: Scammed On' chronicles the antiques of fraudster Rubbin Sarpong, who swindled millions out of at least 40 victims spanning two continents from January 2016 to September 3, 2019. The episode features three of his victims (whose identities have been censored) and investigators involved in the case to decode the complex money swindling scheme. If you're interested in learning more, including Rubbin's current whereabouts, here's what we know.
Who is Rubbin Sarpong?
38-year-old Rubbin Sarpong of Millville, New Jersey, pleaded guilty in November 2021 to wire fraud, money laundering, and tax evasion charges. According to court documents, he and his co-conspirators, most of whom live in Ghana, set up profiles on dating websites, including Plenty of Fish, Ourtime.com, and Match.com. In a complaint filed in US District Court in New Jersey, federal prosecutors stated they often used fictitious or stolen identities and fraudulently posed as US military service members stationed overseas, mainly in Syria.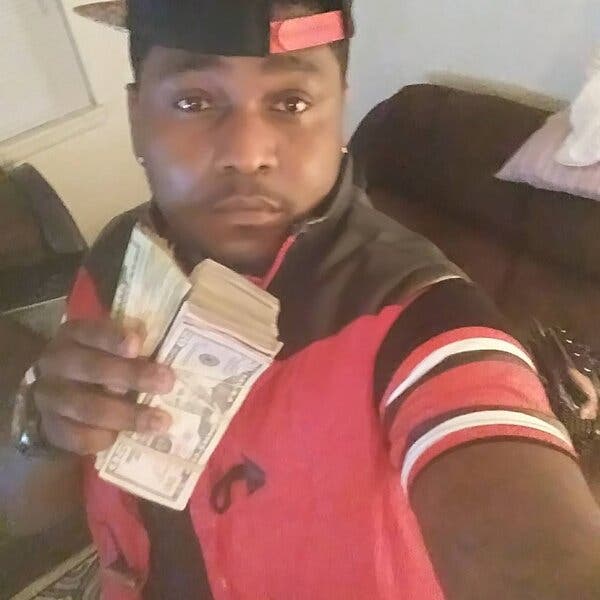 The episode showed how Rubbin and his team contacted the victims, wooed them with "words of love," initiated long-distance romantic relationships, and requested money. FBI sources stated several victims were promised repayment in exchange for covering the cost of shipping gold bars that they had recovered or been awarded to the United States in Syria. The fraudsters allegedly pledged to return the "loan" once the gold was received. Moreover, they made lofty claims about their fortunes, using forged documents to bolster their falsehoods.
Rubbin and his conspirators utilized several email accounts and Voice Over Internet Protocol phone numbers to communicate with victims and instruct them on where to wire money, including recipient names, addresses, financial institutions, and account numbers. At least 40 identified victims wired money to the Millville native and others in the United States, including 13 bank accounts he controlled. Some accounts were in the names of his friends, relatives, and a fictitious business entity — Rubbin Sarpong Autosales.
Occasionally, victims also mailed personal or cashier's checks to the conspirators and transferred money via money transfer services, such as Western Union and MoneyGram. Apart from swindling money, the frauds instructed their victims to pay for expensive electronics to a New Jersey-based co-conspirator and promised that a computer they requested would be delivered to a soldier in Syria. According to reports, they allegedly posed as the colleague of a diplomat named Earle Litzenberger, the erstwhile US ambassador to Azerbaijan.
A person used a fraudulent mail id, posing as Mr. Litzenberger, to send a separate email to them. Federal authorities later discovered that both emails were tied to the same IP address in Ghana. News reports imply that the fraud schemes might have even driven one female victim to kill herself. Referred to only as "Victim 2," she died by suicide days after wiring approximately $93,710 to two domestic bank accounts connected to Rubbin in 2018. Rubbin and his associates posed as a fictitious male service member to swindle her out of money.
The fraudster told the victim he had been awarded a box of gold bars worth $12 million. The fictitious man claimed to be working with a diplomat assisting in the gold shipment to the US. The fake personnel even provided a fake military ID and a fake airline receipt from Syria to New York that indicated "two trunks with 'family treasure' were being shipped." Convinced by the scheme, the woman sent the mystery man nearly $100,000 in under a month.
Where is Rubbin Sarpong Now?
Reports stated the woman sent her final installment on June 12, 2018, and her daughter informed federal investigators she had gone to the airport the following day, on June 13. According to her daughter, the victim had been tricked into believing she was meeting a male who was a "delivery agent for the United Nations" at Baltimore Washington International Airport and collecting the gold. When no one showed up, she was found dead on June 14 from suicide.
Authorities pinpoint Rubbin as the principal benefactor of the scheme spanning two continents, banking more than $800,000 on his own. He often posed on social media — flashing piles of cash, designer jewelry, foreign sports cars, and expensive liquor bottles. Rubbin's photos and videos were usually accompanied by fantastical and often cryptic captions, which boasted about his lucrative exploits. Furthermore, the episode featured some of his Instagram posts from early 2017 and late 2018.
One post featured a selfie of Rubbin pressing several stacks of money to his ear, mimicking a telephone. Posted on March 2, 2017, it was accompanied by a caption — "WakeUp (sic) with 100k…OneTime." He added, "Making A Phone Call To Let My Bank Know I Am Coming (sic)." Another image posted in October 2018 featured a snapshot of luxury watches and gold jewelry. The fraudster captioned it with, "30k Worth Of A Rolex Watch. 10k Worth Of A Gold Chain…1k Worth Of A Ring…I Was Blessed By A Dubai Millionaire…Real Recognize Real (sic)."
Authorities stated that these insolent social media posts later served as critical evidence in charging Rubbin, who detailed nearly a dozen such posts in the criminal complaint against him. Federal investigators explained that bank records, email accounts, phone records, and examination of IP addresses in the US and Ghana, including evidence from a search warrant, also linked him to the online dating scheme. Several agencies, including the FBI, Homeland Security, and the Internal Revenue Service (IRS), collaborated in bringing charges.
Prosecutors claimed Rubbin sent about $454,000 to his co-conspirators in Ghana in addition to the $800,000 he pocketed. Born in Ghana but a legal permanent resident of the US, he received approximately $1.14 million in taxable income from the scheme during tax years 2016 through 2018. However, Rubbin filed no income tax returns and paid no income tax, resulting in a tax loss of $387,923. According to reports, the authorities charged only Rubbin and no one else in the fraudulent scheme.
Rubbin Sarpong pleaded guilty to an information charging him with conspiring to commit wire fraud, conspiring to commit money laundering, and tax evasion in 2021. The court sentenced him to 168 months in federal prison and ordered him to pay restitution of $3.08 million to 36 victims, $387,923 to the IRS, $4,096 to the New Jersey Department of Health and Human Services, and $6,903 to the US Department of Agriculture. The 39-year-old is serving his sentence at the Federal Correctional Institution, Ray Brook, and will be released in late 2031.