Embarking on a new chapter in their lives with their twin by their side, fourteen siblings embark on an adventurous journey in Amazon Prime's 'Twin Love.' The reality dating series follows the journey of fourteen pairs of twins as they seek to find their special someone in a tropical paradise. Hosted by Nikki and Brie Garcia, the social dating experiment seeks to prove how dating and romantic relationships aren't so easy when twins are in question. As the cast seeks to find the right person, they find themselves in unique situations. Twins Samir and Samer Akel are two individuals whose tight-knit bond has made fans curious.
Samir and Samer's Twin Love Journey
In the hopes of finding love, 32-year-old Samir and Samer Akel decided to enlist the help of Nikki and Brie Garcia in 'Twin Love.' Having grown up together in extenuating circumstances, Samir and Samer weren't foreign to the endless issues that life could present. Upon arriving in the Garden and the Vista House, the twins began their quest for love. From the get-go, they established their motives and how they wanted to date to get married. While Samir found his affection reciprocated by Baelee, Samer didn't have the same luck from the start. It wasn't until twins Gabby and Maddie came into the house that he also had a chance to discover a deep connection.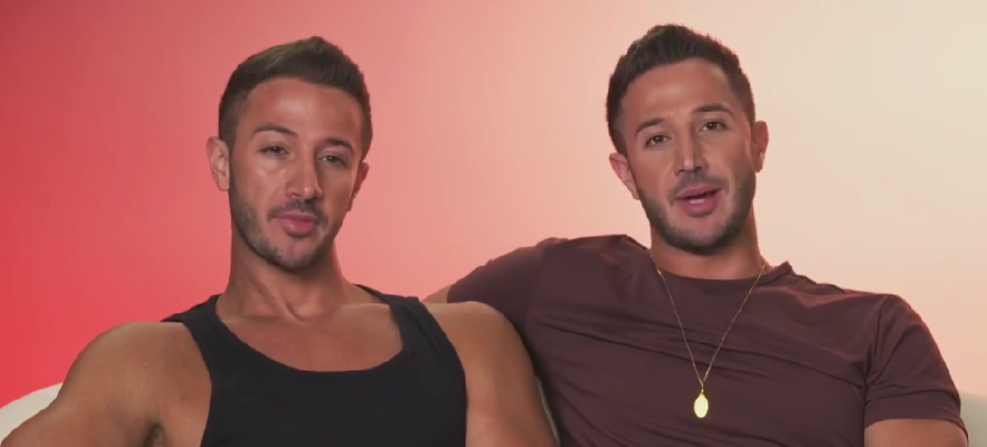 However, when the twins unexpectedly left the house, Samer found himself starting from the beginning once again. Ultimately, things changed when Zoie became open to discovering a connection with him after Luke's departure from the season. Once again, the twins found themselves enthralled by the company of Baelee and Zoie, also twins. Till the end, the four individuals grew closer and managed to develop a deeper connection with one another. As the season drew to a close, other members of the house also swooned at Samir and Baelee's relationship. When hosts Nikki and Brie asked them to pick the best couple, the majority voted for Samir and Baelee. Ultimately, the duo walked away from the show with $50,000 and a chance at a real love. Similarly, Samer also found a person he could entrust for the long run.
Where Are Samir and Samer Today?
Since saying goodbye to reality television, Samir and Samer have returned to focusing on their personal and professional aspirations. Having established their roots in Los Angeles after the Syrian war devastated their homeland, the duo managed to lay the foundation of a highly lucrative business. As twins and business partners, Samir and Samer have taken their venture, Crave Cafe, to new heights.
Over the years, the brothers had worked at liquor stores, dental offices, and UPS until their father opened a deli for them to kickstart their dreams. For years, they toiled and worked for hours to make their dreams come true. Ultimately, their business grew, and so did their experience. Years later, they've successfully transformed their operations into five restaurants. Most recently, they have kickstarted yet another venture. The duo have launched their clothing brand, D/FFRNT, a company that represents the diversity that each individual is inherently born with.
Referring to themselves as The Habibi Twins, the entrepreneurs have since been busy creating a holistic media brand. On the personal front, the siblings have remained decidedly quiet. After the show, both Samir and Samer found it difficult to keep their relationships with Baelee and Zoie, respectively. Having very little in common, the individuals decided to part ways for good. Nevertheless, Samir and Samer remain steadfast in their resolve to grow personally and professionally. Naturally, we wish them the best in their future endeavors!
Read More: Mickey and Ally: The Twin Love Stars Are Still on Friendly Terms