Netflix's 'Sex Education' is a hilarious and often too revealing sex-comedy. But the charm of the series lies in the way it combines this with the important themes it explores. This brilliant combination turns it into one of the most honest and heartwarming coming-of-age stories Netflix has produced till date. It is often awkward and cringeworthy, but hey, that's what teenage sexuality is all about.
More importantly, 'Sex Education' is intricately sensitive in its portrayal of our characters and their growth as they explore themselves, their bodies, along with, of course, each other. Along with this, the second episode of Season 2 engages in more serious topics, as it deals with the dreams, aspirations and pleasures of our characters. It allows each one of them to understand themselves and each other better, while also bringing us unexpectedly closer to some of the older characters in a funny but warm way.
SPOILERS ALERT!
Sex Education Season 2 Episode 2 Recap: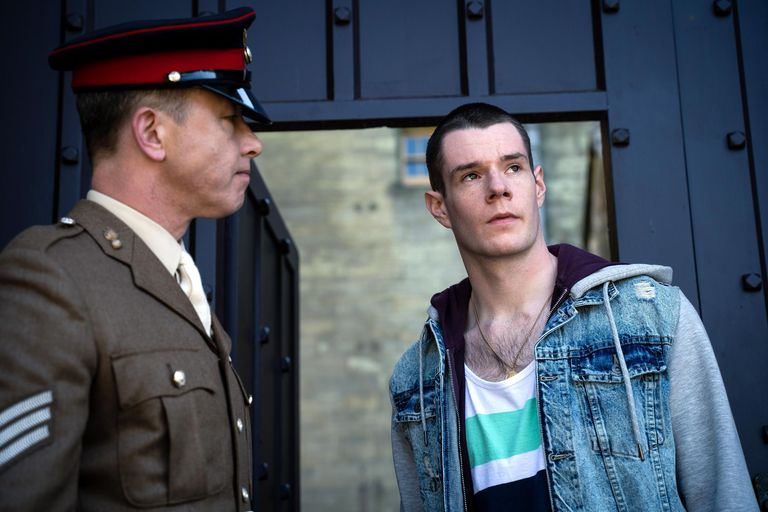 The episode begins with a bang…literally. Mr. Hendricks and Miss Sands are sleeping with each other, but Hendricks has an issue talking dirty. Meanwhile, Otis does some research on fingering as he wants to take the next step with Ola. Jean comes for the school assembly to address the students about sex-ed, but it takes an embarrassing direction.
We finally meet Adam as he practices in the military institution. Despite being hesitant at first, he improves on field, and makes friends. They bond over their dads beings bullies. But things take another direction when Adam finds them in a sexually compromising position. They get him expelled from the institution by planting drugs on his bed.
It's time for the Moordale fair, and we see the gang at the carnival. Rahim who has been trying to hang out with Eric, shares the Ferris Wheel with him. It is only during the SRL class that we learn Rahim is gay as he asks questions about Anal sex, which Hendricks is unable to answer, but Jean does. Jackson is given a peer aid, Vivienne, because of whom he realizes that he should pick a new hobby. While Aimie decides to give baking a shot.
Maeve is trying to get things right and preps for her scholar scheme. But when she realizes she needs to read her essay in front of the class, she gets overwhelmed and lies. Later, Miss Sands makes her realize that she needs to let herself dream. We also see Ola and Maeve in a weird spot as the two feel competitive and insecure because of their feelings for Otis. Maeve finally realizes she is not over Otis.
Otis and Ola do take the next step in the relationship, and while Otis thinks he aced it, Ola hilariously describes it as "he was moving his fingers like he was dialing a 1920s telephone." From a little advice from an old client, Otis realizes he needs to talk to Ola about what she wants. Hendricks also seeks advice from Otis, but it doesn't work out, until Otis tells him to listen to what Miss Sands wants.
Sex Education Season 2 Episode 2 Review:
If the Season 2 premiere of 'Sex Education' is about fresh starts, the second episode looks at second chances and finding yourself. Both Adam and Jackson are shown to be trying out or thinking of trying something new, despite their hesitance. Maeve despite her determination suffers from underconfidence in the class, until Miss Sands points out that she is a great writer and needs to let herself have more expansive dreams. Even Otis is seen exploring a new territory, and even though he initially stumbles, he tries to make it right. While Eric finally realizes that he might just have someone who likes him school, that too the hot new kid, Rahim. But with Adam potentially back, we can definitely things to get complicated for them very soon.
What the episode also tries to explore is sexual pleasure, by particularly focusing on the intricacies of female sexuality. As Jean points out during the beginning of the episode, there SRE doesn't talk at all about female pleasure. This is in turn connects to both Otis' and Hendrick's inability to fulfill their partners sexually, until they realize they just need to listen to their wants. As I mentioned previously too, the series lets each one of its characters shine and gives it space to grow. This episode interestingly also introduced the sexual troubles faced amongst adults with Hendricks and Sands' relationship. It is a good step because we feel closer to the older characters as the episode progresses.
Another thing that's commendable about the series, and particularly this episode, is its treatment of Adam. The series portrays Adam, the bully we see in Season 1, with such sensitivity that we gradually understand his struggles and see him grow. So much so that we actually feel happy for him as he tries to make his life better. But of course, things don't work out like that for him. Not yet. Despite the series' hilarious moments, the second episode deals with a lot more mature subjects, and it does with a sense of warmth and honesty, both of which are typical of show. We see our characters discovering themselves and their relationship with those around them, ultimately coming to the essential realization that they deserve pleasure, happiness, dreams and love.
Read More: Where Was Sex Education Filmed?