The fourth episode of 'Sex Education' Season 2 is one wild ride from beginning to end, with all the revelations and confrontations we witness. The love-lives of our favourite Moordale kids is more entangled than ever. But even the adults are not far behind this time. Ola and Otis are planning to take the next step in their relationship but a confession from Maeve changes everything for the three. Eric too is left in a similar situation, and we see the gang in the dilemma of their lifetime…at least the kind you would expect from 16 year olds.
The second season of 'Sex Education' definitely has a more serious tone than the previous one. Instead of all the crazy awkward humour, we have the gang struggling with their own feelings as things don't work out the way they want them to. And when they do, it just makes things all the more confusing. It definitely still has some hilarious moments which is typical of the show. But as the season progresses, it becomes more and more about the bittersweetness of growing up and everything that comes with it.
SPOILERS ALERT!
Sex Education Season 2 Episode 4 Recap: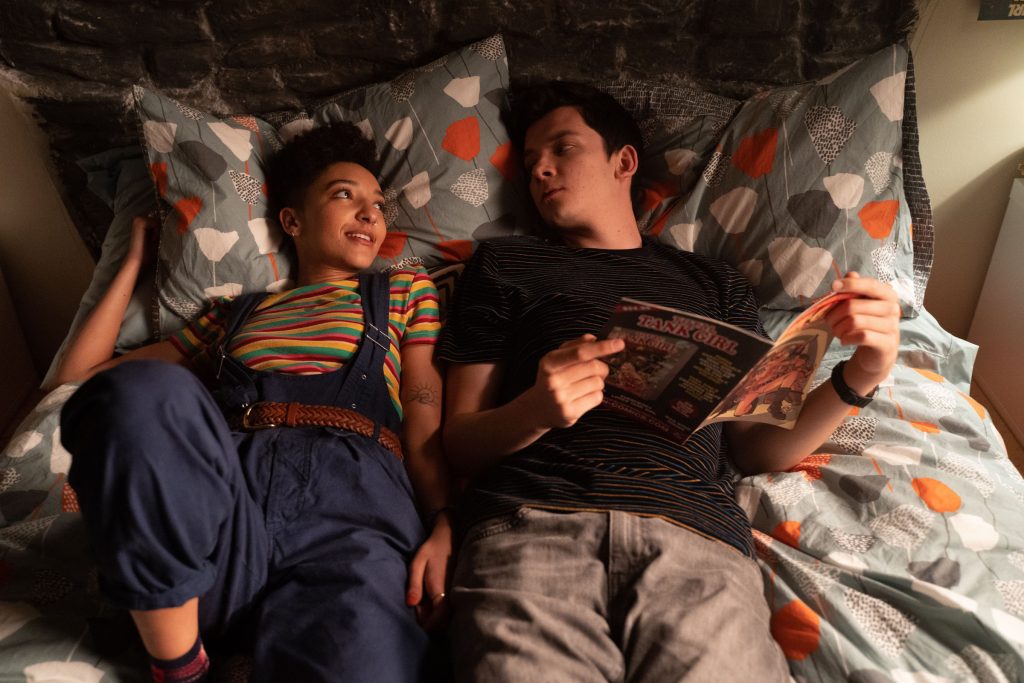 Ola decides that she is ready to go all the way with Otis. But Otis seems hesitant even though he really likes Ola. Meanwhile, Jean is having some space issues with Jakob, and Remi suddenly shows up. Jakob invites Remi for dinner which makes things very weird. Jean and Remi end up kissing when they are drunk and alone.
Ammie is still having trouble taking the bus. While Jackson and Florence, the two leads of 'Romeo and Juliet' have their own issues. Jackson has trouble acting, and seeks help from Vivienne. The two strike a deal where he will help her woo Dex in return. Florence is a great actor, but is being pressurized to have sex from her peers. Jean ultimately helps her understand that she may be asexual. She also tries to help Maureen who is having trouble with Groff.
Maeve has her own things to sort out as she lives with her mother and Elsie. Her mother needs to go for a job interview and tells Maeve to take care of the baby. But Maeve has her quiz heats and seeks help from Otis, who agrees. The quiz team wins but doesn't want Maeve on the team. An upset Maeve runs into Otis who accidentally lost Elsie during his session with Florence. The two finally find her, but Otis gets late for his sex date with Ola.
Before he leaves, Maeve finally confesses that she messed up with him. She had feelings for him, but she was confused. This deeply upsets Otis as he tells her he really liked her but he has finally moved on. This conversation affects his time with Ola while the two try to have sex. So much so that in between their act, he checks his phone to see Maeve's message, which Ola realizes. Ola ends up in tears, and is so frustrated, that the next day she tells Otis to not talk to Maeve anymore. Lily also makes Ola a sketch and the two hug – but one can sense some attraction there.
Speaking of attraction, Adam sneaks Eric out of his house and the two spend the night together breaking glassware and bonding. The next morning, they kiss. But soon after that, Rahim asks Eric to be his boyfriend, leaving him in a dilemma.
Sex Education Season 2 Episode 4 Review:
Ah, the sweet drama of teenage love. It is not all that sweet, after all. Well, neither is it restricted to teenagers as is the case with our fourth episode. It's like everyone's love lives just got crazy complicated in a single go. We have not one, not two, but three love triangles. Two of which are of course the highlights of the seasons for a lot of fans, and were a long time coming. We finally have Maeve's confession. But instead of being all warm and gushy, we instantly realize that timing couldn't ever be worse. Oh well, what would expect from teenagers?
What's interesting about the series is that it explores the struggles and dilemma's of each of its characters. So while we do want Maeve and Otis to magically be together someday, we also realize how good Otis and Ola are together. We feel as upset and frustrated for Ola as she finds herself in the messy situation with Otis and Maeve. With Ola telling Otis to not talk to Maeve, things don't look to good in the near future for our characters.
It's the same with Eric and his relationship with both Adam and Rahim. Despite how good Rahim and Eric seem together, we secretly hope its Adam Eric chooses. Despite how Adam is portrayed in the previous season, with the new one he increasingly becomes more and more lovable as he tries his chance at happiness. Jean too finds herself sticky situation between Remi, and we wonder if she will tell Jakob what happened.
This season, our heart really goes out to Maeve, who definitely stole the show this episode. We see her beyond her bad girl act, working hard, struggling and stumbling. But it also refreshing to see her bond with Erin. Even though there is a lot of healing to do, Erin does seem like she is also working hard for her second chance in life. Interestingly, another character who left an impact this episode was Maureen, who is shown in just two scenes. But it is heartbreaking to see her with Groff as she tries to rekindle the spark in their relationship. Another thing I really appreciate about the episode is the way Jean explains asexuality to Florence who tells her she might be broken. The line, "Sex doesn't make us whole, then how can we be broken?", shares an important message that people need to remember despite their age.
We can certainly expect some major drama in the coming episodes of the second season of 'Sex Education' with all the dilemma that takes place in this one. With most of the major confrontations and moments out of the day, the upcoming episodes will deal with their consequences. Will Otis really stop talking to Maeve? Will Eric choose Rahim or Adam? Is there really some attraction between Ola and Lily? Let's hope to find out soon!
Read More: Where Was Sex Education Filmed?