We are gradually reaching the end of the season of 'Sex Education', and things are more tense than ever. It is the morning after the crazy party and well, worse things are yet to come our way. The Milburns are in for quite a day with all that's in store for them. And it won't be pleasant. But it is probably important. The seventh episode of the season maintains it honesty, wit and warmth, but this time it addresses certain important issues. But it does this while paying tribute to one of the best Hughes' classics, making it both refreshing and endearing while letting its female characters take the centre stage.
The episode is also both heartening and emotionally driven as we finally have some major confrontations and realizations take place. At the same time, it surprises us with some unlikely bonds that makes us realize growing up really sucks. But, hey, at least we have each other. Or well, the Moordale gang realizes that they do. SPOILERS ALERT!
Sex Education Season 2 Episode 7 Recap: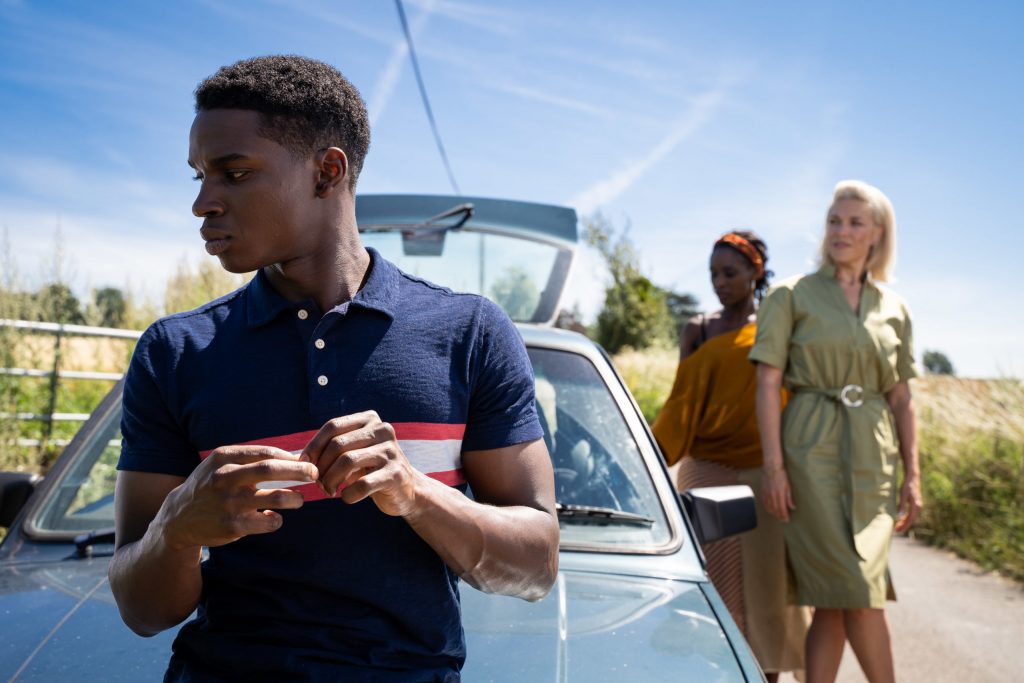 It's the night after the crazy party, and Otis doesn't know what's in store for him. He wakes up and realizes he had sex with Ruby, and they can't find the condom. Otis can't stop barfing, and neither Maeve nor Ola will talk to him (for obvious reasons). Otis and Ruby set out on their own little adventure as they buy a morning after pill for Ruby. In the process, Otis comes to know that Ruby's father is unwell, and the two share a surprisingly heartwarming moment together.
Rahim goes to Eric's church with Eric and his family, and talks about how he is an atheist. On the way back, he confesses that he loves Eric, who says it back to him. But later, in an interesting moment, Eric's mom tells Rahim that he doesn't make him sparkle.
Adam is finally getting his life back together and is doing a good job at the store. He manages to train Jessie, the rescue dog, and his boss is impressed and gives him the keys. In an unfortunate moment, despite locking the door it remains unlocked, and the entire store is looted.
There is chaos everywhere in Moordale with Jean's notes made public, and extremely personal information being revealed. Someone writes "Miss Sands is a dirty talking slut" on the mirror with lipstick and the girls get detention.
As all of this is going on, Groff calls Jean to school as he wants to get rid of her. Olivia is called from detention to his office, where he makes Jean's notes known to Olivia's and Malek's parents. Jean also learns about Otis being the "sex kid" from Malek. Jean goes to Jakob to confide who listens to her, but tells her he can't see her again.
Jackson's parents decide to take him to the counsellor but their car breaks down. Amidst a fight, he tells them they should get a divorce. This later leads to Jackson finally being completely honest with his mother, and the two bond. Meanwhile, Maeve learns from Isaac that her mum's lying about work. She finally confronts her and Erin confesses that she has been fired, but is looking for work.
The girls in detention are made to do an assignment by Miss Sands about what binds them as women. After several disagreements and an ugly confrontation, the girls realize they have something in common as Aimee breaks down. Then then share their own experiences with assault, from Olivia being groped to a man flashing his penis at Viv, to Maeve being eve-teased and Ola being followed home.
Ola then takes the girls to the place where Adam took her. The girls ,then, smash stuff, relieving themselves of their pent up anger. Ola and Maeve make amends, while Ola and Lily finally share a kiss. The episode ends with all the girls taking the bus with Aimee to help her with her fear.
Sex Education Season 2 Episode 7 Review:
The episode pays homage to John Hughes' cult classic, 'The Breakfast Club' in the most unlikely and refreshing way with the girls being sent to detention. It also finally brings the slow-burning arc of Aimee's assault to a point where it connects with the larger narrative, and it does it in the most heartwarming way while sharing the diverse experiences of the characters. Personally, the episode is definitely my favourite from the latest season, and for multiple reasons too.
Of course, the detention bit is the key highlight of the episode, with the girls smashing things with baseball bats and hammers only adding to its charm. It is really refreshing to see female solidarity in the way it is portrayed this season. We saw the same last season when Ruby's photo gets leaked and every girl in the assembly claims it's hers. It is also fun to see the girls from different cliques argue and bond the way they do. I, for one, love seeing women expressing their rage, as anger for them is such a suppressed emotion, something they are "not supposed" to feel.
Apart from that, this season has actively made its supporting cast shine and grow before our eyes. Not only does the season explore much more of the adults' crises with Miss Sands, Hendricks and Maureen. But it also beautifully shows the humane side to the school's mean girls (and guy), the Untouchables. Each one of them play a key role this season. The previous episode has Anwar expressing his insecurity over gay sex. This time, Ruby's interaction with Otis makes for one of the most heartening bits of season as we learn about her father being diagnosed with MS. All in all, we realize that high school or well, being a teenager, is sometimes really as bad as it gets and no one has it easy.
The way the episode progresses, we are left with a lot of questions, especially as we slowly reach the season finale. Will Otis and Maeve finally be together? Somehow, Isaac's entry in the show might cause complications, as we can see that he really cares for Maeve. Meanwhile, Eric gets a kind of wake-up call from his mother when she tells him he tries to be someone he's not when he is with Rahem. So, will Eric go back to Adam?
As predicted, the Milburns have it the worst this episode. Otis has gotten himself in a big mess, and in more than one way. Jean gets removed from the school for something she didn't do, learns about her son's sex clinic and also experiences a heartbreak. With just one episode to go, we wonder what's in store for us.
Read More: Where Was Sex Education Filmed?