Netflix's 'Sex Education ' follows the upheavals in the lives of the teenagers at Moordale Secondary. The show focuses on their journey, especially to their sexual awakening, where they explore their sexuality and find out what they like and don't like. The protagonist of the story is Otis Milburn, who used to be a nobody until he started a sex clinic with the school outcast Maeve Wiley. Otis's friendship with Eric also forms an important part of the story. Eric's journey throughout 'Sex Education' has been one of exploration and self-awareness. In the first three seasons, we find him in a complicated relationship with Adam, which they break off entirely at the end of the third season. SPOILERS AHEAD
Eric Didn't Want to be Held Back by Adam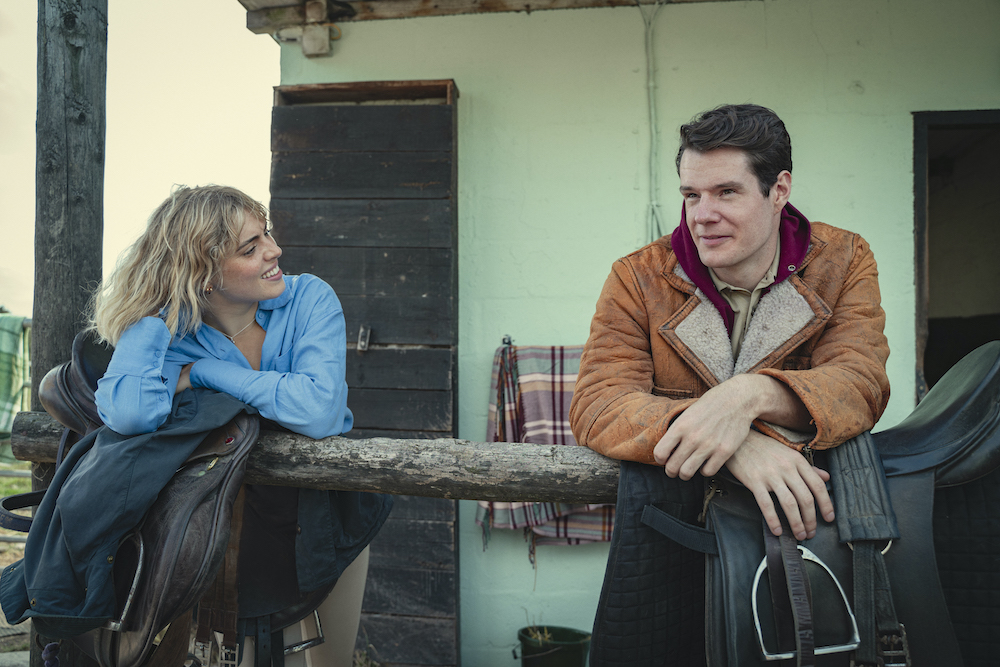 Eric and Adam weren't always love interests. At the beginning of 'Sex Education,' Adam is a bully who terrorizes Eric for years. Then, one day, during a detention, Eric and Adam are locked up in a room, where things take a drastic turn between them when Adam kisses Eric. It turns out to be confusing for both of them because Eric thinks Adam hates him, while Adam didn't think he had feelings for Eric. They secretly start seeing one another, but the differences between them are already palpable.
Over the course of four seasons, we find Eric continuously exploring his wants and desires and working hard to figure out who he is and where he wants to go. The more he works on him, the more he craves for acceptance. He has spent a good part of his life hiding himself, but now, he is focused on opening up and not closeting himself. His relationship with Adam makes him feel like he is being pushed back into the mindset he tried so hard to come out of.
To his credit, Adam tries to do better with each season. In the second season, he and Eric are in a secret relationship. Adam doesn't want to go public because he doesn't want anyone to know about their affair. Eric gets tired of this and decides to leave him in favor of Rahim, who is more self-assured. By the end of the season, Adam decides to go public about their relationship and expresses his love for Eric in front of everyone, following which they get back together. By this time, Adam has also realized that he is bisexual.
The third season focuses on Adam and Eric as a couple. They are out and about, and Adam doesn't hide their relationship at school. Still, he is hesitant about spending time with others as a couple. He doesn't want to go out but prefers spending alone time with Eric, where no one else is around. To Eric, this starts to feel like being pushed back into the closet. He wants to go out and about in the world, be a free, out-and-proud gay man, and explore everything the world has to offer. He gets a taste of this life in Nigeria.
While on a family trip to Lagos, Eric meets Oba, who takes him to an underground gay club. They kiss each other, and here, Eric feels like he is part of a community. This encourages Eric to seek his community and people with whom he can be open about everything. When he comes back home, Eric tries to get Adam to one of the clubs, but when he refuses, Eric realizes that he cannot be with Adam anymore.
Eric comes clean to Adam about his kiss with Oba, but Adam is ready to look past it. He doesn't mind, but Eric says it's not just about the kiss. It's more than that. It is about the fact that he and Adam are on completely different journeys. Eric is ready to fly, while Adam is still learning to walk. Eric tried to meet Adam's pace, but he can no longer do that because he needs to move forward in his own journey. For this reason, he finds it best for them to break up and tread their individual paths, rather than one feeling rushed while the other feeling held back.
Read More: Why Did Otis and Ruby Break Up?