Investigation Discovery's 'Deadly Women: Bad to the Bone' narrates how 51-year-old British solicitor David Edwards was killed inside his Chorley, Lancashire home in August 2015. The police did not have to look for the killer long and arrested them at the crime scene only. If you're interested in finding out more about the case, including the killer's identity, we've got you covered. Let's begin then, shall we?
Who is Sharon Edwards?
27-year-old single mother Sharon Manser met her future husband, David, under unusual circumstances in 2000. She had accused her former partner, John Pritchard, of assaulting her, and David acted as his defense solicitor. He even cross-examined Sharon in court, who claimed to be a domestic violence victim. Nevertheless, John was acquitted of all charges, and Sharon later went to David, seeking advice regarding a neighbor dispute. Their paths crossed again in 2014 when David sent her a Facebook request, and a relationship developed.
David was a reputed lawyer and held a partnership status at Stanley H Cross & Co, a well-acclaimed law firm in Chorley, Lancashire, in the United Kingdom. He was financially well-off and had a daughter from a previous marriage. A letter was read in the trial, which described David as "a very engaging person with a wry grin." It added, "He was always proud of his reputation and integrity as an officer of the court. David was held in extremely high regard by every member of the Chorley bench."
Sharon had four children from previous relationships, and reports claimed she was attracted to the wealth and social class that David offered. The couple tied the knot in a lavish wedding ceremony in Las Vegas in mid-2015. During their vows, she described David as 'my true love,' 'soulmate,' and 'lover.' Wearing a tiara, a white sleeveless lace gown, and clutching a bouquet of lilies, she stated, "One year ago today, you entered my life, and I can honestly say you turned it upside down and swept me off my feet. You have shown me what true love is."
However, David's friends and colleagues were wary of his new bride owing to suspicious injuries that appeared on his arms and face. He was even allegedly seen wearing make-up in an unsuccessful attempt to disguise a black eye on his wedding day. During the trial, friends and colleagues testified how they had expressed their concerns for his welfare after seeing his frequent injuries, a noticeable decline in his otherwise impeccable fashion sense, and "his professionalism as a solicitor, in his self-respect."
David's co-workers told the jury how the popular and reputable solicitor would come to work battered and bruised. According to the show, Sharon threw things — from coffee tables to ashtrays — during bitter arguments and episodes of domestic abuse. Reports further stated how David initially tried to play down his injuries, claiming he had fallen down stairs or walked into doors. Despite his friends repeatedly asking him to report the abuse to the authorities, the Lawyer had an unshakeable love and faithfulness for Sharon and never did so.
Where is Sharon Edwards Now?
Court testimonials state the couple returned from an all-expenses paid vacation on the Spanish island of Mallorca (Majorca) on August 22, 2015. Upon their return, David's teenage daughter, then 19, reportedly found him bleeding from his chest and leg in the bathroom. She confronted Sharon, who claimed she had not intended to hurt him. According to reports, David was seen later in the evening at a local pub bleeding from an injury to his chest and head. Witnesses claimed his drunk wife remained "callously unconcerned" at the sight of his blood.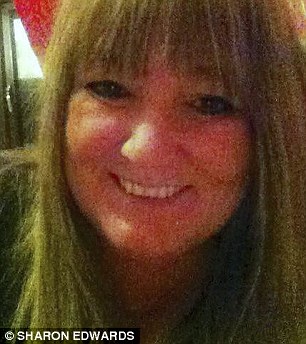 A police officer found the couple arguing in the street when they left the pub. His body camera shockingly recorded Sharon shouting, "I'm gonna f****** kill ya. I swear, David, when I wake up tomorrow, I don't know what mood I'm going to be in." David was fatally stabbed with a 13-inch black-handled kitchen knife the following day. Sharon claimed they had a row about tax credits, during which she stabbed him. However, she did not believe he was dead, and they even allegedly had sex before she fell asleep on the sofa.
David's daughter found the body and called the authorities. The officers arrested Sharon after discovering her long record of domestic abuse, including previous convictions after she attacked a former partner, biting and punching him, in 2004. According to police reports, 51-year-old David had 60 external injuries, of which 30 were incised or prod wounds, including stab wounds to his thigh, knee, finger, and a shallow wound to his scalp. The prosecutors claimed Sharon got more abusive when the Lawyer lost his position at his company.
The prosecution alleged, "Sharon behaved in a domineering and possessive way with her husband and seemed to resent any of his past or even present friends, family, and colleagues. There is no evidence that he ever retaliated physically to her assaults." The 42-year-old was sentenced to life in prison in March 2016 and must serve a minimum jail time of 20 years before being eligible for parole. In her late 40s, Sharon is currently presumed to be incarcerated in a Manchester prison.
Read More: William Schnittman Murder: How Did Darrell Wilson Die?