40-year-old Sheena Gibbs disappeared from her Rogers Park, Chicago, neighborhood in early November 2021. She was reportedly on her way to visit her ailing mother hospitalized in an Iowa hospital but never arrived or was heard from again. Investigation Discovery's 'Disappeared: Lost in Her Secrets' features interviews with the missing victim's friends and families in a bid to uncover what might have happened to her. If you wish to learn more about the case, including Sheena's last known whereabouts, we've you covered. Let's begin then, shall we?
What Happened To Sheena Gibbs?
Sheena Louise Gibbs was born in Muscatine in Muscatine County, Iowa, on November 16, 1981. Her childhood friend, Lilita Kelly, recalled how they would go down to the Mississippi River, skip rocks on the water for fun, and queue up at the libraries as they loved to read. She later moved to Chicago, Illinois, where she graduated from The Graduate School at Northwestern University in Evanston. According to her friends, Sheena had always batted for the marginalized and was "super proud" of her cultural roots and heritage.
Due to her social activism and ideology, she took anthropology and social sciences as her subjects in school and was never afraid to speak her mind. The show noted how Sheena was diagnosed with cervical cancer when she was 25 and underwent an excessively lengthy and challenging battle. She underwent chemotherapy and radiation while being "pretty much alone" in Chicago through the ordeal. Her friend Sarah recounted, "It was an exceptionally tough time for her, but she was courageous, determined to fight it and push through."
The brave woman was finally able to get a hysterectomy and went into remission after a difficult couple of years. However, her friend, Bethany, stated, "Something changed after Sheena won her battle with cancer. Maybe she thought a part of her was damaged and beyond repair." By November 2021, she had worked as a home health aide at the University of Illinois Chicago, where she performed COVID test scheduling. The cancer survivor and social justice activist had also started dating in early 2021, living with her boyfriend in Rogers Park, Chicago.
Bethany recounted seeing her for the last time in June 2021. Sheena had visited her in her home and told her friend how her boyfriend had allegedly thrown a coffee mug at her during a bitter argument. While Bethany requested her to be wary of this guy, Sheena soon returned to live with him in their shared residence. In September 2021, Sheena's mom faced severe health issues, and she returned to Iowa to take care of her mother. She knew her mother did not want to be admitted to a nursing home.
She used to travel back and forth from Iowa to Chicago and even considered relocating to her native state. On November 3, 2021, Sheena made plans to travel from her home in Chicago to Davenport, Iowa, to care for her hospitalized mother, whom she had Power of Attorney over regarding her healthcare. She told her aunt that she would be arriving the following day, on November 4, but never was heard from again. The 40-year-old was last spotted near the corner of West Greenleaf Avenue and North Sheridan Road in Rogers Park on November 5.
Is Sheena Gibbs Dead or Alive?
Sheena's cousin, Chris Dixon, mentioned that their most recent conversation with her took place on November 3. She had plans to drive to Davenport, Iowa, to provide care for her mother, who was hospitalized, but she failed to reach her intended destination. Chris added, "We are obviously distraught. This is not like her. Before her disappearance, she was in regular contact with family and we have not heard anything from her since then. So it's obviously very disturbing. We are very, very concerned."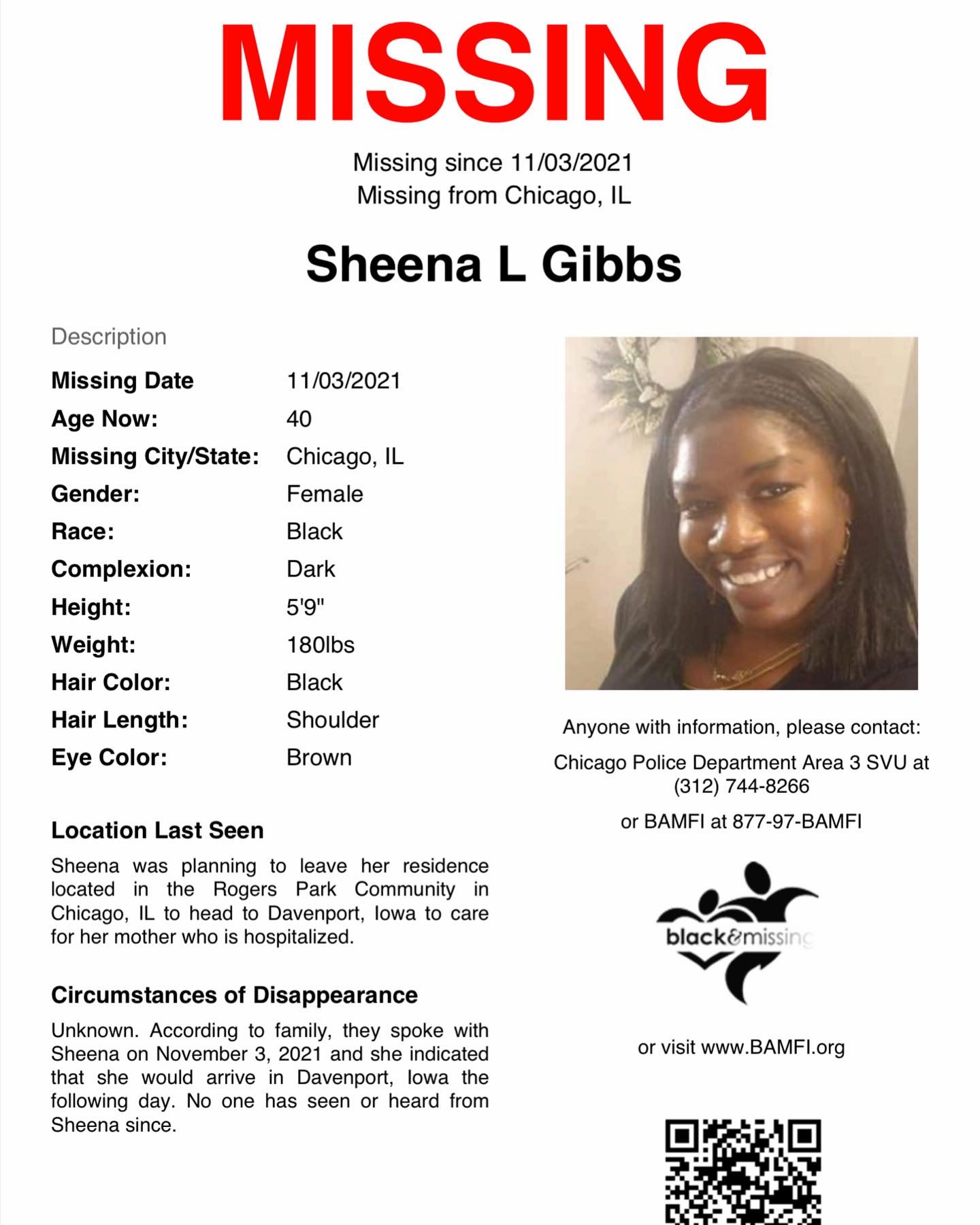 On November 8, 2021, the last known communication from Sheena was a text message sent to a friend. Concern grew within her family when all attempts to contact her resulted in calls going directly to voicemail. Sheena Gibbs failed to appear for a planned visit to her hospitalized mother and has remained untraceable ever since. Her usual mode of travel to Iowa was by bus, yet there is no documentation of a bus ticket purchased under her name, nor any proof that she boarded a bus departing from Chicago, Illinois.
Initially categorized as a "habitual missing" case by authorities due to multiple reports of her disappearance in the past, Sheena Gibbs' situation has since been reclassified as "high risk." This reclassification underscores the possibility that she may be in imminent danger, facing potential harm or even loss of life. Chris added, "Trying to stay as positive as we can, but it is not easy to do on a day-to-day basis." On the one-year anniversary of her disappearance, Sheena's friends and family huddled to remember her in her Roger Park neighborhood.
Reported missing on November 3, Sheena now features prominently in a freshly completed mural at The Glenwood bar at 6962 N. Glenwood Avenue to raise awareness of her disappearance and case. The artwork was crafted by the talented Damon Lamar Reed in collaboration with the Still Searching Project. In the mural, she beams with a vibrant palette of purple, pink, and green hues, with the word "missing" and a hotline number for tips and case information framing her visage.
Notably, the most recent development in the case, as of April 2022, has identified her disappearance as "the result of a crime," as stated in the accompanying flyer. The mural serves as a powerful tool to draw attention to the case and inspire anyone possessing crucial information to promptly report it to the authorities. While the police have named no person of interest in the case, a section of Sheena's friends think her erstwhile boyfriend might had some role to play in her disappearance.
Chicago Police have not released any information about the boyfriend to the public. 14th District State Rep. Kelly Cassidy claimed to take an unconventional approach as the traditional methods have proven ineffective in this case and similar ones, prompting the need to explore innovative solutions. Artist Lamar Reed added, "Black women who are missing are underrepresented in the media. Artistically highlighting them — it's a different way. Sometimes we see photos and just kind of go past it. I thought [the mural] would help to put more eyes on it."
Read More: Claire Tavener Murder: Where is Andrew Tavener Now?