'Alias Grace,' a captivating television series based on Margaret Atwood's critically acclaimed novel, takes viewers on a spellbinding journey through 19th-century Canada. Set in 1843, the show delves into the mysterious and enigmatic life of Grace Marks, a poor Irish immigrant and domestic servant who was accused of a brutal double murder. The series, developed by Sarah Polley and directed by Mary Harron, masterfully explores themes of identity, memory, and societal expectations.
Grace Marks, portrayed brilliantly by Sarah Gadon, becomes the center of attention as a charismatic young woman entangled in a web of uncertainty and intrigue. The series intricately weaves together historical facts with fiction, creating a compelling narrative that keeps audiences on the edge of their seats. With its gripping storyline and impeccable performances from the cast, including Anna Paquin and Edward Holcroft, 'Alias Grace' offers a deep dive into the complexities of the human psyche and the justice system of the 19th century. Prepare to be enthralled by this list of shows like Alias Grace that delve into mesmerizing tales of crime, psychology, and the search for truth.
8. The Lizzie Borden Chronicles (2015)

'The Lizzie Borden Chronicles' is a chilling historical drama series created by Richard Blaney and produced by Elizabeth Gregory. Starring Christina Ricci as the infamous Lizzie Borden, the show offers a fictionalized account of Lizzie's life after her acquittal for the gruesome axe murders of her father and stepmother in 1892. It shows Lizzie's transformation into a complex antiheroine as she navigates post-trial life, grapples with her dark secrets, and encounters a series of new murders. Much like 'Alias Grace,' this series blends historical elements with suspense and mystery, offering a dark and captivating exploration of a notorious real-life figure. Fans of 'Alias Grace' are sure to be intrigued by the intriguing character development and the enigmatic world of 'The Lizzie Borden Chronicles.'
7. Gentleman Jack (2019-2022)

'Gentleman Jack,' created by Sally Wainwright, is a period drama based on the life of Anne Lister, portrayed brilliantly by Suranne Jones. Set in 19th-century England, it explores Lister's extraordinary life as a landowner, businesswoman, and her unapologetic embrace of her lesbian identity. The series delves into her complex relationships, societal challenges, and her quest for love and success. This remarkable character-driven narrative shares parallels with 'Alias Grace,' as it's rooted in historical context, featuring a strong, unconventional female lead who defies the norms of her time, making both series compelling choices for viewers interested in strong women and historical intrigue. 'Gentleman Jack' is adapted from the diaries of Anne Lister, a 19th-century English landowner and lesbian pioneer.
6. The Frankenstein Chronicles (2015-2017)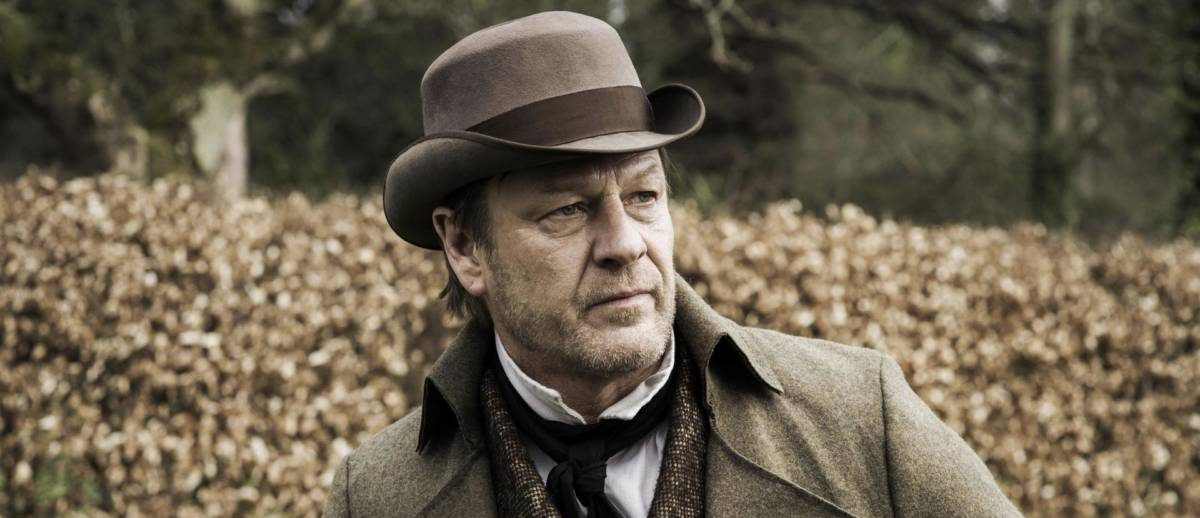 'The Frankenstein Chronicles,' created by Benjamin Ross and Barry Langford, is a gripping series that combines historical fiction with horror. Sean Bean stars as Inspector John Marlott, who stumbles upon a gruesome mystery involving body parts and grave robbing in 19th-century London. As he investigates, he becomes embroiled in a world of dark science and the quest for reanimation, evoking themes of Mary Shelley's 'Frankenstein.' Just like 'Alias Grace,' this show masterfully blends history, mystery, and psychological intrigue, making it a must-watch for those who enjoy tales where the past and the enigmatic intermingle to create an enthralling narrative of suspense and dread.
5. Picnic at Hanging Rock (2018)

Adapted from Joan Lindsay's 1967 novel, 'Picnic at Hanging Rock' is a haunting mystery drama created by Beatrix Christian and Alice Addison. Set in 1900 Australia, the story unfolds when a group of schoolgirls mysteriously vanishes during a picnic at the enigmatic Hanging Rock. The series, led by an ensemble cast including Natalie Dormer and Lily Sullivan, explores the enigma surrounding the girls' disappearance, delving into themes of repressed desires and the supernatural. Akin to 'Alias Grace,' 'Picnic at Hanging Rock' blends historical drama with an intriguing mystery, leaving viewers captivated by the unresolved questions of the past. Both shows offer a mesmerizing journey into the complexities of human psychology and society, making them must-watches for fans of gripping historical mysteries.
4. Harlots (2017-2019)
'Alias Grace' and 'Harlots' both transport viewers to historical settings, albeit distinct ones. While 'Alias Grace' is set in 19th-century Canada and focuses on a murder mystery, 'Harlots' immerses us in 18th-century London's world of brothels. Created by Moira Buffini and Alison Newman, 'Harlots' boasts a talented ensemble cast including Samantha Morton, Lesley Manville, and Jessica Brown Findlay. The series weaves a gripping narrative around the lives of brothel owners and prostitutes, emphasizing themes of power and survival within a patriarchal society. Adapted from 'Harris's List of Covent Garden Ladies,' a genuine 18th-century guide to London prostitutes, 'Harlots' offers a unique historical perspective that, like 'Alias Grace,' immerses the audience in a richly detailed past.
3. Penny Dreadful (2014-2016)
Created by John Logan, 'Penny Dreadful,' is a dark horror drama series that interweaves classic literary characters like Dr. Frankenstein, Dorian Gray, and Dracula into a macabre and atmospheric narrative. Set in Victorian London, the show delves into the city's hidden supernatural underworld while exploring the psychological depths of its characters. With an ensemble cast including Eva Green, Josh Hartnett, and Timothy Dalton, the series masterfully combines elements of horror, fantasy, and mystery. Drawing inspiration from 19th-century penny dreadfuls, cheap serialized fiction, the show immerses viewers in a world of gothic horror, intricate storytelling, and morally complex characters, making it a compelling watch for fans of 'Alias Grace.'
2. Bomb Girls (2012-2013)
'Bomb Girls,' created by Michael MacLennan, shares thematic similarities with 'Alias Grace' despite distinct settings. Both shows offer a deep exploration of women's roles in historically significant periods. 'Bomb Girls' is set during WWII and follows a group of diverse women working in a munitions factory, played by a talented cast including Meg Tilly and Jodi Balfour. Like 'Alias Grace,' it portrays the challenges women face within societal constraints and their strength in defying them. Both series beautifully blend personal narratives with historical context, shedding light on gender dynamics, resilience, and the struggles of women in different eras.
1. The Handmaid's Tale (2017-)
'The Handmaid's Tale' stands as the quintessential choice for viewers seeking shows akin to 'Alias Grace.' Both are adaptations of Margaret Atwood's literary works, delving into the struggles of women in societies where they are marginalized. In 'The Handmaid's Tale,' created by Bruce Miller, an exceptional ensemble cast, including Elisabeth Moss and Ann Dowd, portrays a dystopian world where women are subjugated and forced into reproductive servitude. The series grippingly explores themes of gender, power, and resistance, making it a powerful companion to 'Alias Grace' for those interested in thought-provoking narratives centered on women's issues.
Read More: Best Historical Shows on Netflix