Eradicating the woes of home shopping by divulging the intricacies of each product, QVC is a free-to-air television network that features a streak of shows and programs catered to showcasing a range of items and product lines. With numerous hosts and presenters taking the lead in reflecting the product's usage, consumers can purchase items like home appliances, apparel, fashion, home decor, and much more. Stacey Stauffer is one of the hosts whose capacity to connect with fans has made her a fan favorite. Naturally, many are curious to learn where the host is these days. So, if you're also wondering about Stacey's whereabouts, look no further because we've got all the information right here!
Who is Stacey Stauffer?
The University of Pittsburgh alum is best known for her hosting capabilities on QVC. However, her journey in front of cameras began much earlier. Having graduated with a Bachelor's in English Writing, Stacey began to explore a career in journalism right from her days in college. After graduating, she held a two-year stint at WFMZ-TV as a Producer in Pennsylvania. In 1999, she decided to test her abilities in front of the camera and worked as an Anchor, Producer, and Reporter for WVVA-TV. In the years that followed, Staecy solidified her position as a Morning and Noon Newscaster at WBRE-TV in Pennsylvania.
Gaining a swift understanding of live feed reporting and special projects like telethons, Stacey went on to report for NBC 10 WCAU-TV for almost a decade. She even hosted the lifestyle show and conducted live interviews with celebrities, authors, chefs, and experts. In 2014, Stacey decided to use her people skills and storytelling abilities a little differently. After spending more than a decade in the news industry, she auditioned for QVC for the role of Program Host. With an unspoken fluency in front of the cameras, Stacey was hired immediately.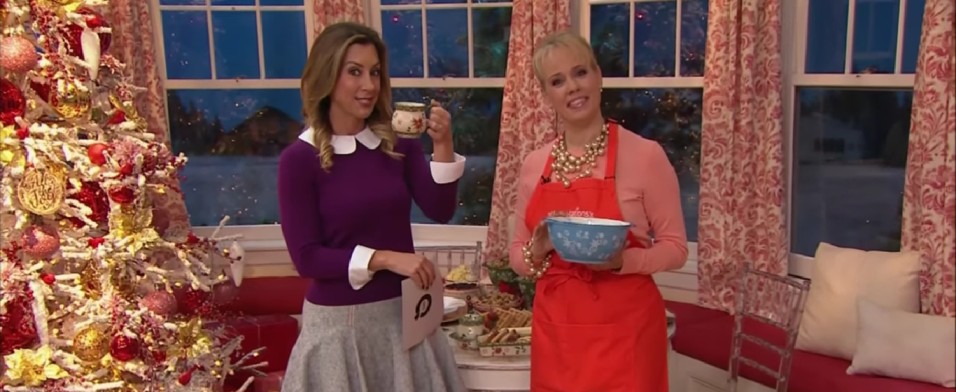 Through the years, Stacey didn't just depict her ingenuous abilities to connect with people on-air but also used her sales abilities to bring in countless customers. For six years, the star worked with celebrities like Martha Stewart, Ina Garten, and Christie Brinkley. The television personality became a regular on 'In the Kitchen With David,' the most famous program on the network.
Nevertheless, in 2020, the TV personality became one of the many show hosts who were let go from the network. So, why did Stacey Stauffer leave QVC? In a swift decision to downsize, restructure, and regain management control, the free-to-air television network made the decision to fire several hosts, one of which was Stacey.
Where is Stacey Stauffer Now?
Despite the professional challenges that impeded Stacey's ever-evolving success, the television personality hasn't despaired. Instead, she has managed to use this time to reconnect with her family and children. Stacey tied the knot with Larry Stauffer in May 2010. The couple welcomed their sons, Benjamin and Larry Junior, in 2007 and 2011, respectively. So, even though Stacey doesn't get to face the rush of tight deadlines and an invigorating workplace, she has still regained a better perspective and opportunity in life.
Stacey has regained her stature as an On-Air Personality for GLA. She continues to represent several national brands as an on-air spokesperson by using engaging live demonstrations and highlighting the features and benefits of each product. Stacey has also launched her brand entitled Savor With Stacey, which offers a plethora of services and partnerships. Not only can fans sign up for her limited and on-demand cooking classes, but also try out the virtual cooking sessions with the television personality. Stacey endorses several brands and is the brand ambassador for Zee Zee Foods, LonoLife, and California Innovations. Besides, she is the Sunrise Chef for WFMZ-TV.
Naturally, fans and readers can find several brand offers for sale through Stacey's website. Aside from her burgeoning career, she is also a speaker, coach, and mentor. She works as a host and emcee for big events with several corporate companies. Over the years, she has hosted prominent nonprofit benefits for the Children's Miracle Network Telethon, Make a Wish Foundation and American Red Cross.
When the television personality is not busy with work engagements and creating content, she likes to unwind and spend time with her loved ones. Stacey is incredibly close to her family and likes to spend quality time with her close ones. Naturally, we await all the strides she is bound to make in the future.
Read More: Jill Bauer: Where is Former QVC Host Now?