F. Gary Gray's 'Straight Outta Compton' is a ground-breaking biopic on gangsta rap, nothing like anything you've ever seen before. The film is visually stunning, massively entertaining, explosively honest, and boasts of some impressive performances. It centres around the origin N.W.A. that, in many ways, revolutionized gangsta rap and hip hop.
The film revolves around 5 black youngsters in 1980s Compton, who're some of the biggest names in the music industry today – Dr. Dre, Ice Cube, Eazy-E, DJ Yella and MC Ren. It follows their musical journey, as they channel their rage into their rap which is ultimately a reflection of their own realities. N.W.A.'s music is inherently political, as it draws from their experiences with racism and police brutality. 'Straight Outta Compton', in this way, serves as an essential commentary on the experiences of being black in this country.
This is not to say that 'Straight Outta Compton' is without flaws. It has been deeply criticized for its omission of Dr. Dre's history of violence against women, and of course, the rooted misogyny in N.W.A.'s music. But despite everything, the film's portrayal of black survival was widely critically acclaimed. In fact, the film is certified fresh and has a 88% approval rate on Rotten Tomatoes.
It was also a huge commercial success and made over $200 million against its budget of $5o million. 'Straight Outta Compton' is considered to be the all-time highest domestic grossing film from a black director in the U.S., and is also one of the highest grossing biopic of all times. Due to its impact and success, there have been talks of a sequel for a while now. Here's everything we know about it.
Straight Outta Compton 2 Plot: What Can It Be About?
https://www.instagram.com/p/6p_ItyNIXW/?utm_source=ig_embed
It's been almost five years since 'Straight Outta Compton' first premiered, and its impact can be felt till date. While 2020 is no 1980s, we're still struggling with racial prejudices and violence. It is also why #BlackLivesMatter is as relevant today as it was when it originated in 2013. We've a long way to go, and while films can only do so much, 'Straight Outta Compton' serves as an important reminder.
In 2015 itself when the film first premiered, there were talks of a sequel. While nothing ever materialized, we were teased with the direction it would be taking. It was suggested that the sequel will pick up from where the original left off, and focus on Tha Dogg Pound, Snoop Dogg and Tupac. This makes sense considering both Snoop, Tupac and Tha Dogg Pound make brief appearances in the film.
Dog Pound (Daz) even suggested that the title of the film could 'Dogg Pound 4 Life', and posted about it on Instagram. However, this seems quite unlikely. Also because not only did nothing ever materialize, but there have also been no talks of the sequel for years now. But if it ever does happen, it is probable that it focuses on Death Row Records which was founded in 1991 by Suge Knight and Dr. Dre, and included the three artists mentioned above. THR also revealed that Welcome to Death Row could be the source material for the project.
Straight Outta Compton 2 Cast: Who Can Be In It?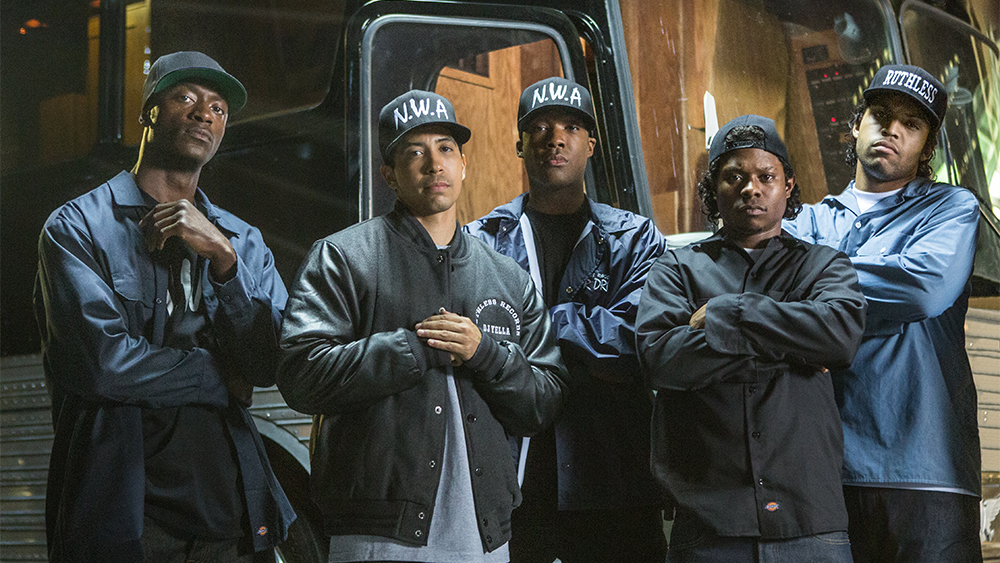 'Straight Outta Compton' has been praised widely for its powerful performances. The film stars O'Shea Jackson Jr. as O'Shea "Ice Cube" Jackson, Jason Mitchell as Eric "Eazy-E" Wright, and Corey Hawkins as Andre "Dr. Dre" Young. It also stars Aldis Hodge as Lorenzo "MC Ren" Patterson, Neil Brown Jr. as Antoine "DJ Yella" Carraby, and Paul Giamatti as Jerry Heller.
A sequel to 'Straight Outta Compton' never got officially confirmed. Yet in 2015, there were several reports suggesting that there was a follow-up in works. There was even news about the cast of the sequel. According to TMZ, Azad Arnaud will be playing Daz Dillinger, Curtis Young will be playing his father, Dr. Dre, and Reggie Noble will be playing Suge Knight. It will also include DaDa as Tupac, and Melvin Jackson Jr. as Kurupt. However, there have been updates about the cast, or even the project since 2015.
Straight Outta Compton 2 Crew: Who Can Be Behind It?
'Straight Outta Compton' is directed by F. Gary Gray with a screenplay by Jonathan Herman and Andrea Berloff, based on a story by Berloff, Alan Wenkus and S. Leigh Savidge. It was produced under Universal Studio, with Ice Cube, Dr. Dre, Tomica Wood-Wright, Matt Alvarez, Gray and Scott Bernstein serving as producers.
As mentioned initially, 'Straight Outta Compton' became the highest grossing film of all time by a black director. Gray is known for his award-winning music videos, along with feature films like 'The Italian Job', and 'The Fate of the Furious'. While it was recently revealed that screenwriter, Andrea Berloff will be co-writing the 'Aladdin' sequel next.
For the sequel of 'Straight Outta Compton', nothing has been confirmed. It was revealed in 2015 that neither Ice Cube nor Dr. Dre would be attached to the project. But they had approved the sequel. Dogg Pound was likely to be serving as a producer. However, according EW, Universals too revealed, "At this time there are no plans for a Straight Outta Compton sequel."
Straight Outta Compton 2 Release Date: When Can It Premiere?
Unfortunately, whatever information we have about the 'Straight Outta Compton' sequel is only restricted to 2015. Despite there being interest in making a follow-up, it seems like nothing ever materialized. There has been absolutely no discussion about the sequel in the past years, which makes the possibility of getting a 'Straight Outta Compton' quite weak. But if we somehow magically do get the sequel, it should ideally release around 2023 or later.