Investigation Discovery's 'Disappeared: A Vanishing At The Golden Gate State Bridge' features the mysterious disappearance of a 19-year-old college student, Sydney West, in San Francisco, California, in late September 2020. Reports stated she was last seen on the Golden Gate Bridge at approximately 6:45 AM PT on September 30, 2020. Almost three years have passed since Sydney disappeared, and many wonder what happened to her and if she returned home. If you are curious to discover more about the same, here's what we know.
What Happened To Sydney West?
Sydney Kaitlyn West was born to Jay and Kimberly West in Walnut Creek, California, on July 11, 2001. She lived briefly in Castro Valley before her family moved to Pleasanton, California, where she spent most of her life. She attended Foothill High School in Pleasanton, where she was a star player and co-captain of the varsity volleyball team. Along with sports, Sydney was a talented musician who wrote, recorded, and performed her own music. Her family moved to Chapel Hill, North Carolina, in 2017 while she was in the middle of her school year.
After graduating from Carrboro High School in 2019, Sydney took a year off after not getting accepted to her first college choice, putting off school to travel and spend time with family. She spent her gap year traveling in Australia with her family. The teenager moved back to California to begin summer classes at the University of California, Berkeley, in August 2020. She was passionate about animals, the environment, music, and volleyball and had been looking forward to attending her dream college. Sydney moved back for her first year at UC Berkeley.
However, the show noted Sydney suffered a severe concussion from a summer lake mishap in North Carolina. With classes moving online in 2020 due to the COVID-19 pandemic, she had deferred until the fall 2021 semester and was staying with her relatives in the Bay Area of California in the meantime. According to reports, the 19-year-old was last seen on September 30, 2020, at approximately 6:45 AM PT on the Golden Gate Bridge in San Francisco. She disappeared after entering the Golden Gate Bridge, where she often exercised in nearby Crissy Field.
Sydney's family stated she enjoyed that area and would often go there to take pictures, take in the view, or go for a walk or run. Her parents shared she is very close with her family and speaks with them regularly. Reports cited Sydney had a lengthy phone conversation with Jay on the evening of September 29, and he became worried when she did not contact her parents the following day. After failing to reach her despite multiple attempts, her concerned family reported her missing to the Orange County, North Carolina, police on October 1, 2020.
Is Sydney West Dead or Alive?
On September 29, the night before her disappearance, Sydney had been in touch with her family, indicating that she would call again soon. Her father, Jay West, stated they had talked for a couple of hours and expressed their affection for each other. He added, "I talked to her on (September) 29th. We talked for a long time. I fully expected to talk to her the next day. And I expect to talk to her again." The North Carolina missing report was immediately transmitted to the authorities in San Francisco, and a report was also filed there.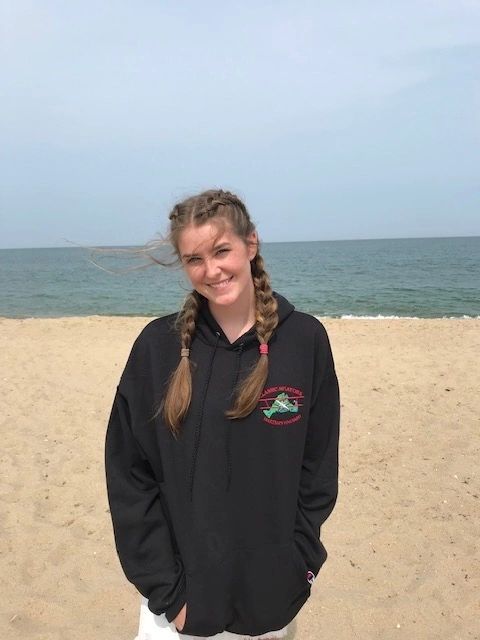 Police sources claimed Sydney used a ride-share service to reach the Golden Gate Bridge, and the San Francisco Police Department (SFPD) interviewed the driver, who was fully cooperative and ruled out as a suspect. The teenager's mother, Kimberly, noted, "Before she went out there, she was having a really hard time with screen time. She wasn't supposed to be doing any screen time, but this was the fall of 2020, and classes were completely virtual. So, everything was on the computer … and she just said she couldn't do it."
A 2022 Los Angeles Times report stated the bridge had seen 1,800 deaths. Sydney had felt isolated and lonely after the switch to virtual classes that fall. On October 2, 2020, the SFPD released a press release claiming she was "at risk [for suicide] due to depression." However, her family claims there is more to the story. Jay noted, "Lots of people have been like, 'Well, it's obvious what happened. She was on the Golden Gate Bridge.'" But he claimed his daughter wouldn't take such a drastic step given her love for her family and looking forward to college.
Jay added, "I just find it [hard to believe] she would just leave all of that." After Sydney's disappearance, her backpack was found on the Golden Gate Bridge. Over two years after she went missing, the family and a California private investigator, Scott Dudek, were allowed access to the surveillance footage from the bridge that challenged the suicide theory. The CCTV footage — not in the public domain and only viewed by bridge officials — shows fog rolling over the Golden Gate Bridge and smoke from nearby wildfires.
Scott noted, "First off, it was 6:45, roughly, in the morning. Extremely crowded. It was foggy, but she kind of disappeared into the fog. You would think if somebody went and crawled up on the rails with all those people and bike riders, somebody would have either called, which never happened, or somebody would have tried to talk to her and try to come forward with all that publicity, and that never happened." He also claimed bird-watchers, photographers, and athletes engaged in activities crowded a park below the bridge.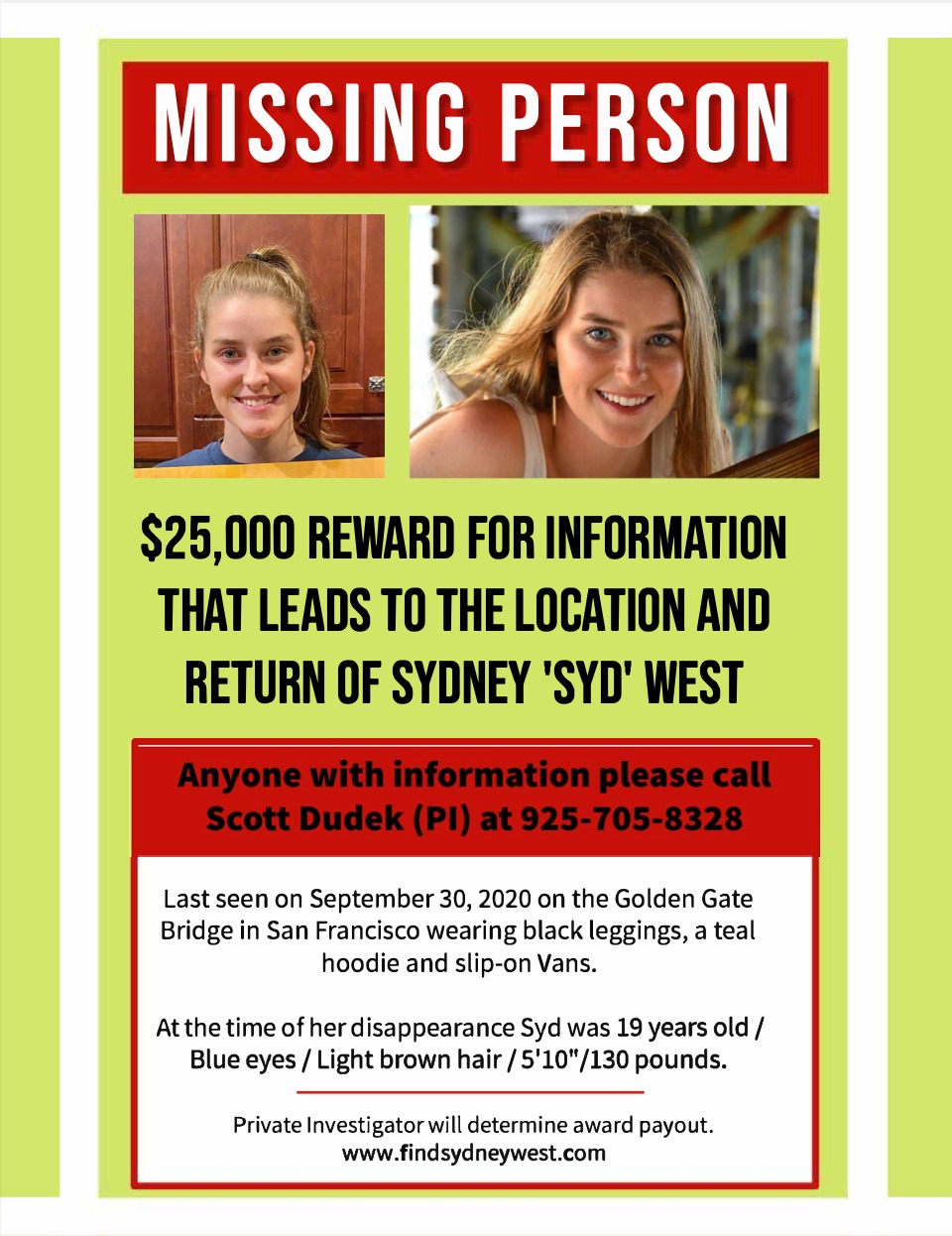 Sydney's family had initially offered $10,000 in February 2021 but more than doubled it for her return on the six-month anniversary of her disappearance the following month. They now offer a $25,000 reward for any information leading to their girl's discovery. According to reports, they have received hundreds of tips since their daughter disappeared, but none have led to her recovery. Kimberly said, "That's what we continue to hope — that there was somebody who maybe doesn't even realize they saw something."Anyone with relevant information is asked to contact Scott Dudek.