In the third episode of 'The Angel Next Door Spoils Me Rotten' or 'Otonari no Tenshi-sama ni Itsunomanika Dame Ningen ni Sareteita Ken' titled 'Reward for the Angel,' Amane's mother visits his apartment to learn how his son is living. That's when she accidentally meets Mahiru and assumes that the two of them are dating. Sometime later, Chitose and Itsuki make plans to spend Christmas eve at Amane's apartment not knowing that they will learn one of his best-kept secrets. Here's everything you need to know about the ending of 'The Angel Next Door Spoils Me Rotten' or 'Otonari no Tenshi-sama ni Itsunomanika Dame Ningen ni Sareteita Ken' episode 3. SPOILERS AHEAD!
The Angel Next Door Spoils Me Rotten Episode 3 Recap
Amane is shocked to see his mother Shihoko Fujimiya at his door one ordinary day. He tries to send her back, but she insists on having a surprise tour of his apartment. It turns out that Amane is hiding Mahiru in his bedroom as soon as he learned that his mother was there. As Shihoko inspects the hall, she is quite surprised by the cleanliness and praises his sons' efforts.
Amane stands at the door of his bedroom reluctant to let her mother in. Shihoko immediately notices this and insists that she has a look. Eventually, when she manages to get in, she is shocked to see Mahiru sleeping peacefully there. Instead of getting angry, she seems quite proud that her son has such a beautiful girlfriend. Although Amane tries to clarify, she is not ready to listen to anything as she has already made up her mind.
They talk loud enough to wake Mahiru up, who is shocked to see Amane's mother in front of her. Shihoko introduces herself and asks for Mahiru's name. Amane apologizes to Mahiru for the confusion and makes her aware that his mother is under the wrong impression that the two of them are dating. When Mahiru too tries to clarify that they are not together, Shihoko suggests that they should start dating now as they made a good couple.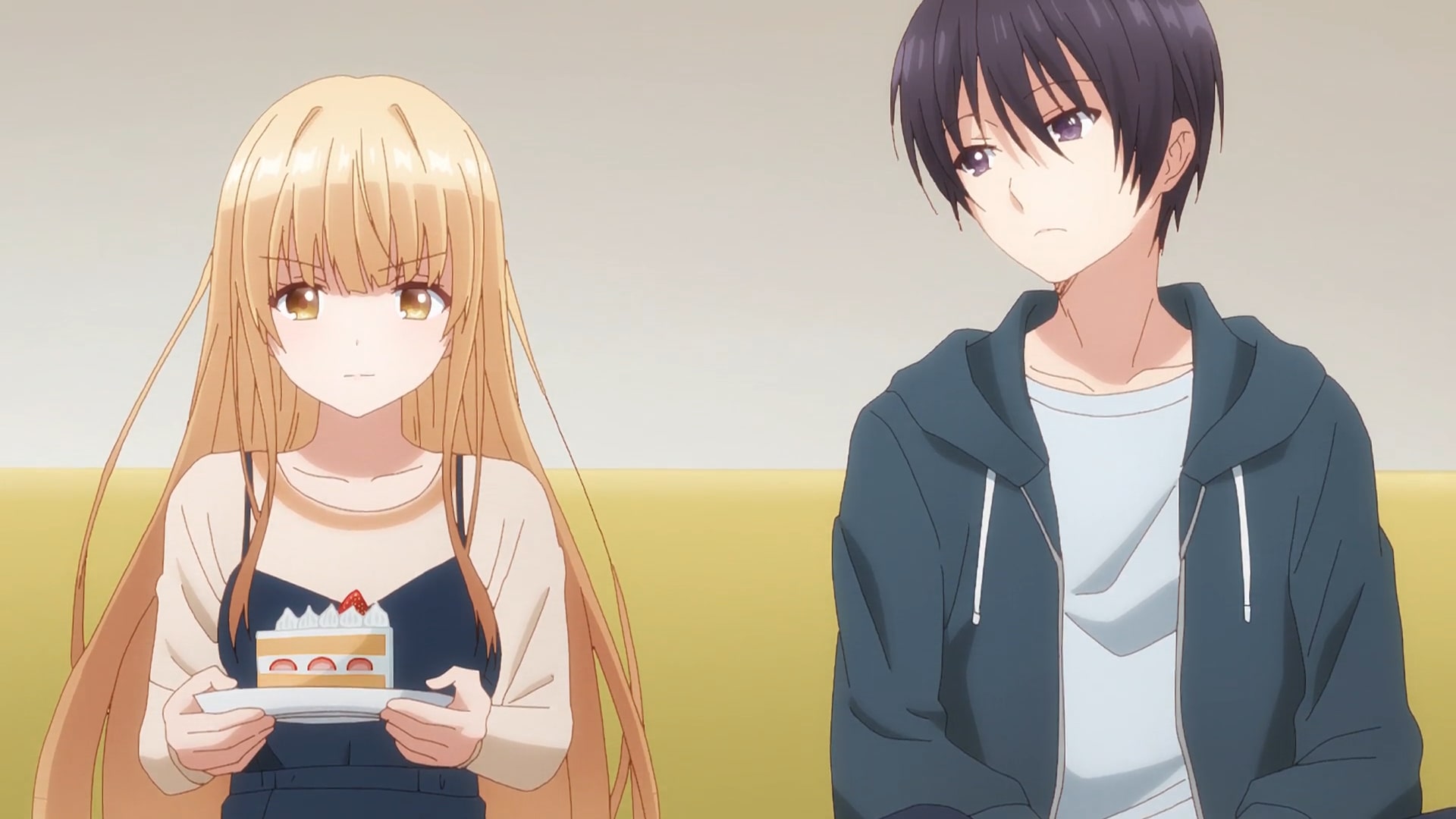 Before leaving, Shihoko has a brief conversation with the two of them and even takes Mahiru's number to be in touch with her. Interestingly, Mahiru appears to like Shihoko and appreciates the fact that she cares so deeply about her son. Amane apologizes again for everything that she has to go through but it seems that Mahiru does not really mind anything.
The Angel Next Door Spoils Me Rotten Episode 3 Ending: What Are Mahiru and Amane's Plans for Christmas?
With Christmas eve just a few days away, Chitose enquires about Amane's plan for the day. Moments earlier she has been teasing him about the gift he bought. Interestingly, Amane confesses that he gave it to his mysterious neighbor who has been taking care of him. While Chitose does not push him to learn more about the girl, she decides to spend Christmas eve at Amane's apartment with her boyfriend Itsuki.
Later that evening, Amane asks Mahiru about her plans for the coming holiday. It turns out that she is going to stay alone just like any other day of the year. Amane offers to spend Christmas day with her but does not really have any concrete plans for the two of them. Interestingly, Mahiru just wants to stay indoors with him and play video games, something that she has never done in the past.
Do Itsuki and Chitose Find Out About Amane's Secret Neighbor?
On Christmas eve, Itsuki and Chitose visit Amane's apartment to spend some quality time with him. They briefly discuss how Angel was approached by several boys in the school for the Christmas celebration but she declined all of them. It turns out that she already has plans with some mysterious boy for that day. Amane naturally does not want them to discuss Mahiru too much. That's when the trio notice that it has started snowing.
Itsuki and Chitose go to the balcony so that they can have a close look while Amane stays in the hall lost in his own thoughts. These momentary laps in his judgment turn out to be a huge mistake since the couple ends up seeing Mahiru, who is standing on the neighboring balcony enjoying the snow. While the episode ends there, it is obvious now that it would be impossible for Amane to hide the fact that the mysterious neighbor he recently bought a gift for is none other than Mahiru.
Read More: The Angel Next Door Spoils Me Rotten Episode 2 Recap and Ending, Explained