In the fifth episode of 'The Angel Next Door Spoils Me Rotten' or 'Otonari no Tenshi-sama ni Itsunomanika Dame Ningen ni Sareteita Ken' titled 'Hatsumode with the Angel,' Amane takes care of Mahiru after she falls asleep on his couch. A few days later, Amane's parents visit their son to spend some time with him on new years' eve. Just like his wife, Shuuto Fujimiya is impressed with Mahiru, who takes care of his son in his absence. Here's everything you need to know about the ending of 'The Angel Next Door Spoils Me Rotten' or 'Otonari no Tenshi-sama ni Itsunomanika Dame Ningen ni Sareteita Ken' episode 5. SPOILERS AHEAD!
The Angel Next Door Spoils Me Rotten Episode 5 Recap
On new years' day, Mahiru is at Amane's apartment at midnight to celebrate the occasion in their quiet and calm fashion as they normally do. Just after midnight, the duo starts receiving messages from their loved ones and that's when Amane learns that his parents are going to pay him a visit soon. When Amane is about to ask Mahiru about it, he realizes that she has fallen asleep. Since taking her back to her apartment is out of the question, he decides to put her to sleep in his room.
Before he leaves and goes back to the hall to sleep on the couch, Amane touches Mahiru's cheeks and wishes her good night. The following morning when he returns to his room, he finds Mahiru still sleeping. When he wakes her up, she naturally feels embarrassed and then reveals that she was actually awake when he picked her up from the sofa and put her on the bed in his room. Mahiru then reveals that she wanted to see what he will do and was quite surprised when he touched her cheeks.
A few days later, Amane's parents pay him a visit and Mahiru is waiting for them at the apartment so that she can meet them. The couple thanks her for taking care of their son and doing so much for him. But Mahiru is quite humble and does not forget to mention that Amane too looks out for her. The four of them later dress up to visit the local shrine. Amane usually never combs his hair or wears fancy clothes, so when he finally does, he is almost unrecognizable.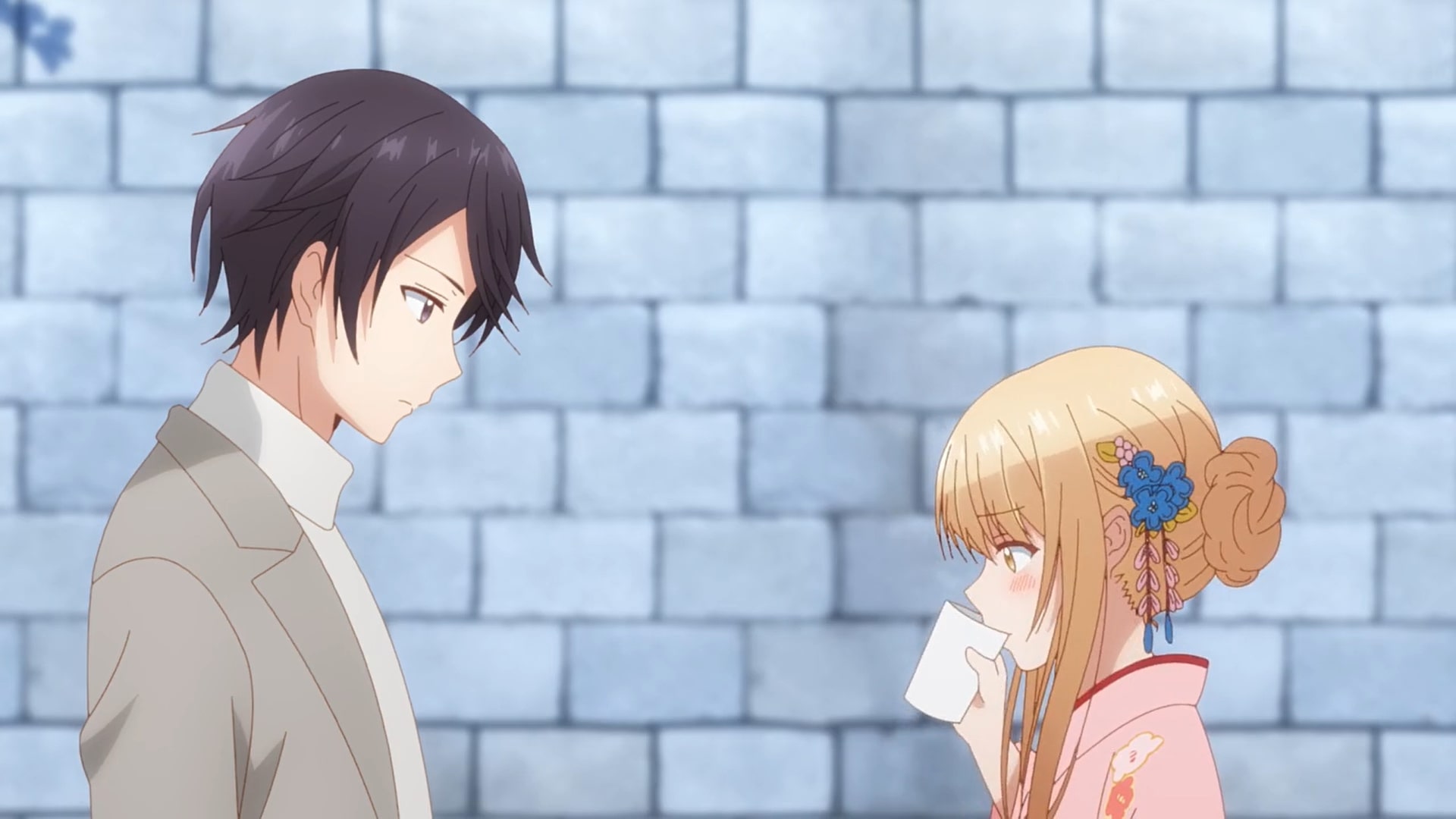 However, Mahiru looks even more ravishing in a kimono and Amane could barely keep his eyes off her. Since there is a huge crowd at the shrine, Amane offers his hand to Mahiru so that the two of them do not get separated. They later pray at the shrine and even share each other's soup and drink, which is an unexpected experience for Mahiru who has never done it in the past. After spending some quality time with the two of them, Shihoko and Shuuko return home but they do not forget to invite them to come over the next summer.
The Angel Next Door Spoils Me Rotten Episode 5 Ending: Why Do Students At School Think Mahiru Has a Boyfriend? How Does She Deal With the Rumors?
After celebrating the new year together, Mahiru and Amane return to school unbeknownst to the drama that is waiting for them. However, they did not know that both of them were spotted by several students from the school while roaming around the shrine on new year's eve. Luckily, no one has really seen Amane well-dressed for an occasion, so they fail to realize who the mystery boy with the school's angel actually was. While Amane tries to maintain his low-key profile, his classmates talk about the rumors that Mahiru is dating a mysterious guy who she was seen with.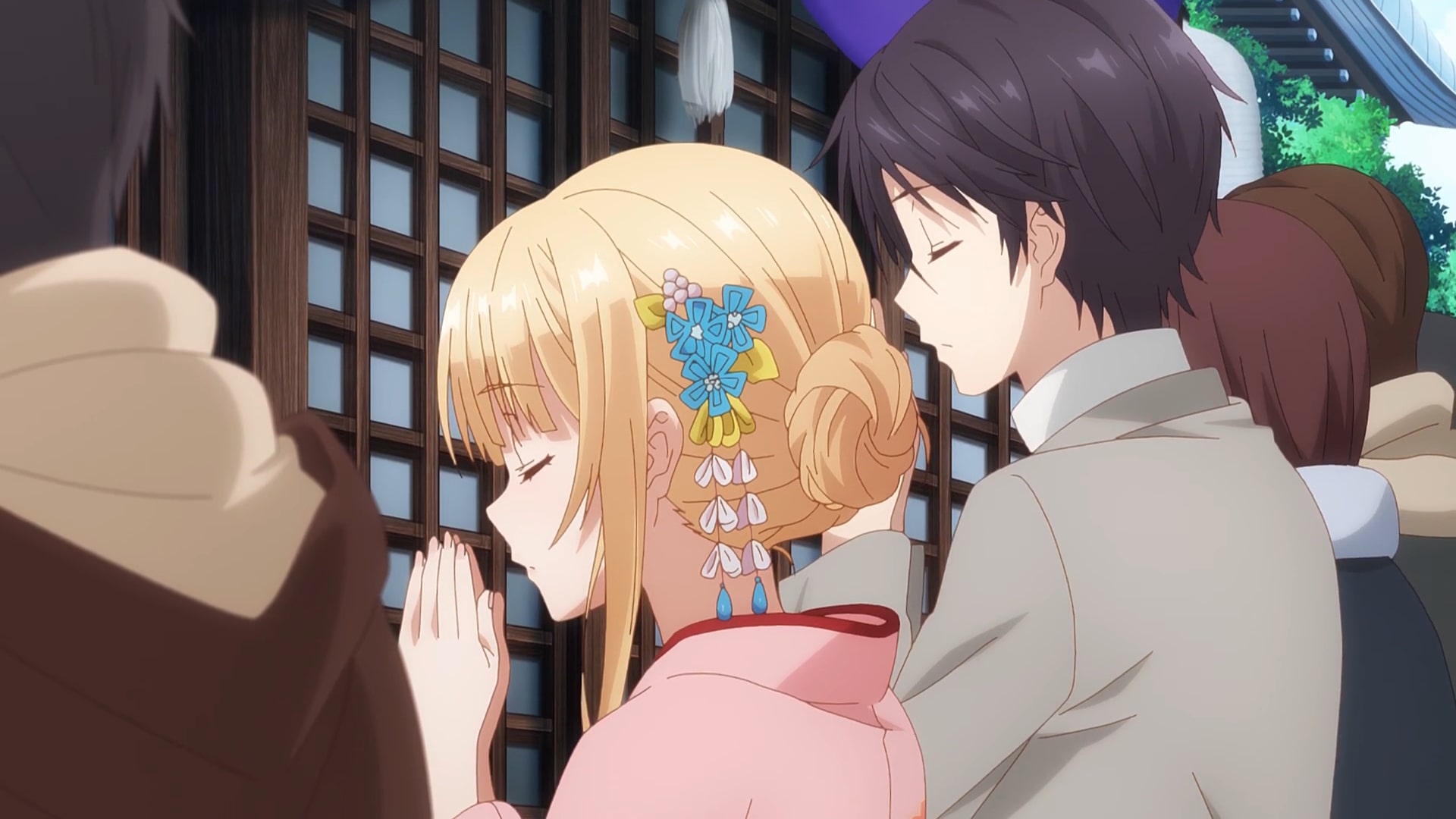 Naturally, Itsuki knows that it must have been Amane, so he does not let go of the golden opportunity to tease his friend, who in turn does not wish to hear anything about it. Interestingly, the duo was spotted by someone when they were holding each other's hand, which meant that it would be hard for Mahiru to deal with the rumors. Later that evening, Mahiru visits Amane's apartment and the two naturally talk about the rumors. Mahiru reveals that she has told students at school that she was with an acquaintance and is currently not dating anyone.
Since she rejects everyone's proposal, some people had also assumed that this secret lover may have something to do with it. For now, Mahiru had personally tried to clarify things but she tells Amane that they will have to wait for a while for the rumors to die down. It seems that she has personally done a great job while dealing with the rumors and it's understandable that she doesn't expect things to return to normalcy within a day since she is so popular and students will talk about something like this for a while.
Read More: The Angel Next Door Spoils Me Rotten Episode 4 Recap and Ending, Explained