Inspired by the 1953 eponymous play and 1952 book by Herman Wouk, Showtime's 'The Caine Mutiny Court-Martial' is a courtroom drama movie directed by William Friedkin that revolves around an alleged mutiny on board a ship when the Naval captain, Lieutenant Commander Phillip Queeg, was relieved of his command due to some signs of mental instability during a violent storm. This event leads to a naval court-martial where a naval lawyer named Barney Greenwald reluctantly defends Lt. Steve Maryk, a first officer of the Navy who took control of the USS CAINE from Queeg.
The twists and turns during the trial make Greenwald highly concerned as he begins contemplating if what occurred was truly a mutiny or just a courageous act of a group of sailors who found it hard to trust their unstable leader. The pulsating and compelling onscreen performances from a talented ensemble cast, comprising Kiefer Sutherland, Jason Clarke, Jake Lacy, Monica Raymund, and Lance Reddick, elevate the intensity of the storyline even further. Since almost the entire drama unfolds in the courtroom, the audience is bound to feel curious about the actual filming sites of 'The Caine Mutiny Court-Martial.' If you happen to be wondering the same, we have got you covered!
Where Was The Caine Mutiny Court-Martial Filmed?
'The Caine Mutiny Court-Martial' was filmed in California, particularly in San Francisco. According to reports, the principal photography of William Friedkin's final film seemingly commenced in January 2023 and wrapped up sometime before the tragic demise of Lance Reddick in March of the same year. Now, without any further ado, let's seat ourselves in the courtroom and find out the specific locations where the Showtime movie was taped!
San Francisco, California
Several key scenes for 'The Caine Mutiny Court-Martial' were lensed in and around the city of San Francisco, the commercial, cultural, and financial center of Northern California. To be specific, the exterior shots of the courtroom where the entire court-martial takes place in the film were recorded outside the Treasure Island Museum at 1 Avenue of the Palms #111 in San Francisco. As far as the interior shots are concerned, they were taped inside an old Naval Headquarters as the cast and crew members set up camp in an empty warehouse.
In an early September 2023 interview with FRED, production designer, Kirk Petruccelli, elaborated on how they decided on the appearance of the main set and other details about the same. He explained, "…But what he (Friedkin) wanted to do was, create a story that you don't know when it happened but it is contemporary. So, there is layering of history within the space…" Moreover, since there was no purpose-built room for a court martial in the establishment, the production team had to bring several desks and chairs into the empty warehouse or storage room and build one for the movie from scratch.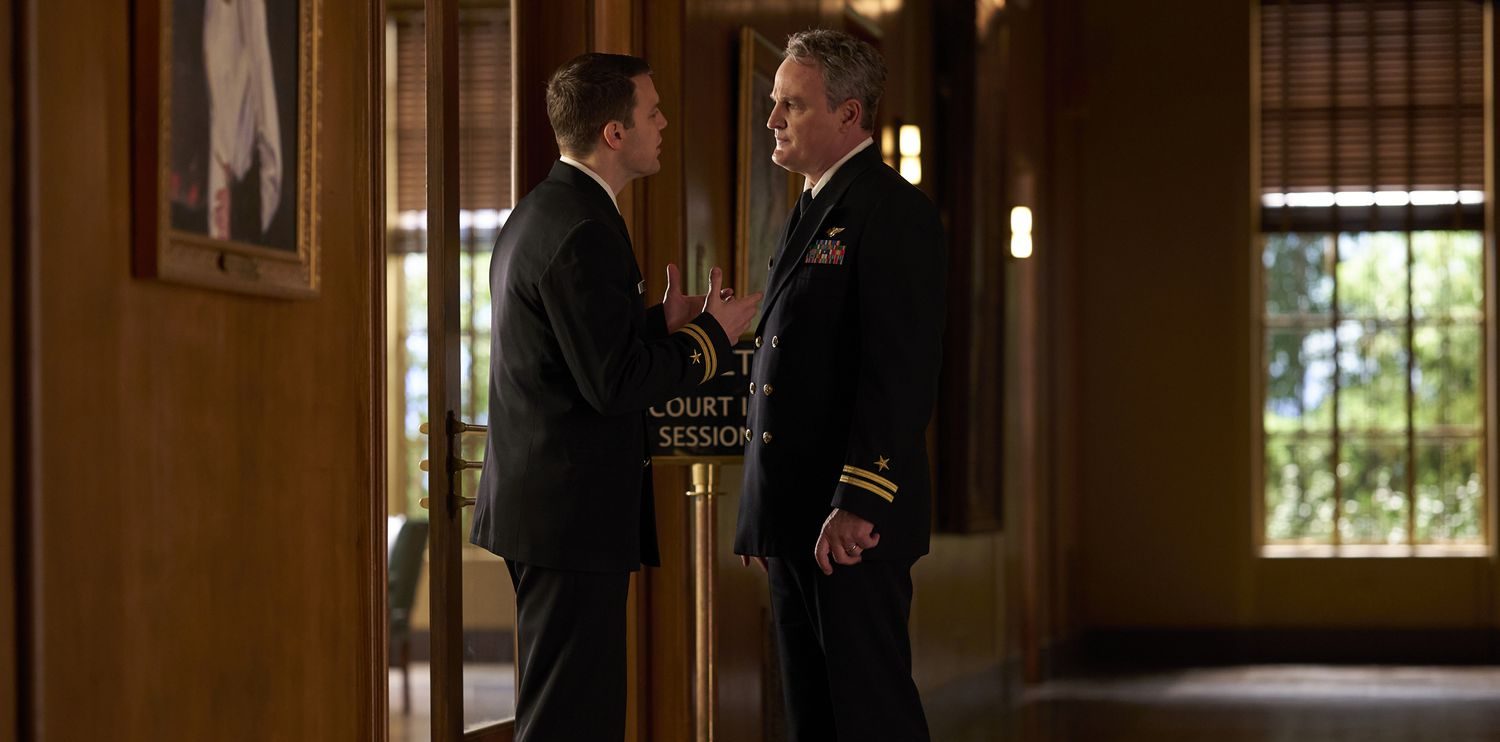 Kirk further added, "…So he wanted that it had a history — the paintings, the stories around the fit space or that of each era of the Navy and its greatness from the 17th century to 18th century to 19th century, Vietnam era, to today, contemporary notions of who was involved and how important that tradition was and how that weighs in some of these characters in order to become excellent and great, and that's the pressure behind these characters."
Read More: Best Courtroom Drama Movies on HBO Max