The FX on Hulu (in the US) and Disney+ series 'The Full Monty' takes us back to Sheffield, South Yorkshire, England, 26 years later to see how our beloved steel mills workers turned male strippers are faring. The world of 'The Full Monty' was always political, and that is why the original film deals with themes such as unemployment, working-class culture, fathers' rights, homosexuality, impotence, body image, suicide, and depression despite being a comedy. Series creators Simon Beaufoy (also the screenwriter of the original film) and Alice Nutter inject similar themes in their production, along with infidelity, grief, abject poverty, and drug abuse.
The relationship between Dave Horsfall (Mark Addy) and his wife, Jean (Lesley Sharp), serves as an important component of the narrative both in the original movie and its TV sequel. If you are wondering whether Dave and Jean stay together at the end of 'The Full Monty' series, we got you covered. SPOILERS AHEAD.
Do Dave and Jean Stay Together?
Yes, Dave and Jean stay together in 'The Full Monty.' In the original film, Dave deals with body image issues and initially drops out of the group after Gaz declares they will go the full monty during their performance. But after Jean encourages him, he rejoins the group and performs along with his friends in the climactic scene.
Over two decades have passed in the show since that performance, and life has continued for all the main characters. Dave is now the caretaker at the local comprehensive school, where Jean is the headteacher. In the course of the season, we learn that they lost their son Michael in 2012 when he was only a few months old. Dave and Jean's responses to this insurmountable loss have been vastly different. While Jean expresses her grief to the people close to her, Dave has effectively shut down on the subject. This has led to an undercurrent of frustration in their relationship. This becomes especially evident as Dave tries to help a young boy struggling at school because of bullying and following the revelation that Jean is having an affair with her deputy headteacher, Dilip (Phillip Rhys Chaudhary).
Although the viewers learn about the affair toward the end of episode 2, Dave doesn't get any inclination about it until the penultimate episode. When Dilip calls her "Jeanie," something clicks in Dave's mind, and he figures out what is happening, prompting him to push the other man into the water. Dave later calls Gaz, with whom he has had a strained friendship up until that point, and asks him to bring him a cake. When Gaz learns what has happened, he immediately complies.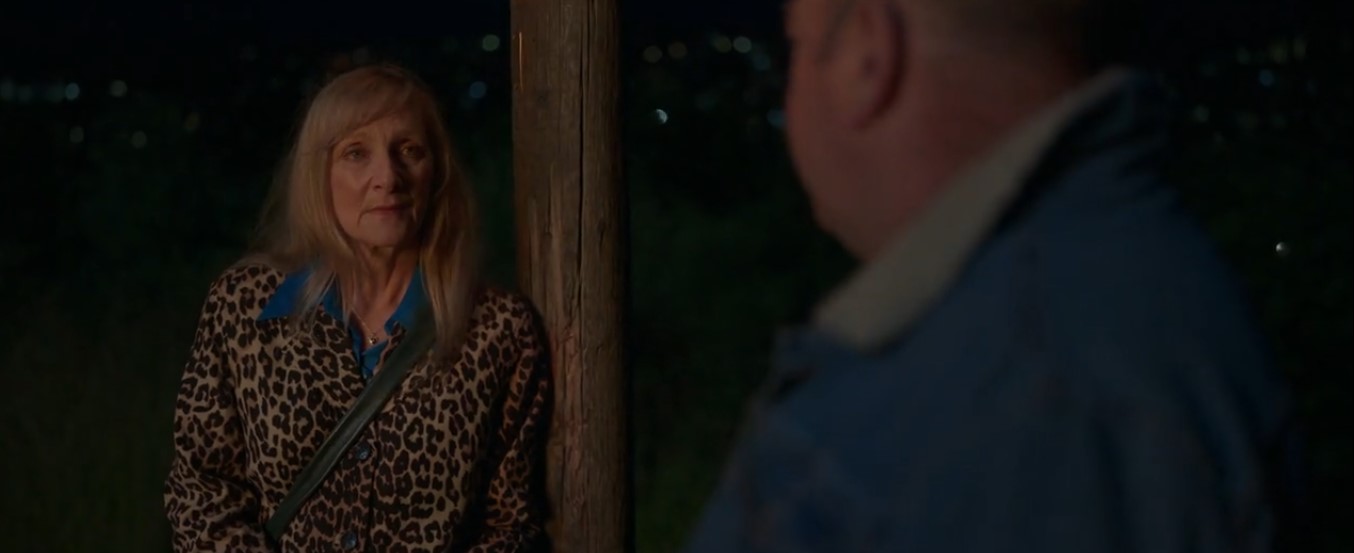 Dave's struggle with his body image has never really gone away, but with Jean's presence in his life, he has been able to ignore them. Dilip is much younger, more handsome, and more successful than him. When the truth about the affair comes out, those issues and insecurities begin to plague Dave again. Meanwhile, Dilip has gotten a lucrative job offer in a different city and wants Jean to accompany him, but she remains uncertain about what to do. Having an affair is one thing, but it's hard for her to comprehend leaving Dave.
In the penultimate episode, Jean and her friend Hetty get lost in the woods while looking for the latter's mother, and Dave, Gaz, and Dilip try to find them. This allows Dave and Jean to reflect on their relationship. Jean seems to have no qualms about admitting she is wrong. All she wants others to consider is that she didn't cheat on her husband in a vacuum.
While Dave and Jean face a potential separation, Horse passes away. Barrington "Horse" Mitchell was one of the members of the Full Monty and had been Dave's friend for 25-26 years. As he mourns, Dave sets fire to the couch, where he learned that Jean and Dilip had sex. In the finale, after learning about the smoke, Jean comes to see him, and they finally have a conversation about Michael. Jean declines Dilip's offer to go with him, ending the relationship. The series ends with Horse's funeral. As the pyre burns and the people who knew Horse celebrate him and grieve for him, Dave and Jean reconcile, leaving for their home together.
Read More: Why Does Guy Vanish in The Full Monty? Why was Hugo Speer Fired?