The second season of HBO's period drama, 'The Gilded Age,' presents the complicated dynamics for the characters, with several of them receiving new love interests that may or may not cause trouble for them in the future. In the last season, George and Bertha Russell's son had been in the background for the most part, but the spotlight shines on him in the second season when he gets involved in a relationship which is scandalous, to say the least.
Considering that Bertha Russell is very meticulous about every affair of her family, what does it mean for Larry's newfound romance? Will he find a happy ending, or will he be left with a broken heart? SPOILERS AHEAD
What the Future Holds for Larry Russell and Susan Blane
At the beginning of the second season, Larry Russell has begun a new journey. He has dropped the idea of taking over the family business and is pursuing his interest in architecture. His first project is to renovate the new Russell house in Newport, and soon enough, he gets another offer from a widow named Susan Blane. The introduction is made by Ward McAllister, so rest assured, the woman holds a place in high society. However, Bertha is immediately disconcerted by her, and her feelings are validated when she discovers that her son is having an affair with her.
Young Larry Russell didn't go into the project with a love affair in mind, but he quickly takes to Mrs. Blane. Even though they've known each other for only a few days, they bond with each other and enjoy each other's company a lot. They sleep with each other, and Larry spends his nights at Mrs. Blane's house, which he is supposed to be renovating. When his mother finds out about it, she reminds him that his new lover is not only a widow but also about twice his age. Larry, however, doesn't seem to have a problem with any of that.
Despite his mother's objection, Larry makes it clear that he has no intention of dropping Mrs. Blane from his life. He seems to have fallen for the lady and refuses to hear a word against her, even if it's being said by his mother. Bertha shares this concern with George, who believes that this is a temporary endeavor because "boys will be boys." He thinks that Larry will, sooner or later, come to his senses, get bored of Mrs. Blane, or find some other distraction. But Bertha is not so convinced. She worries that her son might get too attached, and this will only cause trouble for her family.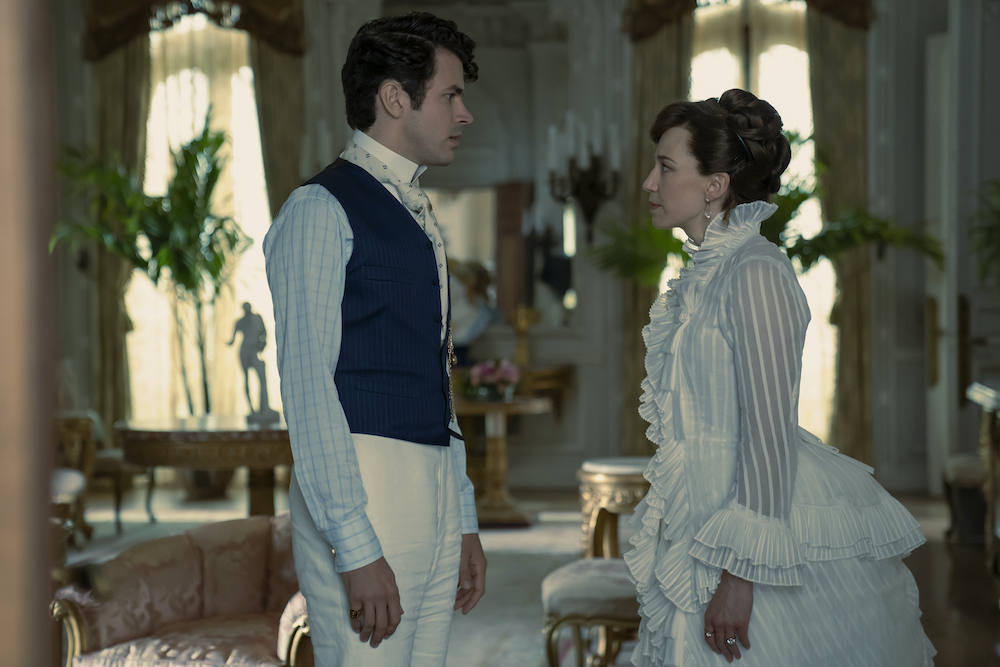 The Russell family are new money, and this has already caused a lot of trouble for them. If it wasn't for Bertha's tenacity, then the Russells would still be on the outside of the old money circle. Despite their financial standing, they wouldn't have the social standing they now enjoy if it wasn't for Bertha's relentless efforts, backed by George. Now that they are where they want to be, Bertha knows how important it is to be associated with the right people. This is what makes her extremely picky about her daughter's suitors. The men might be decent, but Bertha only wants the best for her daughter. She holds the same sentiment for her son.
Considering how strict Bertha is regarding the things that are necessary to sustain their social standing and reputation, it is impossible to imagine that she would let Larry's romance with Mrs. Blane go anywhere beyond a fling. It is unclear whether Mrs. Blane is actually in love with Larry or if her intentions are more self-serving. Nevertheless, we assume that eventually, she will want to go public with Larry, and while he might want the same, his parents wouldn't be so supportive of this action, as this would stain their reputation with a scandal that might throw them back in the well that Bertha so desperately crawled out of.
It has been evident in the past season that reputation and social standing mean a lot, if not everything, to Bertha Russell. There was a time when George was in a lot of trouble and worried that he might go to prison. But his wife was more concerned about the ball, which she would have had to cancel had George been arrested. Considering this, Larry's romance with Mrs. Blane doesn't come close to the priorities his mother has, which convinces us that his romance is doomed. Still, it'll make for quite a lot of drama before the issue is resolved.
Read More: Are The Gilded Age's Bertha and George Russell Based on a Real Couple?