Amid the war-torn Kandahar province of Afghanistan in 2009, Private Andrew Briggman was deployed to the International Security Assistance Force. His commanding officer is killed by an improvised explosive device (IED), and Staff Sergeant Deeks takes charge. 'The Kill Team,' tells the tale of Briggman as he witnesses his unit's morale and conduct shifting, but he grapples with the conflicting principles embraced by his fellow soldiers.
The movie, directed by Dan Krauss, portrays soldiers who, under their new Sergeant's influence, commit murders of innocent civilians. Fueled by hatred and a belief that all Afghans are involved in hostilities against American troops, they veer down a morally wrong path in pursuit of what they perceive as justice. Nat Wolff plays Andrew Briggman, a conflicted character and the proud son of a veteran and Alexander Skarsgård takes on the role of the vengeful Sergeant Deeks. Considering the film's proximity to the Afghan war, one might question if it draws inspiration from true events during that tumultuous period.
The Kill Team's True Story
The film is based on real events. Dan Krauss, who wrote and directed the film, previously made a documentary with the same title in 2013, which covered the actual events that took place. In 2010, reports emerged that certain soldiers had been involved in the murder of innocent civilians between January and May 2010 during the Afghan war. While the film fictionalizes some character names and specific events, the overarching story is grounded in reality.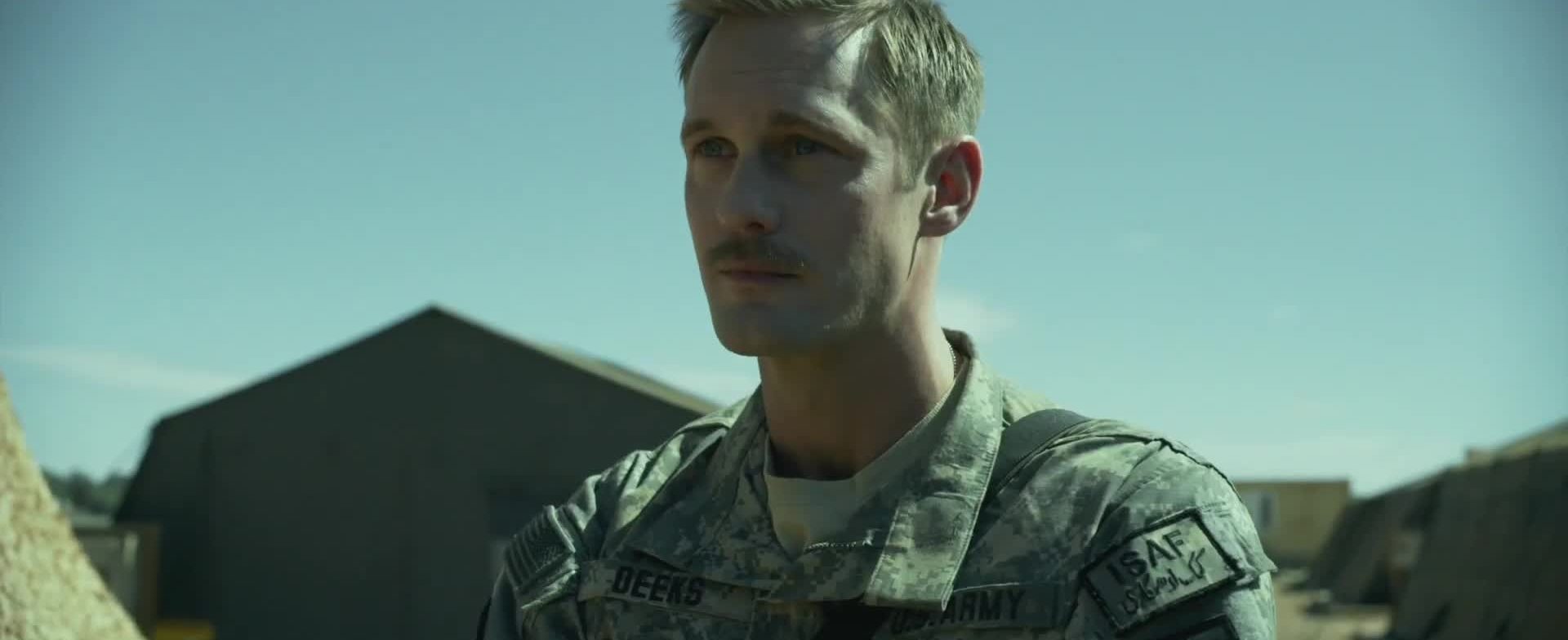 A group of soldiers, who referred to themselves as the "Kill Team," included members like Jeremy Morlock, Andrew Holmes, and Adam C. Winfield, led by Staff Sergeant Calvin Gibbs, who was 25 years old at the time. According to later reports from the men he served with, Gibbs allegedly told them that they could avoid punishment for killing Afghans if they placed weapons near the bodies of those they killed. Over four months, they were responsible for the deaths of at least three innocent individuals and they even mutilated their bodies, keeping some of their body parts such as their fingers as trophies. Generally, they would set off an explosive, then proceed to shoot a civilian and when an investigation would ensue, they would blame the civilian for setting off the bomb and justify their action as self-defense.
Not all the soldiers of the team agreed with this sentiment, and one of them was 20-year-old Adam Winfield. He confided in his father about what was happening. When Winfield's father, who had served in the military himself, raised his concerns, they were dismissed and not taken seriously. After the complaint reached Gibbs's ears, he attempted to identify and confront the whistleblower. When he discovered that it was Winfield, he threatened his life and demanded his silence. Winfield's horror had escalated to the point that he even participated in the murder of a clergyman under coercion.
Private Justin Stoner filed another complaint, but it wasn't related to the killings. Instead, he reported that some soldiers were smoking hashish in his room. When Gibbs learned of this complaint, he, along with six other soldiers, brutally assaulted Stoner. As a medic attended to Stoner's injuries, they reported the incident to the investigators. Stoner ended up revealing everything to them, including the shocking detail that Gibbs had kept fingers from the civilians he had murdered in the Maywand district of Kandahar.
The film effectively captures the harsh reality of war, offering an unflinching look at life in a combat zone. It doesn't shy away from portraying the soldiers' lives beyond active warfare, depicting scenes of drinking, barbecues, and hashish use. From early on, the film establishes the sense of betrayal within the war, creating tension as Gibbs relentlessly seeks out the soldier who reported him. This tension remains throughout the film until the soldiers ultimately face legal consequences for their actions. With outstanding performances from not only the lead actors but also notably Adam Long and Jonathan Whitesell, the film authentically depicts the grim realities of war.
Twelve military soldiers faced a range of charges, from murder to various forms of misconduct, including attempting to conceal a murder and engaging in drug abuse. Gibbs, convicted by a military jury, received a life sentence with the possibility of parole after 10 years. He was also demoted to the rank of Private, had to forfeit all pay and allowances, and received a dishonorable discharge. Jeremy Morlock admitted guilt on three counts of premeditated murder, leading to a 24-year prison sentence. Holmes pled guilty to unpremeditated murder and illegal drug use, resulting in a 7-year prison term but was released on parole in 2015. Adam Winfield, as part of a plea deal, confessed to involuntary manslaughter and illegal substance use, earning a three-year sentence and being released on parole in 2012. Stoner, who initiated the investigation, faced no charges and was honorably discharged in 2012.
In conclusion, it's the directorial brilliance and the intricate storyline of 'The Kill Team' that immerse viewers in a stark reality. This film forces us to grapple with our own beliefs and moral compass. It compels us to engage in introspection, challenging our understanding of right and wrong, particularly in the most extreme circumstances. The film delves into the complex dynamics of camaraderie, morality, and the consequences of choices made in the fog of war, leaving audiences with lingering questions about human nature and the harrowing impact of conflict.
Read More: Best War Movies