Apple TV+'s documentary film 'The Pigeon Tunnel' ends with a tribute to Jane Cornwell. Director Errol Morris dedicated his creation to the "loving memory" of Jane, who was an integral part of David Cornwell AKA John le Carré's personal and professional lives. Jane made significant contributions to the body of work of Le Carré and he even dedicated his 1977 spy novel 'The Honourable Schoolboy' to her. Jane bid farewell to the world soon after the death of the globally renowned espionage writer. If the documentary's tribute made you intrigued about Jane, here's everything you need to know about her!
John le Carré's Pillar
Jane Cornwell, also known as Valerie Jane Eustace, was the second wife of David Cornwell, who is known to the world as John le Carré. The author met Jane towards the end of his first marriage with Alison Sharp at a book event in Birmingham, England. She was an editor of Hodder & Stoughton, the publisher of Le Carré's works. Soon, they got into a relationship. One of Jane's earliest contributions to the writer's works was rescuing the novel 'A Small Town in Germany.'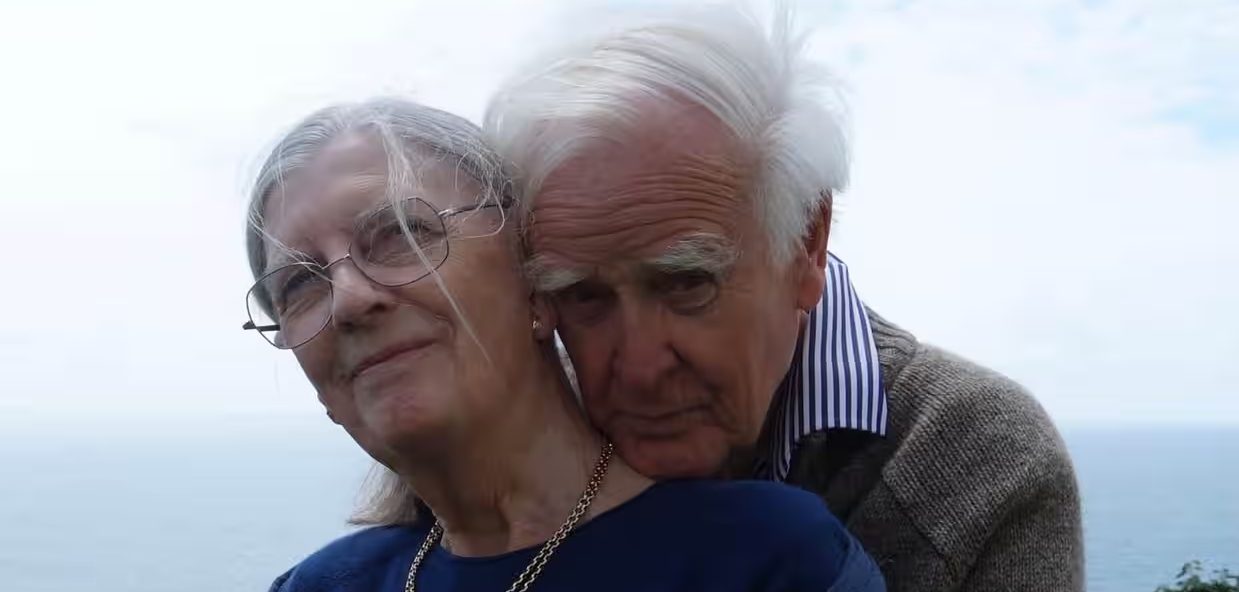 "When this last book was in shreds, it was she who helped me piece it together and make something of it. I find her compassionate, understanding, and remarkably intelligent," the author wrote to his then-psychiatrist about Jane, as per The Mirror. She eventually became the author's full-time amanuensis since the former never learned to type. However, she wasn't just his typist. She is regarded as Le Carré's first editor. "It was part of how it worked: he [Le Carré] produced, they edited; he burned, she [Jane] fanned. It was their conspiracy, the thing that no one else could ever offer him, in which they both connived," their son Nick Cornwell wrote in The Guardian.
Nick grew up watching Jane and Le Carré collaborating extensively for the latter's works. "Some of my earliest memories are of him [Le Carré] reading, handwritten pages or typescript with annotations in black pen, sometimes physically cut and pasted in the days before computers, and her [Jane] listening, absorbing, only occasionally responding, but always with immediate effect," he added. According to Le Carré's friend and fellow writer Michael Herr, Jane was also the author's "protector." "David's life is a big operation. Not many days go by without somebody wanting something from him. And Jane protects him — from hangers-on, from intrusion, from contractual oversights. She's not just a literary wife but a literary superstar's wife," Herr told Vanity Fair.
Jane Cornwell's Death
Jane Cornwell died on February 27, 2021, "peacefully" at her home in Cornwall, England at the age of 82. She died over two months after the death of her husband John le Carré, with whom she was married for nearly five decades. Jane suffered from "significantly terminal cancer" later in her life. Even during the same, she was committed to the body of her husband's work. "On her sickbed, she [Jane] continued to search through her notes from late last year, looking for anything my father David, who wrote as John le Carré, might have written that would otherwise be missing from the body of work he left behind," her son Nick wrote in the same The Guardian article.
Jane Cornwell, devoted wife of David Cornwell (John le Carré) passed away last weekend.

Jane was a wonderful woman. She was his secret editor & first reader & wise counsel.
David wrote everyday & she read & commented on each page.
I will miss her. Thoughts are with the family. pic.twitter.com/4imYO3w4FX

— Jonny Geller (@JonnyGeller) March 5, 2021
Jane and Le Carré were both ill during their last years and they depended on each other to deal with their health condition. "It was a wonderful thing, but the more painful, when he [Le Carré] died rather abruptly in December, to see her [Jane] deprived of the other half of her way of thinking across five decades. She was casting around for who might be holding the part of herself that she had vested in him, looking for the rest of the process that was trying to continue in her – hence the search for the missing material, the determination to keep going, because to stop working was to die again," Nick added about his mother's last few months.
Read More: Best Documentaries of All Time