With Netflix's 'Full Swing' charting both the personal as well as professional lives of golfers on the renowned PGA Tour, we get a true insight into the way they navigate their daily experiences. After all, it comprises interviews from not only the athletes but also their loved ones, caddies, and other employees, along with footage of their game, to really paint a clear picture of their being. Amongst those to thus be featured here was Tony Finau alongside his family — yet for now, if you just wish to learn more about his marriage with Alayna Galea'i-Finau, we've got you covered.
Tony and Alayna's Full Swing Journey
Although it's unclear how Tony first came across Alayna, we do know they share many similarities in terms of their core beliefs, roots, and values, making them absolutely perfect for each other. This includes their Polynesian heritage, their upbringing in a big, tight-knit family with six and four siblings, respectively, and the fact they're both active members of the Latter-Day Saints Church. Therefore, once love got added into the mix, the Tongan-Samoan blissfully tied the knot with the full Samoan in a beautiful yet private ceremony on May 12, 2012 — Mother's Day of that year.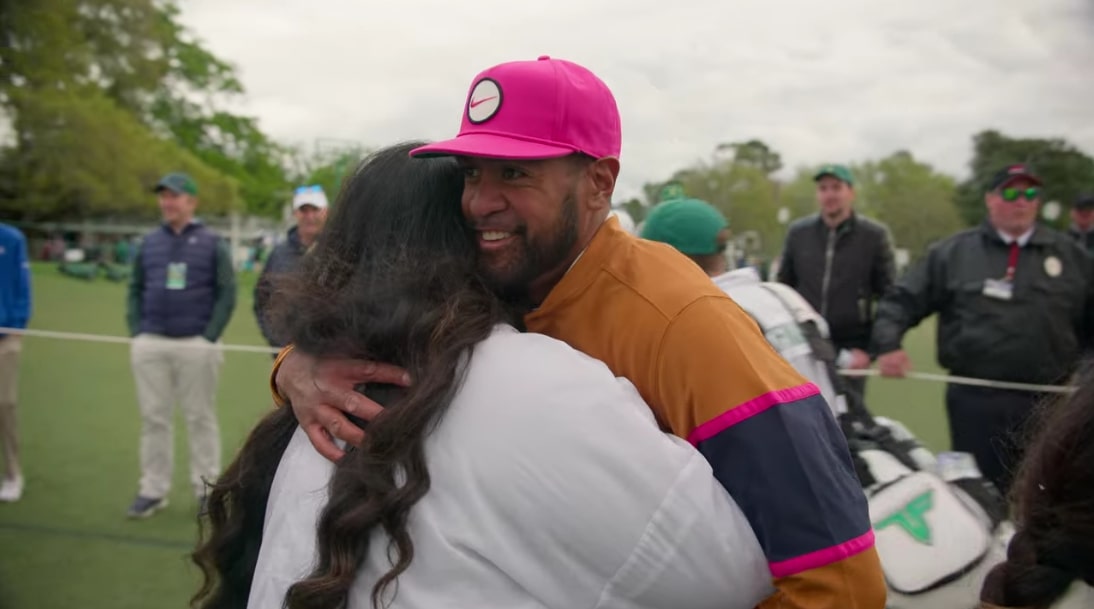 However, not everything was always idyllic for Tony and Alayna as they initially struggled to even make ends meet since the former was just kickstarting his career, per the docuseries. "My wife, she has been a rock to me from the beginning of our marriage," he unabashedly admitted. "You know, she saw me play when I pretty much was nobody. Getting through those years together, man it was tough. And now she gets to watch me in front of the world 'cause she was there when no one else was too." It thus comes as no surprise that the speculations of his family — wife and five kids — being the reason he was in a slump before the 2021-2022 season didn't bother him one bit.
Tony did admit his career might've taken a minor backseat in recent years owing to his shifted priorities, yet he insisted golf was still his true passion before proving it by winning the 3M Open. This July 2022 finish actually ended his 5-year winless streak, and Alayna as well as a few of their kids were right there by his side on the course to witness him re-establish himself in the industry. The truth is his father-in-law had passed away in early 2022, so even though his wife usually attended half his events, he suggested the whole family travel together for the remaining season. The golfer wanted to care for his partner like she'd cared for him after his mother passed in 2011.
Are Tony and Alayna Still Together?
There have honestly been times when Alayna has worried she and the kids — Jraice, Leilene "Neenee," Tony, Sage, and Sienna-Vee — were getting too much for Tony, but this is not at all the case. Instead, the Tongan-Samoan is admittedly proud to have such a massive clan surrounding him at every step of the way, wheather it be at home following a day of hard work or right on the course. It's also imperative to note that once the golfing season came to an end in 2022, the former took to Instagram and penned, in part, "These 5 mos have been the greatest blessing & tender mercy I ever needed!! … I love my lil family. These will forever be the best days of Moms life!"
Therefore, of course, Tony and Alayna are happily married to this day and are currently residing in the Lehi, Utah home they'd carefully curated for themselves as well as their five adorable children. It is reportedly from there that the couple also runs the Tony Finau Foundation — a charitable organization they'd established together to help others navigate their best possible opportunities through education, wellness, and recreation. Plus, if we're being honest, it genuinely appears as if there is nothing and no one that can ever come between the power duo because they choose to pick, love, care for, bow to, and admire one another with each passing day.
Read More: Are Mito Pereira and Joaquin Niemann Still Friends?