'Trading Spaces' is a home design show that captured the hearts of viewers with its unique concept of neighbors redecorating each other's homes. The show premiered in 2000 and quickly became a sensation, introducing a new way of thinking about home design and renovation, transforming everyday houses into extraordinary spaces. As fans eagerly tuned in to watch the magic unfold, the show's impact on the world of home improvement was undeniable.
But what happened to the key personalities behind the scenes and in front of the cameras after the show ended? Let's take a look at where the cast members of 'Trading Spaces' are today and how their careers evolved post-show.
Where is Paige Davis Now?
Paige Davis, the charismatic host of 'Trading Spaces,' wasn't originally part of the show when it premiered. She joined in season 2, quickly becoming synonymous with the series. Paige's warm personality and zany sense of humor made every episode inviting and enjoyable, no matter how wild the design choices became.
Before her TV hosting career, Paige was a Broadway actress, showcasing her talent in productions like 'Chicago,' 'Boeing-Boeing,' and 'Beauty and the Beast.' In 2001, she married actor Patrick Page. She returned for the show's final seasons and the 2018 reboot, keeping the spirit of 'Trading Spaces' alive. In 2022, she took on the title role in 'Hello, Dolly!' for Pioneer Theatre Company, proving her versatility as a performer. She has also been married to actor Patrick Page since 2001.
Where is Hildi Santo Tomas Now?
Hildi Santo Tomas, known for her daring and often controversial design choices, left an indelible mark on 'Trading Spaces.' Her unique style and unconventional decisions sometimes shocked homeowners but added a thrill to the show. After the original run of 'Trading Spaces' concluded in 2008, Hildi continued to live a life filled with luxury, photography, and travel, residing in France for several years with her husband, Etienne Fougeron.
She made a triumphant return for the 2018 reboot of the show and even appeared on an episode of 'The Pack' in 2020. Additionally, as of 2018, she serves on the school board at the Savannah College of Art and Design, further showcasing her involvement in the world of art and design.
Where is Frank Bielec Now?
Frank Bielec, with his folksy charm and love for all things chicken-related, was one of the most endearing personalities on 'Trading Spaces.' He started his career as an art teacher before pursuing a Master's degree in design and becoming a florist. He also made appearances on various craft and how-to shows, as well as hosting 'Your Home Studio' for TNN.
Outside of television, Frank and his wife ran a business called Mosey 'N Me, specializing in arts and crafts. Tragically, Frank Bielec passed away in May 2020 at the age of 72, leaving behind his wife, Judy Lynn Neal. Despite his passing, his presence on the show left an indelible mark, and his legacy as a beloved personality and talented designer lives on.
Where is Faber Dewar Now?
Faber Dewar, a Scottish-born carpenter on 'Trading Spaces,' quickly became a fan favorite. His charisma and talent translated not only to the small screen but also to feature films like 'White House Down' and 'Independence Day: Resurgence.' In 2004, he opened a company called Zero Impact Packaging that promoted the use of renewable source packing materials, but it was closed in 2010.
In addition to his acting career, Dewar made a significant impact as the CEO of Drink Up, a water vending machine company he founded in 2014. His commitment to sustainability drove the venture, aiming to reduce plastic waste and provide clean water access to those in need. He is currently married to Ute Emmerich and has a son named Faber Hans Emmerich Dewar who was born on February 7, 2005.
Where is Alex McLeod Now?
Alex McLeod, the original host of the first season of 'Trading Spaces,' set the stage for the show's success. After her stint on 'Trading Spaces,' she hosted the reality competition show 'Joe Millionaire' in 2003. But Alex McLeod's journey didn't stop there. She followed her passion for cooking, graduating from the prestigious Le Cordon Bleu culinary school in 2010. Her culinary expertise led her to consult for leading food companies, transforming recipes into commercially viable meal concepts.
In addition to her culinary endeavors, McLeod has engaged in charity work, including a mission trip to Haiti to help rebuild homes after the catastrophic earthquake in 2010. Her luxurious Andalusian-style mega-mansion, Hacienda de la Paz, once listed for $40 million, showcased her success. In recent years, Alex McLeod has made appearances on real estate and wealth shows and currently lives in Palos Verdes Peninsula, California. She has also appeared as a guest on the show 'The Changeover' since 2018.
Where is Ty Pennington Now?
Ty Pennington rose to fame as the young, hunky carpenter on 'Trading Spaces,' where he became known for his carpentry skills, childlike sense of humor, and boyish antics. His talent with woodwork and his charming personality quickly made him a fan favorite. After leaving the show, Ty took his charisma and carpentry skills to new heights.
Following his time on 'Trading Spaces,' Ty Pennington became the face of ABC's 'Extreme Makeover: Home Edition' from 2003 to 2012. In this role, he served as both Team Leader and host, transforming homes and changing lives for deserving families. His heartwarming work on the show resonated with audiences and solidified his status as a beloved TV personality. In 2021, he got married to Kellee Merrell after one year of dating.
But Ty's journey wasn't without challenges. At just 27 years old, he survived a near-fatal car accident that ended his short-lived modeling career. However, he bounced back, referring to the incident as a turning point that led to new opportunities. He continued to host various shows, including 'On the Menu' and 'American Diner Revival.' In 2023, Ty Pennington remains in the spotlight as the host of HGTV's hit competition series, 'Rock the Block.'
Where is Douglas Wilson Now?
Douglas Wilson, known for his intense commitment to his unique design style, was another standout personality on 'Trading Spaces.' His design choices often led to unexpected scenarios and reactions, captivating viewers throughout the show's run. Following his stint on the original series, Douglas hosted several other TV shows, including 'Moving Up' and 'America's Ugliest Rooms.' His busy and hectic lifestyle continued as he wrote "Doug's Rooms: Transforming Your Space One Room at a Time," a guide to home interior design.
After the original 'Trading Spaces' went off the air, Douglas Wilson took a different path. He moved to Sullivan, Illinois, where he opened a fine dining steakhouse called 'Doug Wilson's Jibby's,' which closed in 2011. Additionally, he got back into theater, showcasing his talents as an actor and designer in local productions. Despite these endeavors, Douglas Wilson's journey came full circle with the revival of 'Trading Spaces.' He rejoined the series when it was revived in 2018, reconnecting with the core cast and once again contributing his distinctive style to the show.
Where is Amy Wynn Pastor Now?
Amy Wynn Pastor was a trailblazer on 'Trading Spaces' as the show's first full-time female carpenter. After her stint on 'Trading Spaces,' she continued to make her mark in the world of home renovation television. She worked as a carpenter on the 2007 series 'Backyard Stadiums with Michael Strahan' and authored a book titled 'Yes, You Can!: Home Repairs Made Easy' in 2005.
Amy's journey also included a brief return to the 'Trading Spaces' revival series in 2018, where she joined other legacy cast members for a reunion episode. When not traveling, she divides her time between her homes in the Philadelphia suburbs and Denver, Colorado. Her hobbies include folklore, crafts, and yoga. She even showed her poker skills in a match between 'Trading Spaces' and 'American Chopper' cast members on the World Poker Tour, making it to the final table.
Where is Laurie Smith Now?
Laurie Smith, known for her modern classic design style on 'Trading Spaces,' left a significant mark on the show. Her ability to transform spaces on a limited budget while infusing them with color and vibrancy was a hallmark of her designs. Since her time on 'Trading Spaces,' Laurie has had a flourishing career as a tastemaker in the design industry. She authored the book 'Discovering Home with Laurie Smith: Find Your Personal Style' in 2005, a journey through her personal renovation and design experiences.
Laurie's creative talents extended beyond the written word. In 2009, she collaborated with Quoizel Lighting to create her own lighting line called 'Illuminations,' showcasing her classic design for modern living. Throughout her career, Laurie Smith has launched various lines of products, lectured at Home and Garden Shows nationwide, and made numerous appearances on television. Her work has been featured in prestigious magazines such as House Beautiful, House & Garden, and O Magazine. Currently, she lives in Atlanta with her husband, Brad Witherspoon-Smith, and her children, Gibson and India.
Where is Genevieve Gorder Now?
Genevieve Gorder, one of the OG designers on 'Trading Spaces,' was known for her soulful and bohemian design style. Her sweet and bubbly personality made her a fan favorite. Since her time on the show, she has continued to make a name for herself in the world of home improvement television, participating in various shows like 'HGTV Design Star,' 'Dear Genevieve,' and 'Genevieve's Renovation.' Her portfolio expanded further with the release of 'Netflix's Stay Here' in 2018 and her ongoing involvement in the 'Trading Spaces' revival on TLC.
On a personal note, Genevieve's love life has seen its own evolution. She was married to Tyler Harcott from 2006 to 2013, and together, they share a daughter named Bebelle. After their split, she moved on and married Christian Dunbar in September 2018. Genevieve Gorder remains a prominent figure in the world of interior design and continues to inspire with her unique style and design expertise.
Where is Brandon Russell Now?
Brandon Russell, the charming carpenter from 'Trading Spaces,' left a lasting impression on viewers with his woodworking skills and friendly demeanor. After the show, Brandon continued to focus on his woodworking talents and even published a book titled 'Building Faith Through a Carpenter's Hands' in 2016. In 2003, he founded his company, Homecierge, and in 2007, he ventured into another business called Fix it Forward, showcasing his entrepreneurial spirit.
Currently residing in Charlotte, North Carolina, Brandon Russell has chosen a more low-key path compared to some of his fellow 'Trading Spaces' alumni but remains dedicated to his passion for woodworking and carpentry.
Where is Carter Oosterhouse Now?
Carter Oosterhouse, the Michigan native who joined the carpentry team on 'Trading Spaces' during season 4, became an instant heartthrob among viewers. His rugged good looks and carpentry skills made him a standout personality on the show. After his tenure on 'Trading Spaces,' Carter's career continued to flourish. He hosted several television shows, including 'Carter Can,' 'The Inside Job,' and 'Million Dollar Rooms.' One of his most notable hosting gigs has been on ABC's 'The Great Christmas Light Fight,' a position he has held since its premiere in 2015.
In his personal life, Carter Oosterhouse married actress Amy Smart in September 2011, and the couple welcomed their first child, daughter Flora, via surrogate almost five years later. However, his career did face a significant controversy when he was accused of sexual misconduct in December 2017 by a former makeup artist on the set of 'Carter Can.' Oosterhouse vehemently denied the claims, stating that their relationship was '100 percent mutual and consensual.' Despite the controversy, he has remained active in the world of home improvement television and has even rejoined the cast for the 'Trading Spaces' revival on TLC.
Where is Edward Walker Now?
Before stepping in front of the camera as one of the beloved designers on 'Trading Spaces,' Edward Walker worked behind the scenes, coordinating fabrics and textiles for the show's designers. His distinctive ponytail and design skills quickly made him a fan favorite. Although Edward didn't return for the 2018 revival of 'Trading Spaces,' he has stayed active in the world of design. He operates his design firm named 'Edward Walker Designs,' showcasing his continued passion for creating beautiful spaces.
Where is Thad Mills Now?
Thad Mills, known for his work in custom Slab Wood Furniture, has made a name for himself in the world of woodworking and craftsmanship since his time on 'Trading Spaces.' His dedication to creating unique and custom furniture pieces has been a hallmark of his post-show career. He has also appeared in 'Blood Shed' and 'Dear Genevieve.'
Currently, Thad is the owner of Timber Restorations, where he specializes in creating handmade slab wood furniture in Houston, Texas. He's not only a craftsman but also a family man, married to a woman named Lindsey and sharing the joys of parenthood with their two children.
Where is Joanie Dodds Now?
Joanie Dodds, originally known for her appearance on 'America's Next Top Model,' made a mark on 'Trading Spaces' with her skills as a carpenter. After competing on 'America's Next Top Model' and making it to the finals in Season 6, Joanie shifted her focus to her love for carpentry and home improvement. Joanie went on to co-host DIY Network's 'Run My Renovation,' where she had the opportunity to build and renovate various spaces.
In addition to her work on 'Run My Renovation,' Joanie has appeared on other DIY television shows, joined the cast of the 'Trading Spaces' revival, and worked on movies like 'Bigfoot: The Movie,' and a short titled 'Lone Star Trixie.' In 2015, she got married to Chris Sprague, and the two have a child together.
Where is Brett Tutor Now?
Brett Tutor's journey after 'Trading Spaces' has been nothing short of adventurous. With a background in home inspection and carpentry, Brett found himself drawn to the world of television and embraced it with enthusiasm. He ventured into various TV projects, including working with the Discovery Channel in South America, where he got comfortable with TV work.
Brett is also a musician and has a band called The Tutor Brothers Band. He released singles titled 'Flower Child' and 'Firefly' and continues to pursue his passion for music alongside his television endeavors. He has also worked in movies like 'Monsters of Man' and 'Disarm.'
Where is Laura Day Now?
Laura Day's role in the fourth season of 'Trading Spaces' left a lasting impression on viewers. Her outgoing personality, combined with a love for classical design, made her a standout designer on the show. Since her time on 'Trading Spaces,' Laura's work has been featured in publications such as The New York Times, Vogue, and Traditional Home. She also launched her online magazine, 'Laura Day Living,' where she shares her design inspirations and insights.
She is also the owner of an online magazine titled Laura Day Living, where she shares her work and inspirations. Laura's career has continued to thrive, and she remains a prominent figure in the world of design and lifestyle, inspiring others with her creative ideas and love for classical design elements.
Where is Goil Amornvivat Now?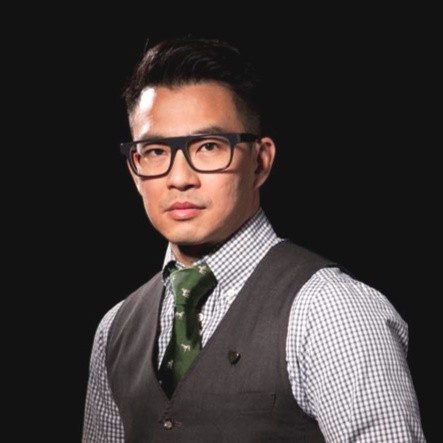 Goil Amornvivat, known for his role as a designer on 'Trading Spaces,' has had a multifaceted career in architecture and interior design. After working on television shows like 'HGTV: White Room Challenge' and 'TLC: Trading Spaces,' Goil further expanded his horizons. He worked as a Visiting Assistant Professor at Pratt Institute and as a Freelance TV On Air Expert Designer for Discovery Inc.
Goil also taught design and architecture courses at institutions such as the New York School of Interior Design, Parsons School of Design, and New York Institute of Technology. His experience as a TV On Air Design Expert for ABC News and his involvement in various television projects highlight his versatility and expertise in the field of design and architecture. Currently, he is the owner of his own firm, Ammor Architecture LLP, and has been there since 2006.
Where is Lauren Makk Now?
Lauren Makk, a highly experienced interior designer and DIY expert, embarked on a successful television career that began with TLC's Emmy Award-winning show 'Trading Spaces.' Her work as a Model Home Designer and her prominent TV appearances established her as a respected figure in the world of interior design.
Lauren's career continued to flourish as she took on various roles, including co-hosting HGTV's 'Design Star: Next Gen' and serving as a judge and design mentor on Disney+'s 'Shop Class.' She also co-hosts HGTV's giveaway specials 'Urban Oasis' and 'Smart Home.' Lauren's impressive career spans nearly two decades in television, and her expertise encompasses home improvement, on-air hosting, show hosting, and influencer roles in the field of interior design and lifestyle.
Where is Christi Proctor Now?
Christi Proctor was one of the standout interior designers on 'Trading Spaces.' Known for her charisma and ability to create spaces that reflected the personalities and lifestyles of homeowners, Christi quickly became a fan favorite during her four-year stint on the show. After her time on 'Trading Spaces,' Christi shifted her focus. Her last work in production was as an interior designer for the 2013 indie film 'Where We Started.' Nowadays, she has established herself as a successful businesswoman in Waco, Texas, where she runs her boutique, 'Christi's Interiors.'
One of her notable ventures is the creation of a custom bedding line called 'Moon Rein,' which is manufactured in Texas and is known for its high-end quality. She helped create Spice Furniture & Design, which is now called Spice Village in the local area and has been part of Gypsy Hearth Jewelry Designs, worked on product design for Guildmaster Furniture and Decor, and had a hand in Moon Rein Bedding Company. Today, Christi Proctor continues to operate her business in Waco alongside her private interior design business. She travels throughout Texas, taking on design challenges, both big and small.
Where is Vern Yip Now?
Vern Yip was another standout designer on the original run of 'Trading Spaces.' His sophisticated and elegant designs, often featuring silk, candles, and flowers, captured the hearts of viewers. Following his departure from the original series after its first four seasons, Vern Yip made a triumphant return in the show's revival run, proving that his design style was as impeccable as ever. Additionally, he expanded his television presence, taking on major roles in various design competitions, including 'Deserving Design,' 'Bang for Your Buck,' and 'HGTV Design Star.'
Beyond television, Vern Yip showcased his talent as an accomplished architect. His award-winning work can be seen at trendy Atlanta hotspots like the Fusebox Restaurant and DuexPlex Bistro. In fact, he was awarded the Southeast Designer of the Year award, solidifying his reputation as a design powerhouse. Vern shares his life with his partner, Craig Koch, and together, they have two children: a son born in 2010 and a daughter born in 2011.
Where is Amy Devers Now?
Amy Devers entered the world of television as a home-improvement expert on the DIY Network series 'DIY to the Rescue.' Her journey on the show spanned nine seasons, including specials like a Grand Ole Opry episode and a post-hurricane Katrina rebuild collaboration with Dr. Phil. Her television career continued to flourish with shows like 'Freeform Furniture,' where she demonstrated how to build her original modern furniture designs, and 'Blog Cabin,' an interactive series. In 2008, she joined the cast of TLC's 'Trading Spaces' as a carpenter.
In addition to her television work, Amy Devers has established herself as a design and carpentry expert on OWN's 'Home Made Simple' and is the host of PBS's 'Victory Garden's edibleFEAST,' a documentary series focused on local and sustainable food stories. Outside of television, Amy hosts a podcast titled 'Clever,' where she interviews designers and artists about their life and work. She also runs a design and build studio called 'Amy Devers Art/Design' in Los Angeles, showcasing her versatility in the world of design.
As an author, Amy Devers has been an advice columnist for ReadyMade Magazine and Modern Ink Magazine. She co-authored a book called "DIY to the Rescue: 50 Home Improvement Projects," published by Lark Books in 2006, which features step-by-step instructions and photos from the popular DIY TV series. Additionally, she works as a faculty member in the Furniture Design department at the Rhode Island School of Design.
Read More: 7 Best DIY Shows on Netflix Right Now