Netflix's international productions have often hit the mark when it comes to presenting stories from all across the world, in a bid to diversify storytelling. The Mexican television series, 'Desenfrenadas' presents a vibrant and quirky tale that will ignite wanderlust with its heart-warming road trip saga. Don't worry, there is enough newness in the TV show's setting to make it stand out from the conventional road trip premise.
'Desenfrenadas' translates to rampant. However, the show is called 'Unstoppable' in English. The series adopts a tone similar to Amazon Prime's Indian original, 'Four More Shots Please!' and almost risks becoming a Mexican 'Thelma & Louise' before returning to its cheery mood.
It follows three friends who face some form of struggle in their lives and decide to take a road trip to a picturesque, Mexican small town in order to let off steam. However, their plans get altered when a woman forces them to take her along. Yet, instead of taking a dark detour, the friends start to warm up to her. Watch the series to find out whether the trio becomes a group of four.
The cast members include Tessa Ía Bárbara López, Lucia Uribe and Coty Camacho. International viewers might recognize Tessa Ía as she stars in 'Narcos: Mexico.' Apart from the kick-ass leading ladies, the setting is another reason for people to watch 'Unstoppable.'
Unstoppable Filming Locations
'Unstoppable' is a road trip movie. Hence, it is unsurprising that the setting plays a huge role in the television series. The places shown are simply breath-taking. It is one of those tiny towns basking in the glory of unperturbed mother nature that you might not have heard about before. But which place is it? And, where is it located?
Oaxaca, Mexico
The show's story is set in the state of Oaxaca, Mexico. Most of the show sees the girls in the city of Oaxaca de Juarez which is the capital of the state.
Oaxaca de Juarez is a city whose economy is largely dominated by the influx of tourists that visit it every year. Apart from its splendid natural beauty, the city is known for its colonial-style architecture. Plus, its city center has been recognized as a UNESCO World Heritage Site. It is the complete holiday package!
'Unstoppable' was actually filmed in Oaxaca. That is the reason that the series is able to authentically depict its charm.
here's more of them filming in Oaxaca🎥🎞

TRAILER DESENFRENADAS #SomosDesenfrenadas

— ellie (@gheypiscean) January 20, 2020
As you can see from the above video, the crew took over the city, blocking streets so that the series can be filmed here. Moreover, the following post also shows how filming was carried out during a festival/celebration in the city. In all probability, it is Cinco de Mayo that is being celebrated, although I could be wrong due to my lack of cultural context.
here's a few seconds of them filming🎥🎞

TRAILER DESENFRENADAS#SomosDesenfrenadas pic.twitter.com/EBuvUCxXTS

— ellie (@gheypiscean) January 20, 2020
Moreover, the trailer shows the girls walking up to a place named Tobaziche. Tobaziche is an actual restaurant that provides visitors with an authentic Oaxacan experience. Have a look at a still from the trailer below, followed by a Google Street view. Both the images prove that the show was filmed at 5 de Mayo 311, Oaxaca de Juarez where it is located.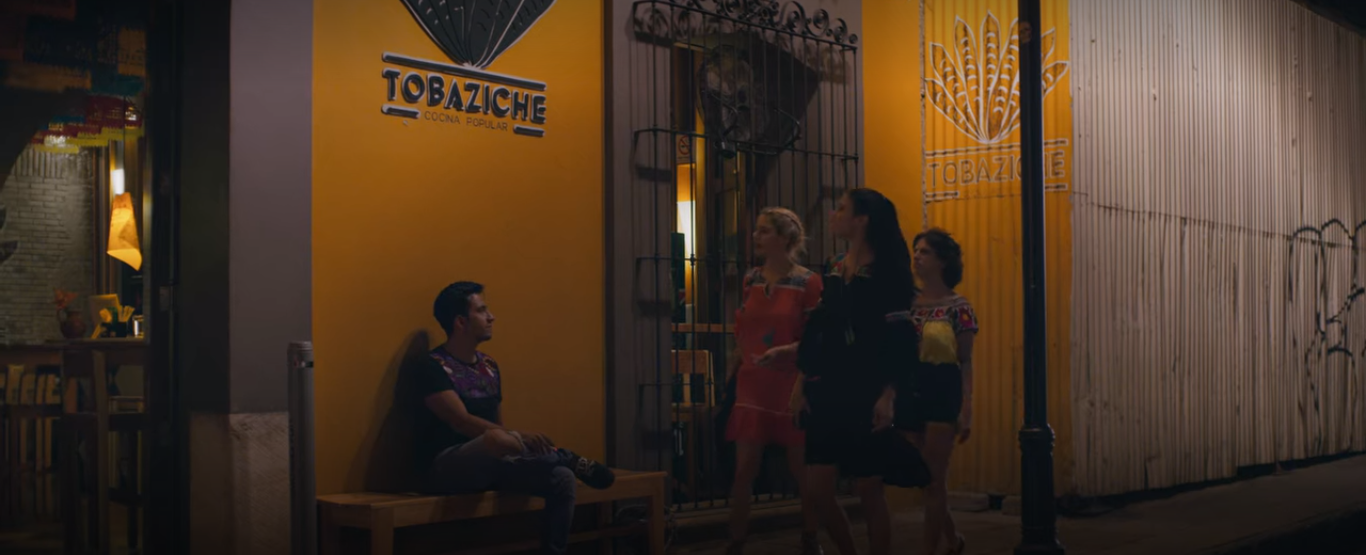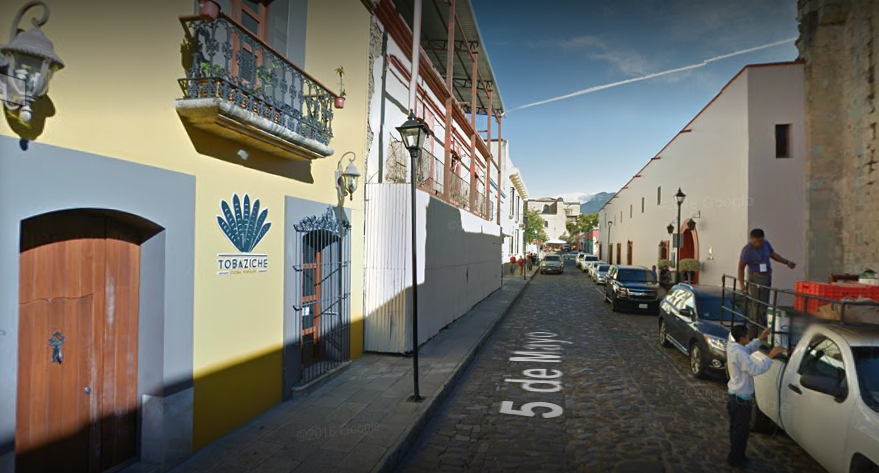 5 de Mayo is a street in Oaxaca de Juarez that is known for its idyllic beauty. A walk down the street is akin to taking a trip down the lane of history thanks to the multitude of old, color-splashed buildings present. Glorious, aerial shots of the street at night can be seen in the trailer.
Apart from that, we tried making one more speculation regarding where the series might have been filmed. A particular lighthouse situated on a large rock near the shore can be seen in the trailer. This appears to be the lighthouse on the rock in Bahias de Huatulco. However, this is pure speculation. We could be wrong.
Read More: Best Spanish Movies on Netflix