Although the third 'Dune' film hasn't been officially green-lit yet, Warner Bros. Pictures is reportedly confident about the success of the upcoming 'Dune: Part Two' and has signed Timothée Chalamet, who portrays Paul Atreides in the first two films, for the project. The Dune films are based on the namesake series of books by American science fiction author Frank Herbert. The 2021 release 'Dune' and 'Dune: Part Two,' set to premiere on November 3, 2023, are the two-part adaptation of the first book in the series, also called 'Dune.'
Directed by Denis Villeneuve, the 'Dune' films are set in a distant future and revolve around Paul Atreides, the heir to the noble House of Atreides at the start of the series. After his father's murder and the near destruction of his house, Paul leads a revolution against those responsible, including the Emperor of the known universe, while trying to prevent the coming of the terrible future he has seen in his prescient visions.
The third film will be an adaptation of 'Dune Messiah,' the second book in the series. Released in 1969, four years after the first book, 'Dune Messiah' follows a much more cynical Paul. Unable to stop the raging jihad in which tens of billions have been killed in his name, he knows from his prescient visions that this is not the worst possible future. Personal and political intrigues surround him as Paul places himself in the driving seat of the destiny of the entire humanity.
Around the time of the release of the first movie, Villeneuve spoke about making a trilogy in various interviews. "I always envisioned three movies," Villeneuve told Entertainment Weekly. "It's not that I want to do a franchise, but this is 'Dune,' and 'Dune' is a huge story. In order to honor it, I think you would need at least three movies. That would be the dream. To follow Paul Atreides and his full arc would be nice."
The 'Sicario' director continued, "Herbert wrote six books, and the more he was writing, the more it was getting psychedelic. So I don't know how some of them could be adapted. One thing at a time. If I ever have the chance to do 'Dune: Part Two' and 'Dune Messiah,' I'm blessed."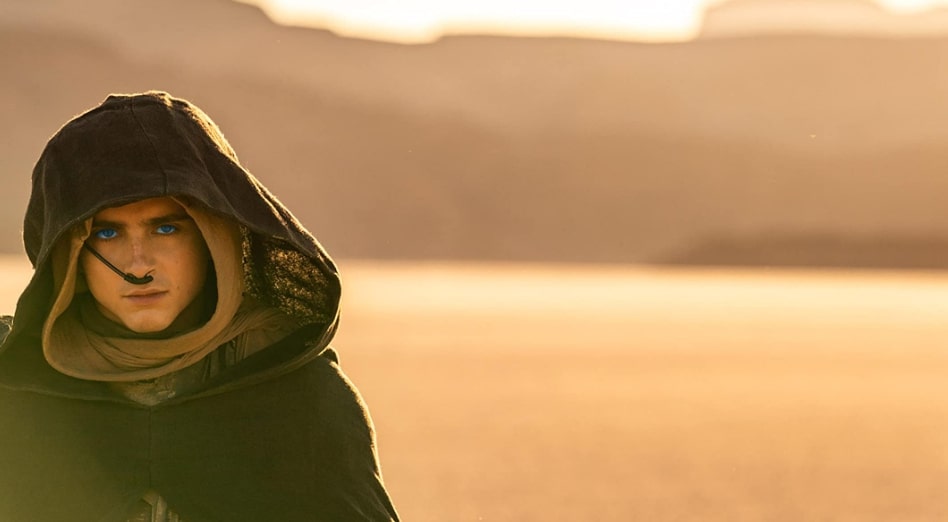 Besides the films, a spin-off prequel series about the Bene Gesserit, 'Dune: The Sisterhood,' is in development, with Travis Fimmel of 'Vikings' fame joining the cast. However, it was reported in February 2023 that the project had gone into hiatus following the departure of director Johan Renck, who was set to direct the first two episodes of the series. In July 2023, it was reported that the filming for the series would begin in the summer of that year.
Screenwriter author Jon Spaihts, who contributed to the scripts of the 'Dune' films and will serve as an executive producer on 'Dune: The Sisterhood,' speculated about the third 'Dune' film in an interview with The Playlist. "'Dune Messiah' is the next book, and it's one of three books with 'Dune,' 'Dune Messiah,' and 'Children of Dune,' that covers the lives of the characters we meet in the first novel," he said. "Subsequently, there's a giant leap in time and the series gets stranger and more epic as it carries on. But 'Dune Messiah' picks up years after the close of 'Dune,' and yes, Denis has talked seriously about making that film as well, as a conclusion of the trilogy."
According to Spaihts, there will be hints at the end of the second film indicating that there are not done with this universe, "despite the fact that the ending of 'Dune' as a novel, which will be the ending of the second film, is a very satisfying conclusion. There are a number of ways in which the book also sounds ominous notes, and there are hints of foreboding about what might be yet to come."
The first movie was a critical and commercial hit, receiving an approval rating of 83% on Rotten Tomatoes and earning $402 million at the box office against a $165 million budget. The film also did exceptionally well in terms of Streaming viewership. So, WB has reasons to be optimistic about the success of 'Dune: Part Two' and sign the main star of the series, especially given how busy he has become in recent years. We can expect more updates on casting and whether the ongoing writer's strike will impact the project in the coming months, particularly after the release of 'Dune: Part Two.'
Read More: Review: Dune is an Extraordinary Technical Achievement